July 23rd, 2017
Three weeks left for the collection season for Schwarzenegger and Dauphin. We are able to work on fairly short notice. We have a wonderful local FedEx office that goes the extra mile. Touch base today if you would like to book a LFG contract and try to get the rest of those open mares in-foal.
Stratford (Schwarzenegger/Rienzi/Davignon) enjoying a nap in the straw. This is lovely horse weather with warm temps, steady breeze, and the horse flies have backed off.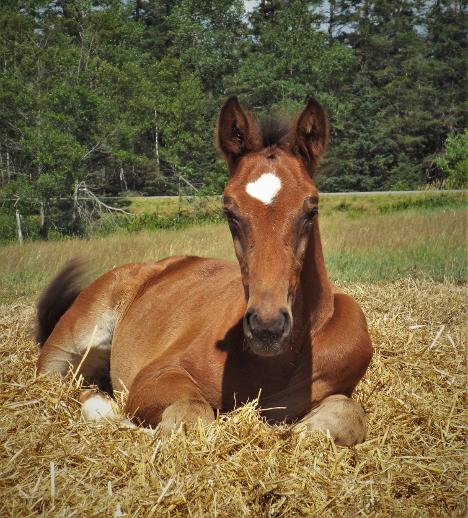 July 16th, 2017
Having great fun with our two three year olds; Siskel and Belfast. We are very lucky to have Willow M'Cloud helping us out this summer, she is doing a great job. Siskel has been lightly backed and is taking it all in stride. Belfast is next!
SPS Brentacia was confirmed in-foal to Dauphin for a late May foal. That brings the tally up to five so far. Unfortunately SPS Fenjala's Dauphin embryo did not stick in the recipient. Will try again :)
Getting prepared for the Hanoverian Inspection. It will be September 1st at the Crapaud Agriplex. Will be a great opportunity to see all the lovely Hanoverian foals from around the Maritimes. 18 foals are expected to attend!
July 13th, 2017
Happy to announce Fairview (Furst Nymphenburg/Brentano II/Imperator) has sold to Michelle DeGarie of NB.
This is one elastic moving charmer.
Photo Credit: Jackie Harlow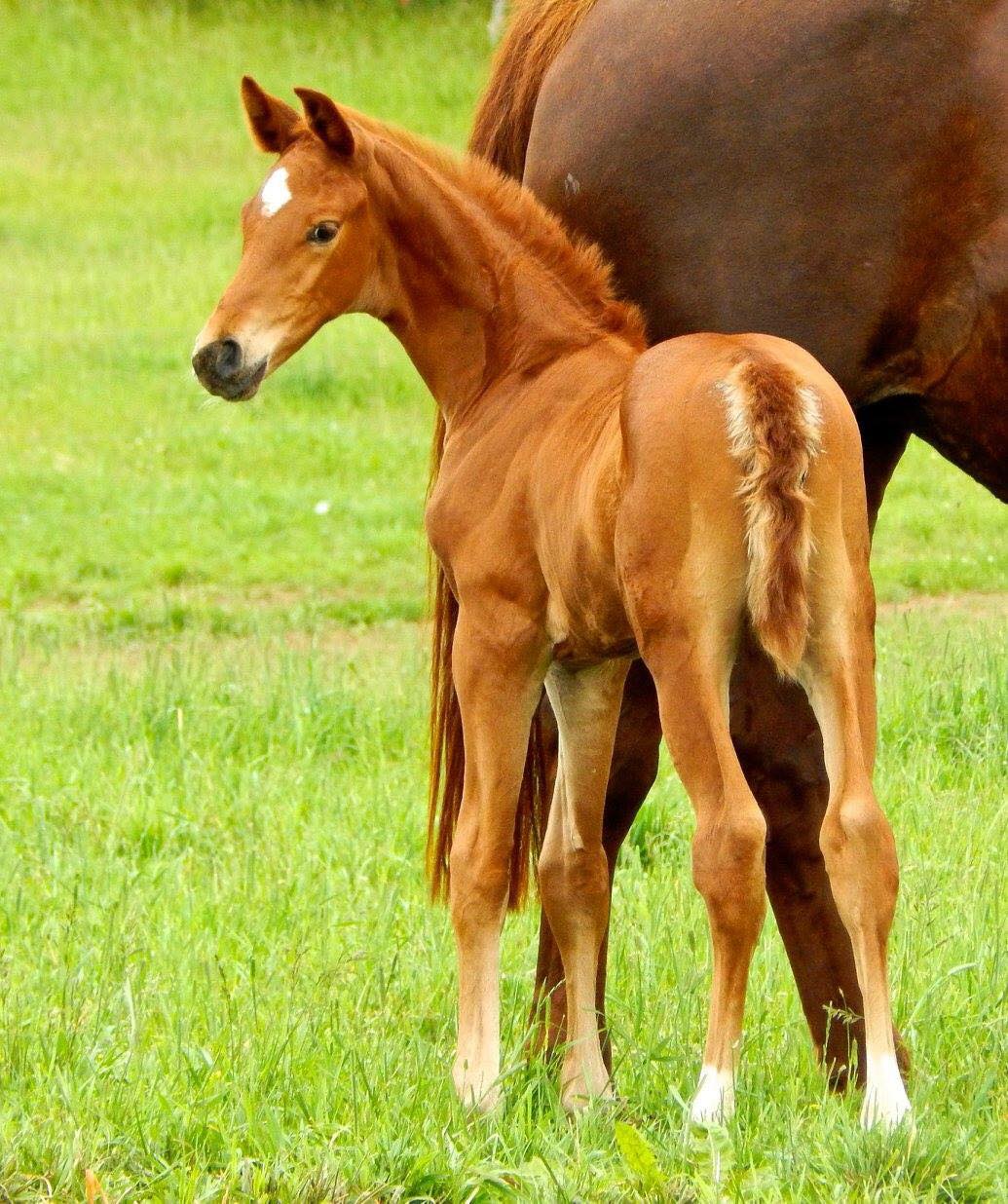 June 29th, 2016
Meet Stellarton! Our embryo transfer colt out of SPS Fenjala (Fabriano/Prince Orac xx/Absatz) and by Schwarzenegger. We are quite smitten with him. The wonderful recipient mare Cassie did a great job carrying this colt and is an excellent mother.
We are happy to have another interesting line-up of foals for 2018:
SPS Wonderful Dream x Dauphin
Esprentina NPF x Dauphin
Rimini x Schwarzenegger
Duchess Alyce x Londonderry
SPS Fenjala x Dauphin (ET, to be confirmed)
SPS Brentacia x Dauphin (To be confirmed)
We may aim for one or two more with SPS Fenjala via embryo transfer.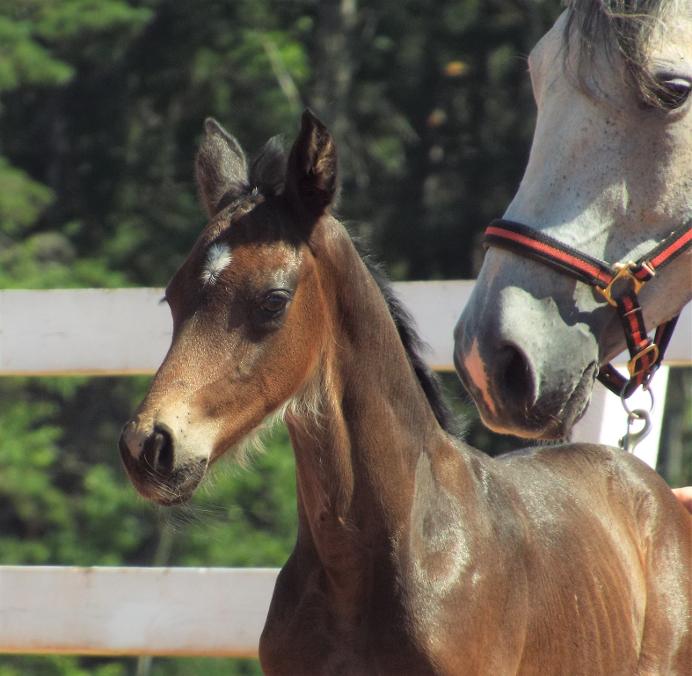 June 15th, 2017
Newest addition, a beautiful chestnut filly by Furst Nymphenburg out of SPS Brentacia (Brentano II/Imperator). The filly was bred by Sharon Beard of ON.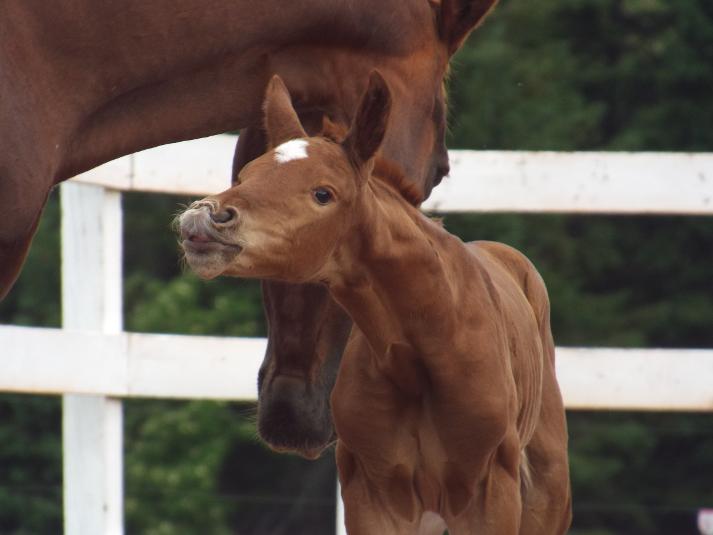 June 4th, 2017
A big welcome to Stratford, new colt born June 1st. Pedigree: Schwarzenegger/Rienzi/Davignon.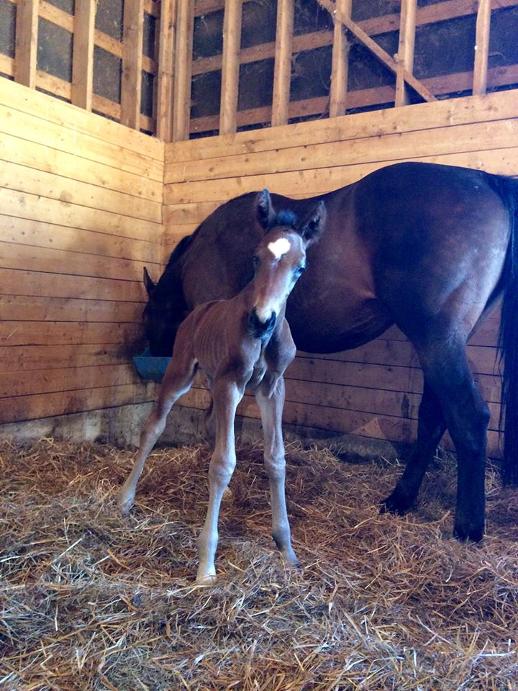 May 29th, 2017
We are happy to announce we have two confirmed pregnancies so far this season. Esprentina NPF and SPS Wonderful Dream are both confirmed in-foal to Dauphin for 2018.
The stallions are producing many pregnancies around North America. Semen quality is fantastic. Call us today if you would like to book to either of these dark beauties.
We are enjoying seeing the arrival of the beautiful foals for our mare owners.
May 20th, 2017
Duchess Alyce produced a tall leggy dark Schwarzenegger filly on Thursday night. Unfortunately there were some foaling complications and the foal had internal damage, she passed at 30 hours old. Ali is doing ok and is back out with her pasture mates.
May 3rd, 2017
Very excited to introduce Dark Dreamer (Dauphin/Weltruhm/Donnerhall). A beautiful black filly born at 4pm on May 2nd, day 338.
We have been waiting quite some time for another filly from SPS Wonderful and are very happy to welcome her to the farm.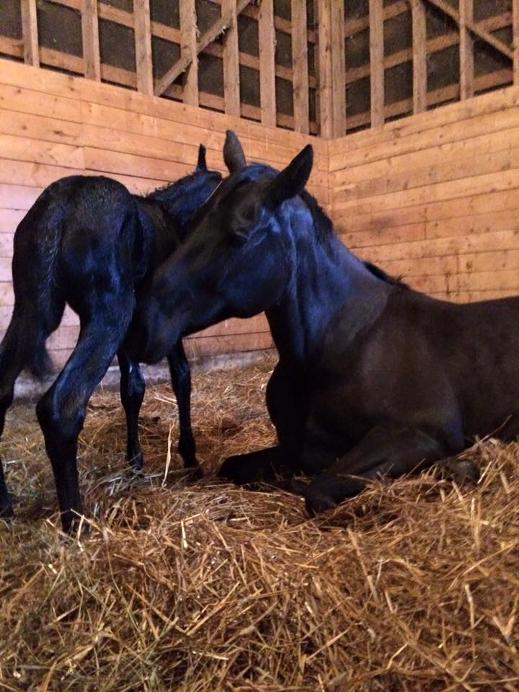 May 2nd, 2017
Waiting patiently for SPS Wonderful Dream to foal, she is day 338 and dripping milk at the moment.
We bred Esprentina NPF to Dauphin last week. Fingers crossed for a black dot in the near future.
The stallions are glad the season is in full swing :)
We have some fun crosses planned for 2018, please check the sales page for more information.
April 20th, 2017
We are pleased to offer Santerina for the discerning buyer. This gorgeous grey filly was to be retained for our breeding program, however, our size preference is 16.2hh with substance and medium bone. This filly will likely finish 15.3-16hh and is quite refined. For someone looking for a wonderful mind, and powerful movement-this is your filly.
Photo Credit: Jackie Harlow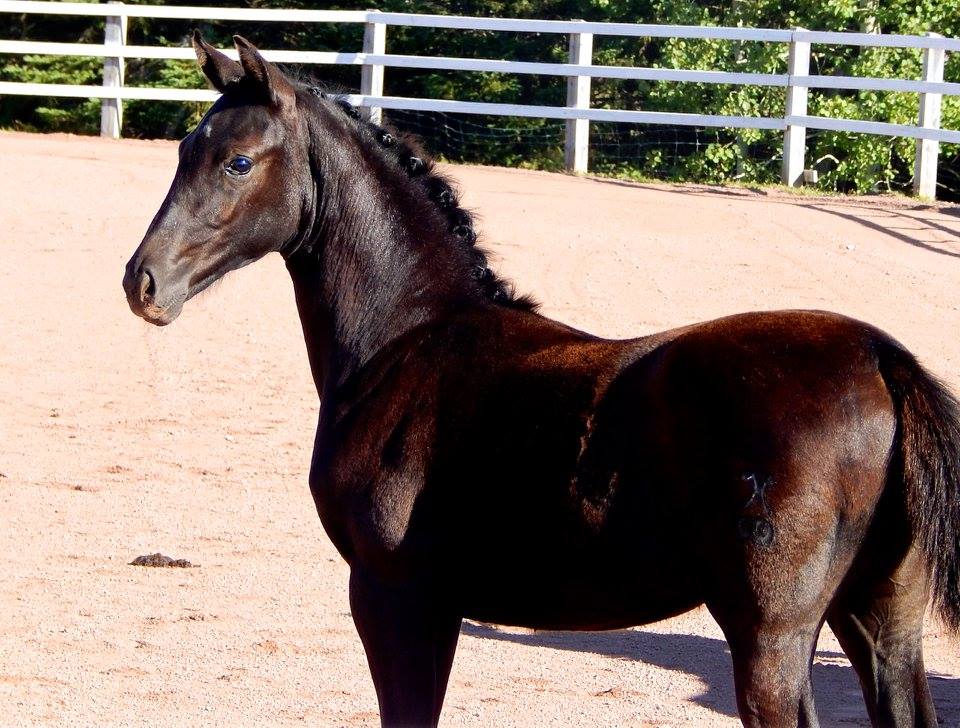 April 8th, 2017
Wolkentanz's Willow HB (Wolkentanz II/Sir Oldenburg/Florestan) 2016 HV filly left today for her new home in Maryland, USA. We wish her owners all the best with her undersaddle and in the breeding shed.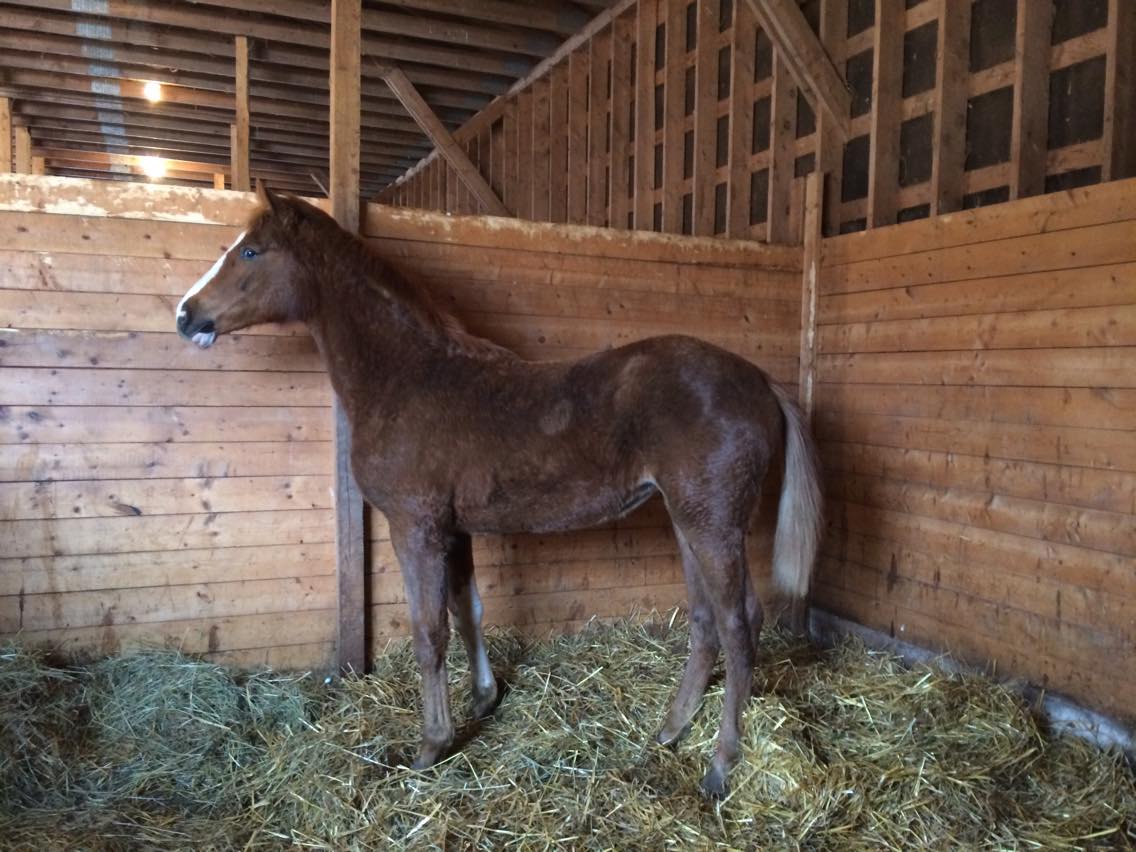 March 28th, 2017
Some dates to keep an eye out for with collections through the season.
FedEx: Canada http://www.fedex.com/ca_english/services/serviceguide/holidays.html
FedEx: United States http://www.fedex.com/us/service-guide/holiday-schedule.html
SPS Wonderful Dream is 303 days along today, slowly but surely we are getting there. Love brushing the mares and feeling those foals kicking. I would guess she will foal April 26th-April 29th (ish lol).
There are two mares quite close behind her, Duchess Alyce (292 days) and Rimini (290 days), both are carrying Schwarzenegger foals.
March 10th, 2017
Started a new page as the "News" page was big and slow to load with all the files and videos.
First shipment of the season left today for Wisconsin. Dauphin was the lucky fellow. We have a wonderful local FedEx depot in Charlottetown, they were quite funny, said seeing the boxes come in is their first real sign of spring lol.
Both Belgrade and Hallstatt were gelded last Monday.
Looking forward to the first foal of the season; Dauphin x SPS Wonderful Dream. Guessing late April, early May. She is not nearly as big as she was last year carrying Hallstatt. Please be a filly. We are hoping in a big way to retain a filly from "Martina" for our breeding program.
There are 19 horses on the farm at the moment, what a nice number :) They are not all ours: there are four weanlings being boarded, three horses on breeding lease, and one recipient on lend. Our aim is to over winter about 14 for next year, we'll see how it goes. We have reduced taking outside horses at this time to focus on our own.
Happy to announce we have filled the summer position on the farm, thank you to all that applied.
Link to our archived NEWS