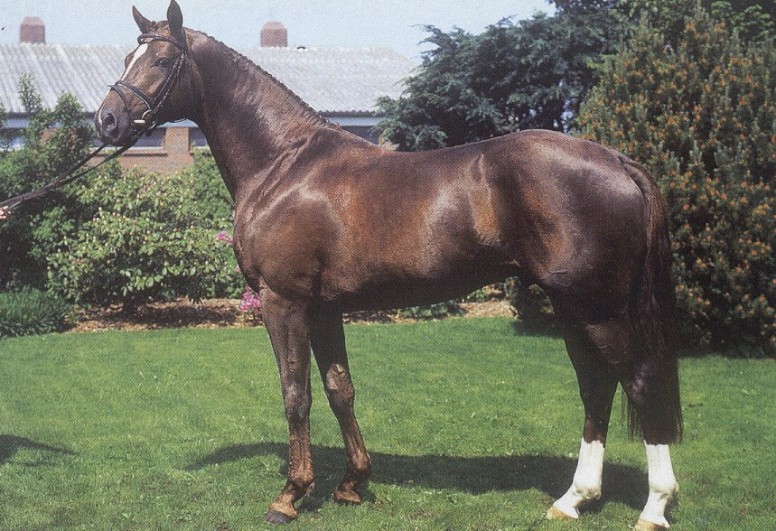 BONHEUR
Approved for: HV, AHS, GOV, CWHBA.
Available via frozen. $700 per breeding dose.
Brentano II/Roncalli xx/Glander/Garamond
Bonheur Offspring Page-please click for more information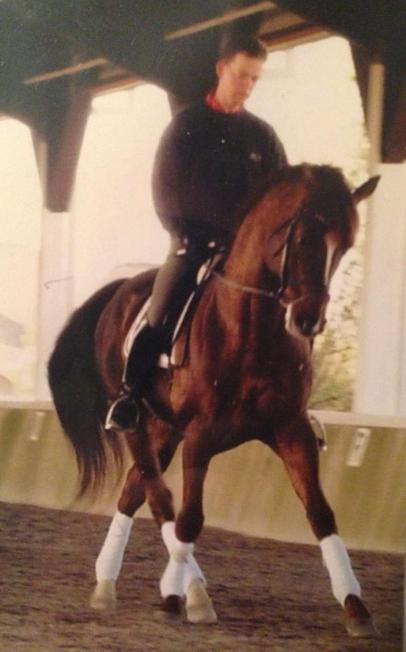 1993 Dark Liver Chestnut, 16.2 hh
Breeder: Theodor Kohnen
Bonheur is the first approved son of the great Brentano II to stand in North America. Brentano II was himself a successful Federal Championship competitor and was trained to advanced level and is highly esteemed as a hereditary transmitter of rideability. He sent one daughter, Brentina, and one son, Barclay II, to the Olympic Games in Dressage in Athens, 2004. The Thoroughbred, Roncalli xx, excellent in gait, has received very high ranking and is listed as one of the most successful representatives of his breed in the FN breeding value rating. His riding points are 147 and he is known to pass on good size and best character. In the third generation, the performance winner Glander, himself a full brother to the Olympic horse Grande Giso, embodies an interesting breeding variation to the top class Grande. The Trakehner, Garamond, who became the most influential sire of his generation in the Rhineland, introduced noble blood into the pedigree. The dam, Rhonda, descending from a great Hanoverian dynasty, produced the stallions Artist (Marbach State Stallion) and Augustiner (private stallion Hanover).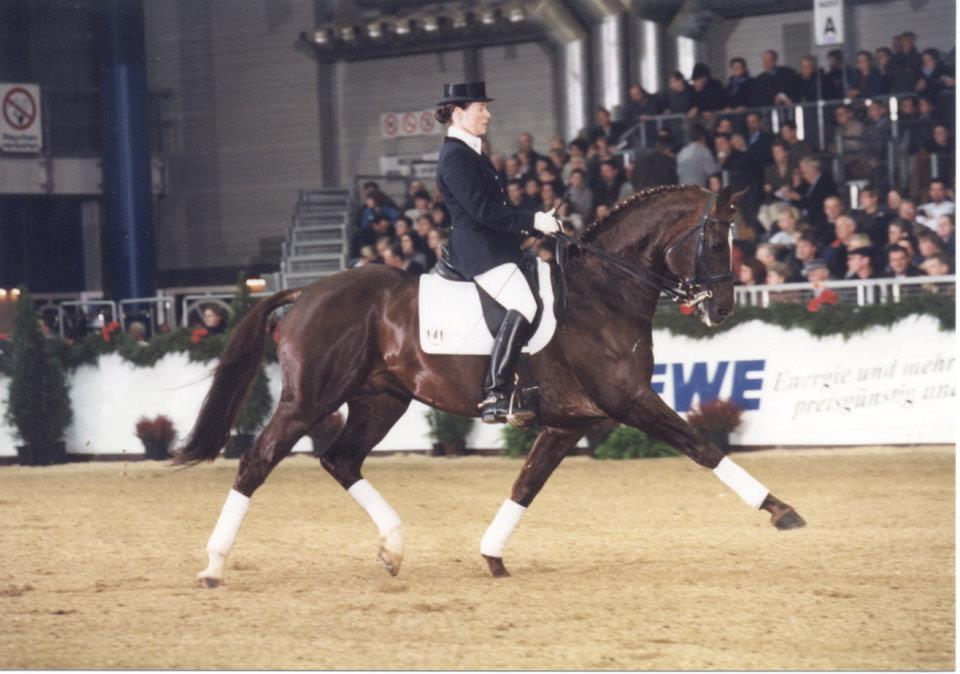 Bonheur absolved his stallion licensing test in Adelheidsdorf in 1996, achieving a top evaluation in rideability index. He received a 9 for his walk and an 8 for his trot and canter, also receiving 8's for his character and temperament. Bonheur won the Championship Stallion Show in Griesbeek, Holland in 1997 against very important competition, most of whom where 5 and 6 year olds. Bonheur qualified for the Bundeschampionat in 1998 as a five year old. As a six year old, he won the prestigious Nobilis Cup in Bremen, Germany. He has won numerous dressage shows in "S" Level, primarily in Holland since his previous owner lives close to Holland. His offspring are very elegant with tremendous rideability. They have shown high performance ability in dressage, bringing Bonheur's "Breeding Value" in dressage to the top 10% in Germany with an overall 150 points. In 2013 Bonheur was listed in the Stallion Yearbook (FN) in Germany with an overall score of 130.
In 2004, Ulla Salzgeber qualified her wonderful 6 year old Bonheur son, Bogner B, for the Bundeschampionat. Furthermore, Bonheur's 6 year old son was the Champion Young Horse in all of Finland in 2004.
As of December 2015: Bonheur has one offspring competing in S class dressage and two jumping at S class (one at the international level). Of the 16 daughters in breeding, 3 were awarded the States Premium Title. Total Offspring earnings of 35,525 euros. He has 43 offspring that have competed in sport in Germany.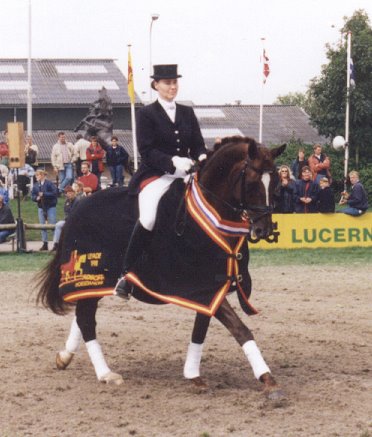 Bonheur from his time at Garner Creek Farm.