September 21st, 2023
Had a super nice inspection here on farm on September 8th. The four foals showed well and behaved themselves.
Rosebank was awarded a gold medal foal award. Good job girlie.
Rockel, Demi, and Rosalie had some good comments.
Happy that Sequel and Stella were accepted into the Main Studbook of the Hanoverian Verband.
Couple photos from the inspection. Rosebank on left and Rockel on right. Photo credit Amanda Stright.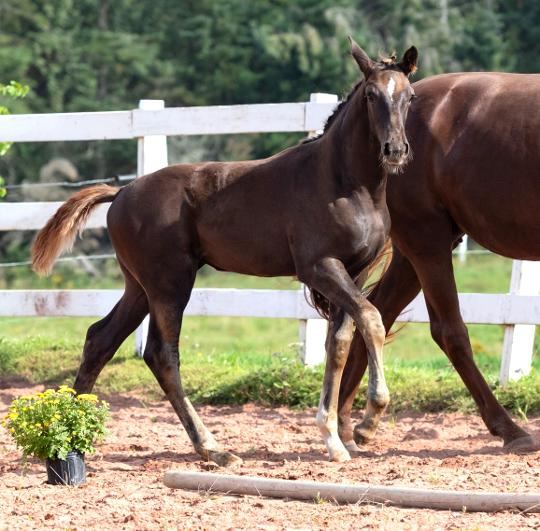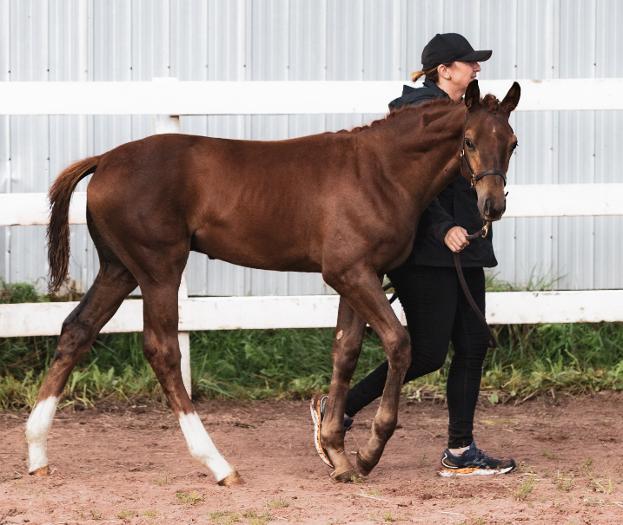 August 8th, 2023

Rosebank (Rature R/Ruiz Soler/Donnerhall) 2023 Hanoverian filly. This is one stunning, and extravagant filly that is going to turn some heads in the dressage ring. Powerful, bold, tall, correct are a few adjectives. She is available.
PC Jackie Harlow.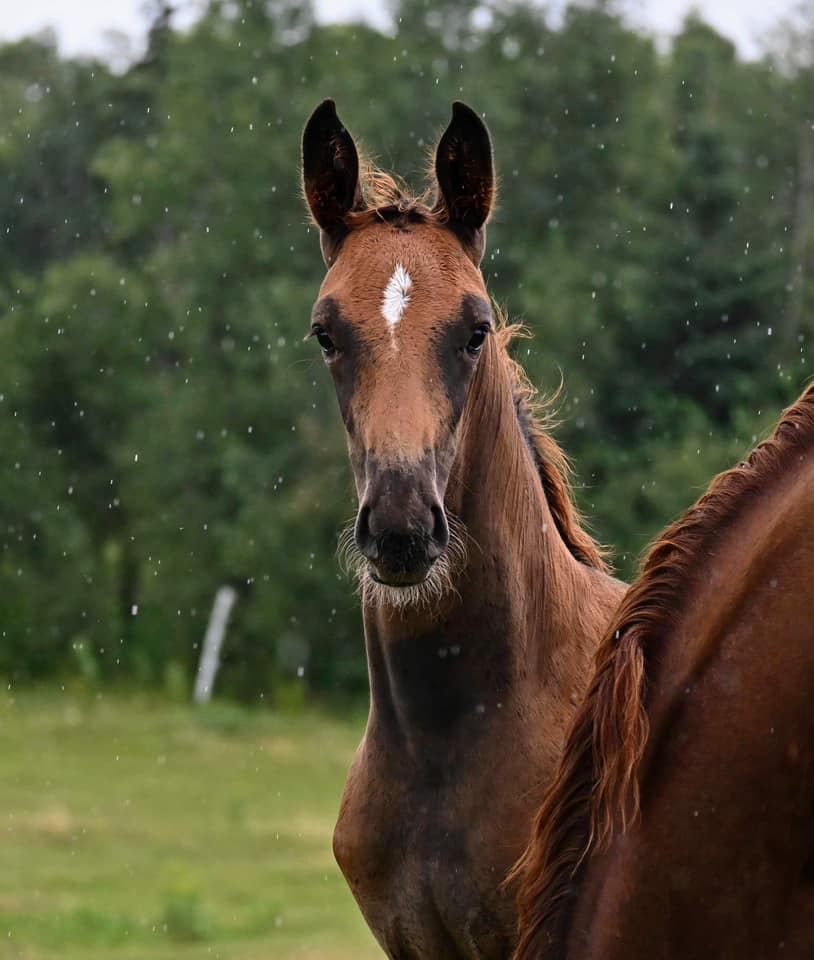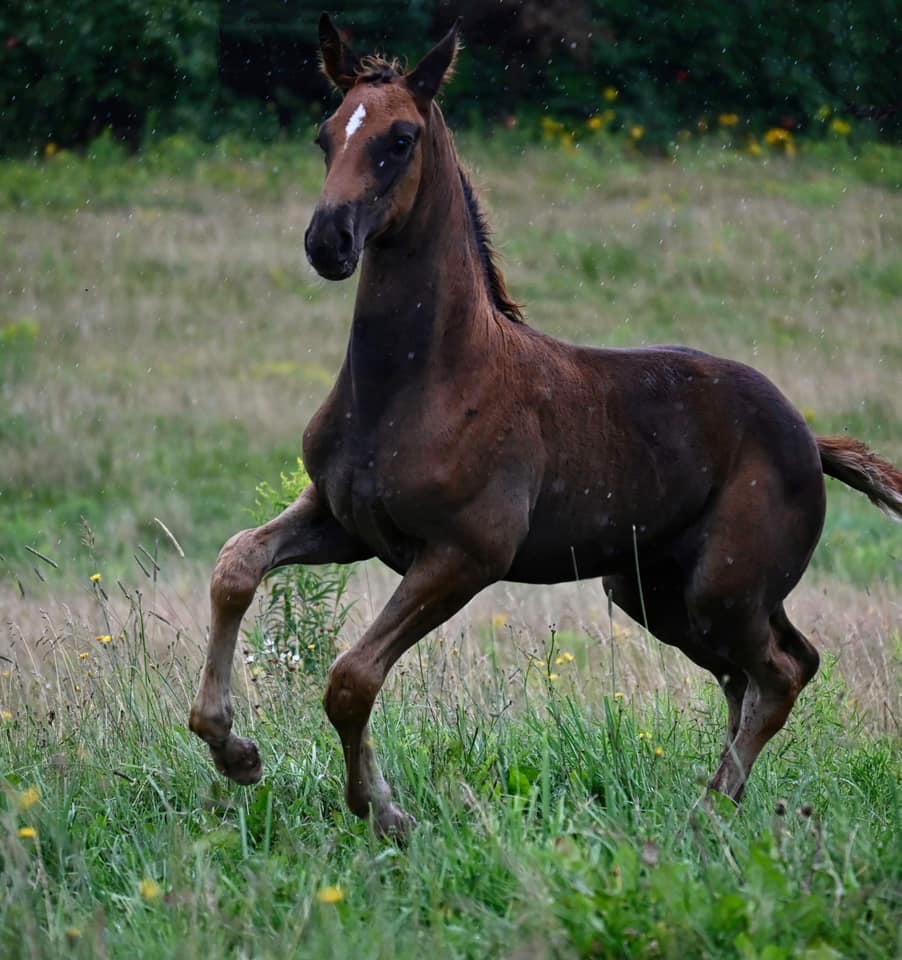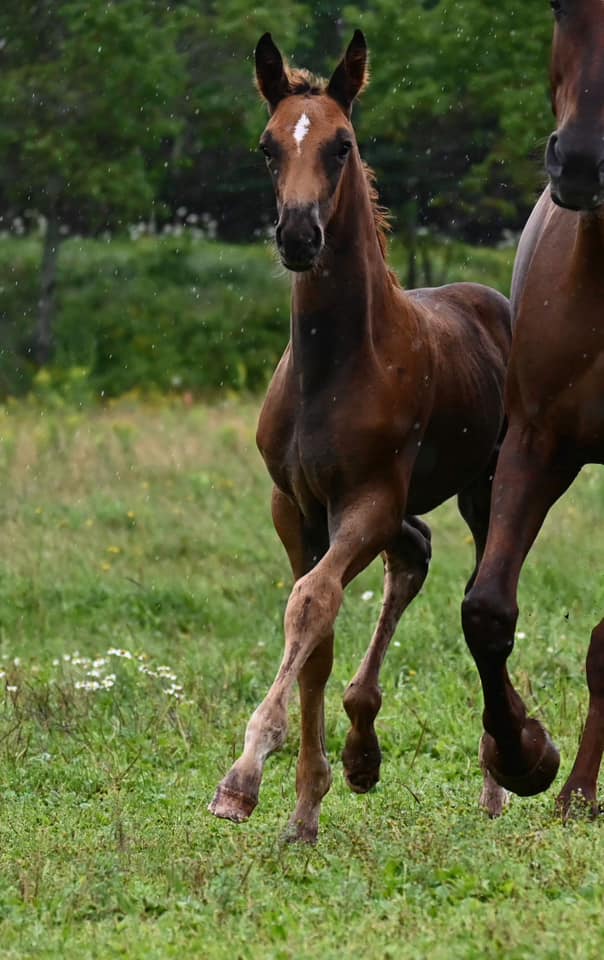 July 20th, 2023
*** With the heat and Dauphin's age, I have decided to end his collections for 2023.***
July 19th, 2023
Super happy to announce that these lovely two fillies have found homes. On the left Demoiselle (Dauphin/Schwarzenegger/Brentano II) to Michelle DeGarie and on right Rosalie (Rockefeller/Dauphin/Weltemyer) to Renee DeGarie.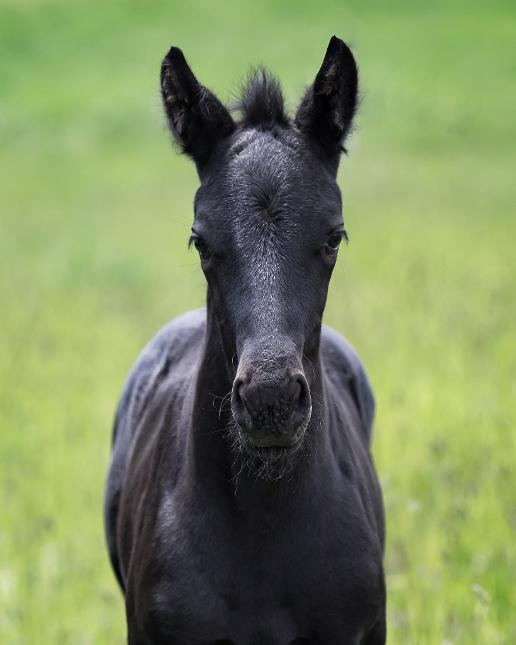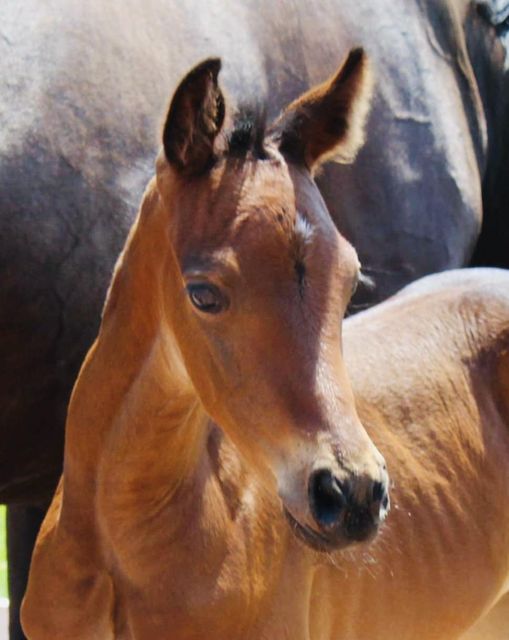 June 3rd, 2023
Sequel had a stunning filly by Dauphin on May 30th.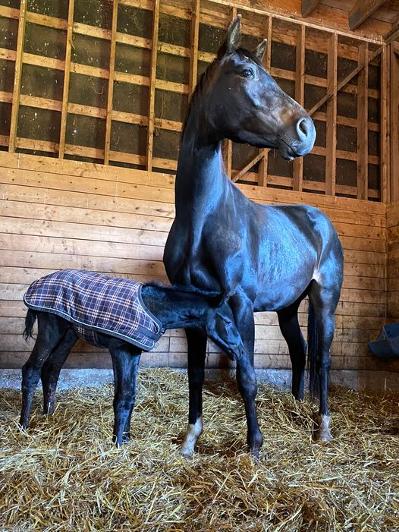 May 26th, 2023
Waiting patiently to meet Rumor's Rapture R foal. Should be soon.
Happy to announce a couple of pregnancies:
Dauphin x Stella (Quality Time/Hamlet)
Rockefeller x Rimini (Rienzi/Davignon/Weltmeyer)
May 12th, 2023
Pleased to introduce Rockel (Rockefeller/Schwarzenegger/Brentano II), a lovely chestnut embryo transfer colt born May 11th.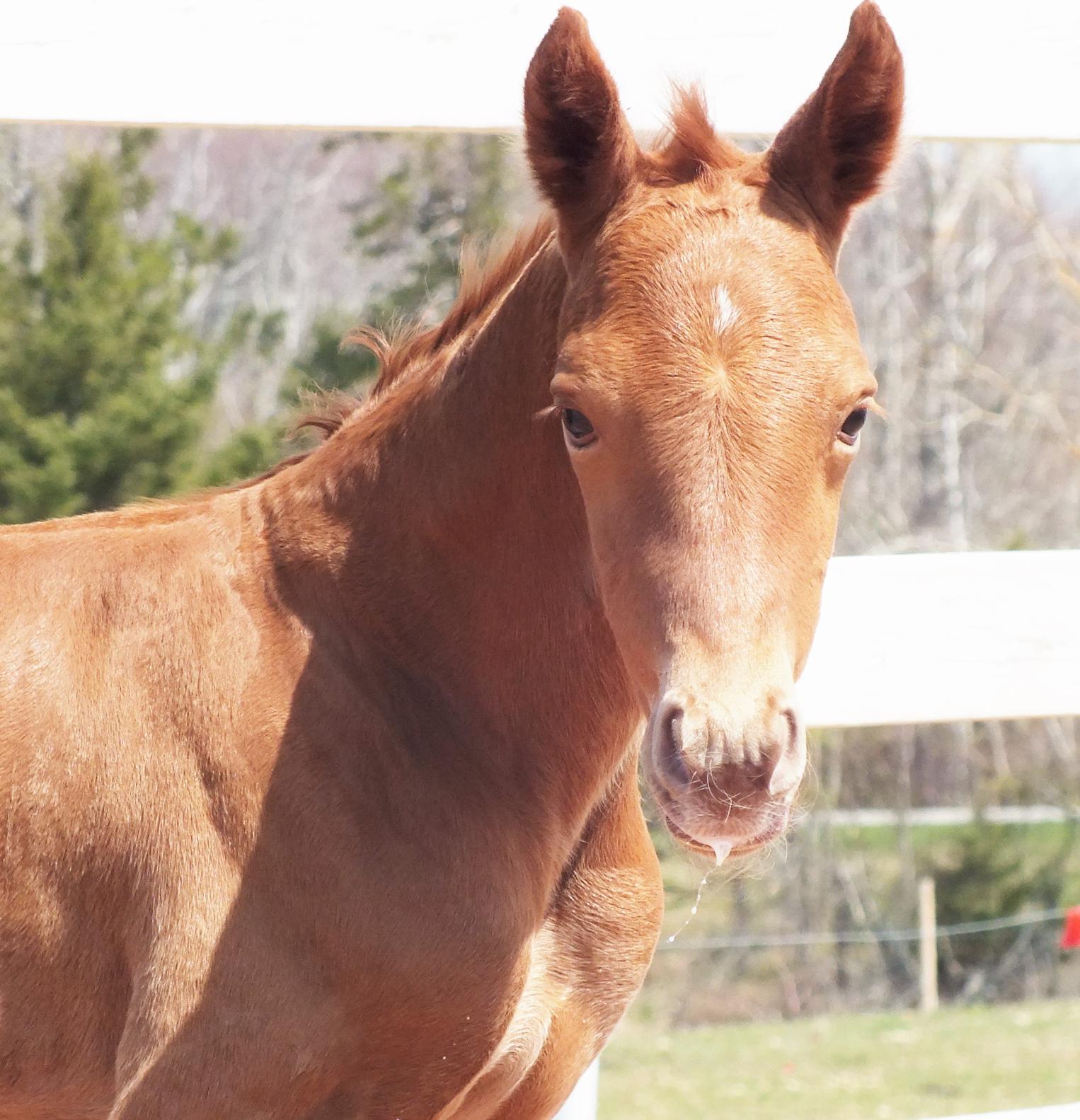 May 4th, 2023
Dabster has arrived safely at his new home in BC.
Unfortunate news on some of the breeding things here this spring. Said goodbye to SPS Brentacia after a traumatic kick to her shoulder. SPS Bellalula aborted a stunning black Rockefeller colt at day 286. Ran into difficulties with Maize, the embryo transfer foal she was carrying ended up with a posterior presentation. Even with three of us pulling for a quick delivery and doing CPR, we could not revive the beautiful Rockefeller x Sequel filly. Hoping for smooth sailing for the rest of the breeding season but it is a reminder that breeding is not for the faint of heart and just do your best and keep going.
April 17th, 2023
Collections started this month. The stallions are glad Spring has arrived.
I am looking forward to welcoming five foals for 2023.
March 5th, 2023
Two lucky youngsters have found new homes. Rustico will be heading to Vermont and Strava will be heading to Maryland.
Duchess Alyce's coming Rockefeller foal is now under contract.
Wild to think collections will start in 3 weeks and the first foal here is due the end of April.
February 12th, 2023
Valentine's SALE!!! 300$ off the breeding contracts to any of the three stallions for contracts
and payment completed by Feb 15th at midnight.
January 27th, 2023
The new year is here! Glad to see the days getting longer.
Had a good photo and video day of some of the youngsters a couple days ago with my friend Amanda Stright. Please see the sale page for updates :) Happy to send video clips through FB messenger as well.
Horses are content and having a good winter. Picking away at winter projects before the spring breeding season starts. I love having visitors, so please feel free to contact to line up a visit :)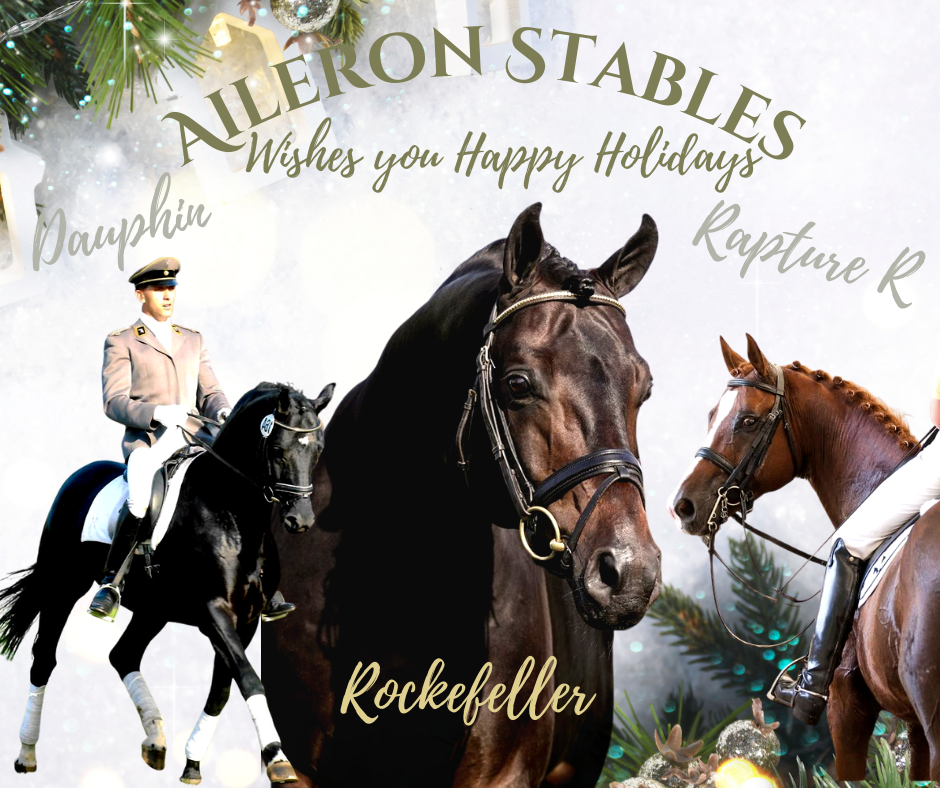 December 1st, 2022
Regalia has arrived safely in her new home in ON. So fun that Delcina, Athos, and Regalia are all in the same barn.
There are now 22 horses on the farm for the winter. There are five sale horses available and several in-utero options. Terms available.
Have had a great season and very appreciative of lovely clients choosing riding partners and breeders picking Aileron stallions.
The farm had two lovely staff working for the breeding season, Sheila and Amy. They did a great job and their work was integral in the success of the season.
I am planning a litter of Doberman pups for next summer. If all goes well, will be breeding in March, for pups to head home in July.
A wish of happy holidays from Aileron Stables from little Russell and I.
November 13th, 2022
Not sure where the time goes... Hurricane Fiona was hard on the Maritimes, ouch. Here at the farm there was a fair bit of damage. Most things are back together now but will be working on cleanup for some time.
From the inspection: Ritz ended up being awarded reserve champion of the show, and won a Gold medal foal award. Was exciting to hear after the tour was complete that he made the top ten list in Canada. Wahoo!
Weaning and departures have begun, Sirocco and Diamond Noir have arrived safely at their new homes. Regatta is weaned and Dabster will be next.
Early bird specials are up on the website for the stallions. Great way to secure a spot on the roster for next year and save some money.
September 20th, 2022
All the busy. Below is a photo of the lovely Rustico (Rapture R/Rienzi/Davignon) taken by Jackie Harlow. This was the last foal for 2022, he arrived safely on August 13th. More to post on the recent inspection and final preg checks soon.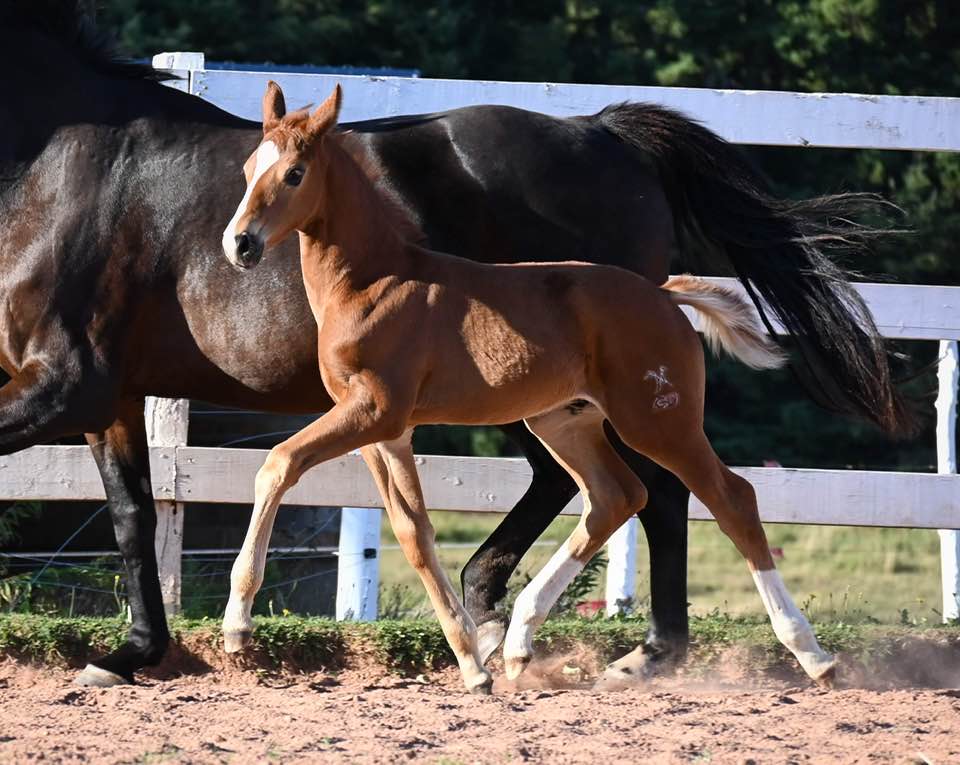 August 9th, 2022
Happy that Regalia and Duet have found their people. Love seeing these horses get into programs that will bring them along and showcase them.
One more foal to come, waiting on Rimini and her Rapture R foal. Likely later this week.
The recipient mare C foaled out a strong Dauphin/Rienzi/Wenzel filly on July 6th. "Delta" PC Jackie Harlow.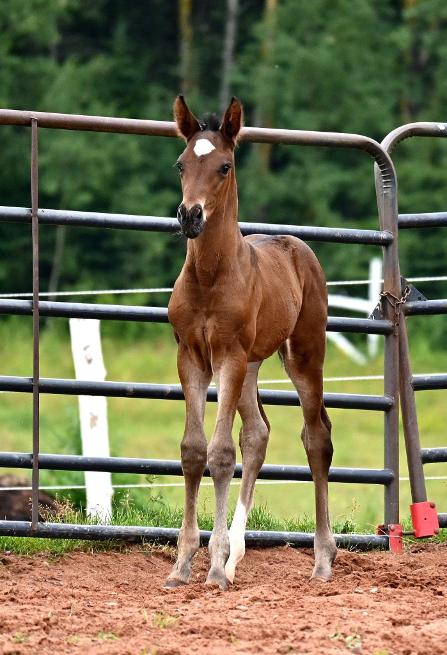 June 30th, 2022
Every summer I say, I won't get behind in keeping the website up to date....here we are a month later. Two new arrivals landed on June 25th. On left is Regalia (Rapture R/Dauphin/Sandro Hit) pc Amanda Stright, on right is Ritz (Rapture R/Ruiz Soler/Donnerhall). Both are available.
Excited to announce Dabster has sold to a BC home. Exciting :)
Five mares confirmed in-foal for 2022 so far:
Rapture R x Rosslyn
Rockefeller x Sequel ET
Rockefeller x Sequel ET
Rockefeller x Bellalula
Furst Nymphenburg x Brentacia
Working on six more pregnancies for the season for a total of 11 for 2023. We shall see.
Two more mares to foal out... the recipient mare C is carrying a Rara Avis x Dauphin ET foal, and Rimini with her Rapture R foal.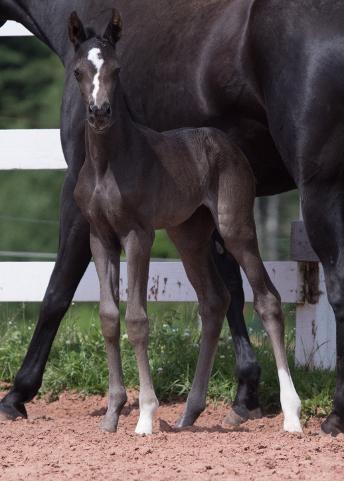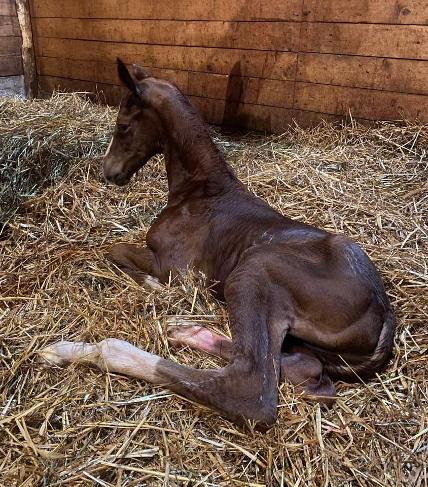 May 31st, 2022
Two more arrivals.
On left: Diamond Noir (Dauphin/Rienzi/Wenzel) a lovely embryo transfer filly out of Rara Avis and carried by Stella. DOB May 22nd. This filly is sold to BC, Canada.
On right: Dabster (Dauphin/Brentano II/Imperator) super sweet bay colt who is looking for a riding partner :). DOB May 27th.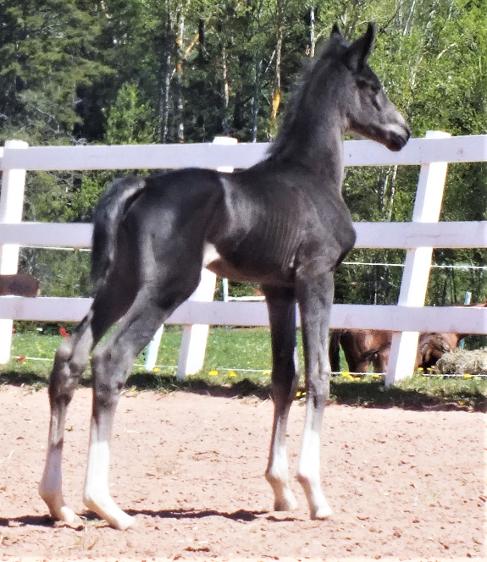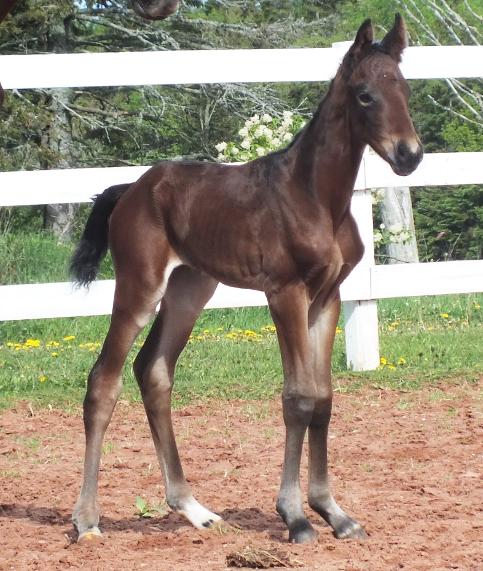 May 3rd, 2022
So fun. Happy to announce the safe arrival of two foals.
On left: Sirocco (Sir Wanabi/Lauries Crusador/Bolero) landed on April 28th at 5pm. He is now owned by Anika Becker of NB. Congratulations!
On right: Regatta (Rapture R/Rienzi/Donnerhall) landed on May 2nd at 5am. She is available.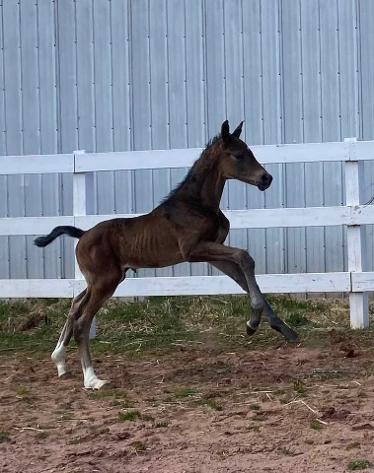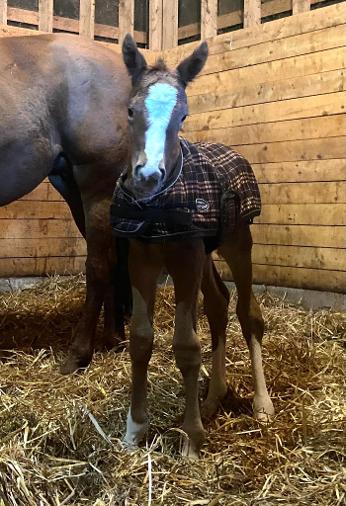 April 11th, 2022
Congratulations to Pearl Macgregor on the purchase of Riga (Rapture R/Schwarzenegger/Donnerhall).
PC Amanda Stright.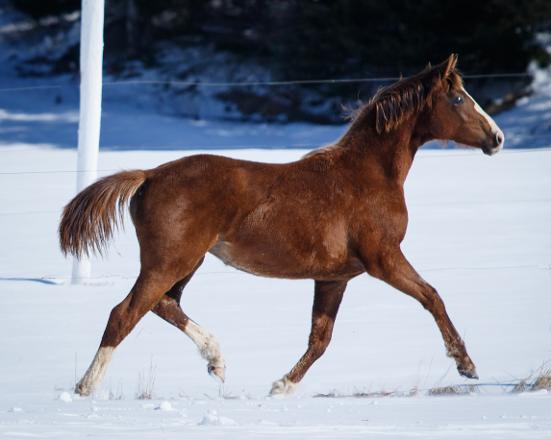 April 4th, 2022
So fun to see the first Rapture R and Dauphin foals arriving. Congratulations to the breeders.
Rosslyn is at day 329 now.
Rockefeller enjoying turnout last Saturday. PC Amanda Stright.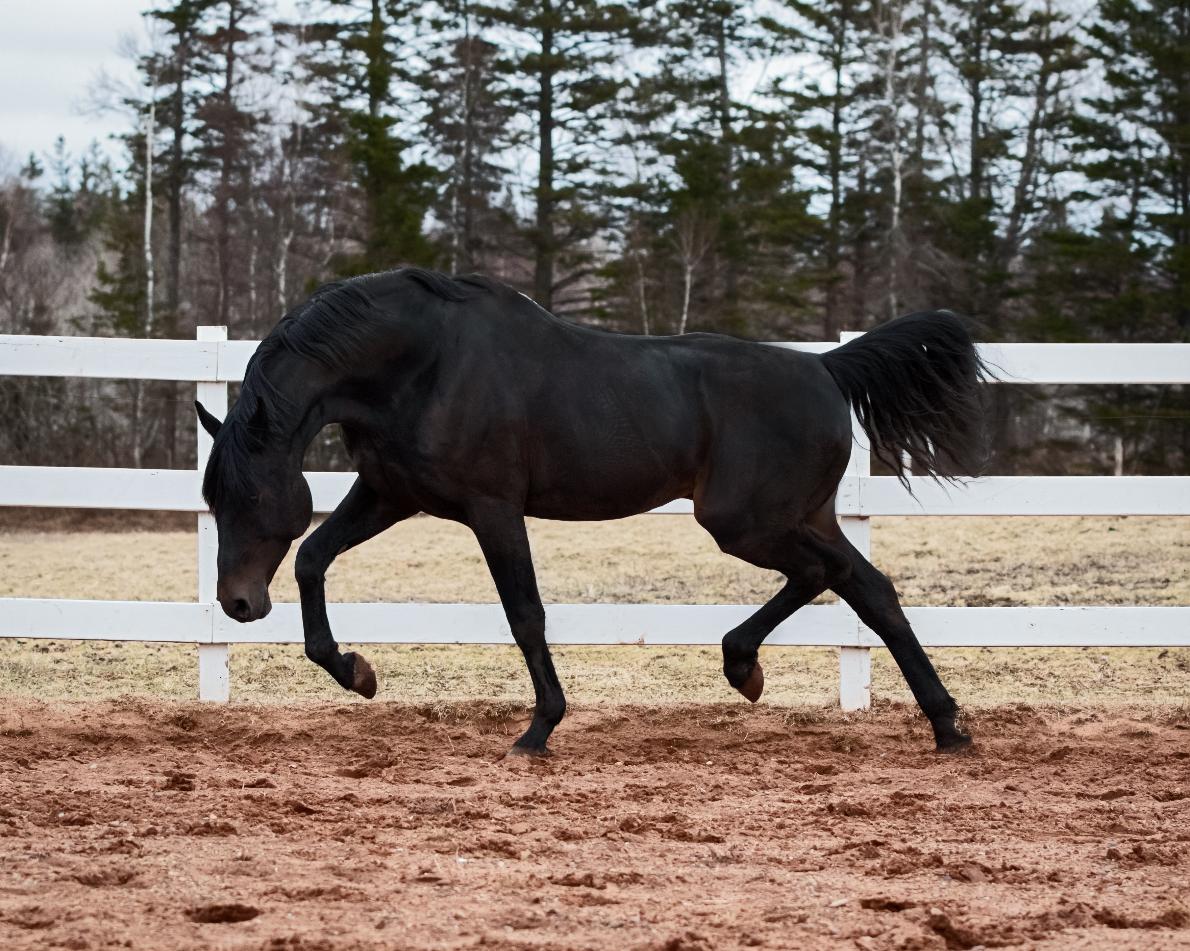 March 27th, 2022
Nice to see the sunshine, ahhh. Collections start on April 1st.
First mare to foal, Rosslyn, is getting big.
New photos and video of Strava and Duet going up this week.
Below: Duet
PC Jackie Harlow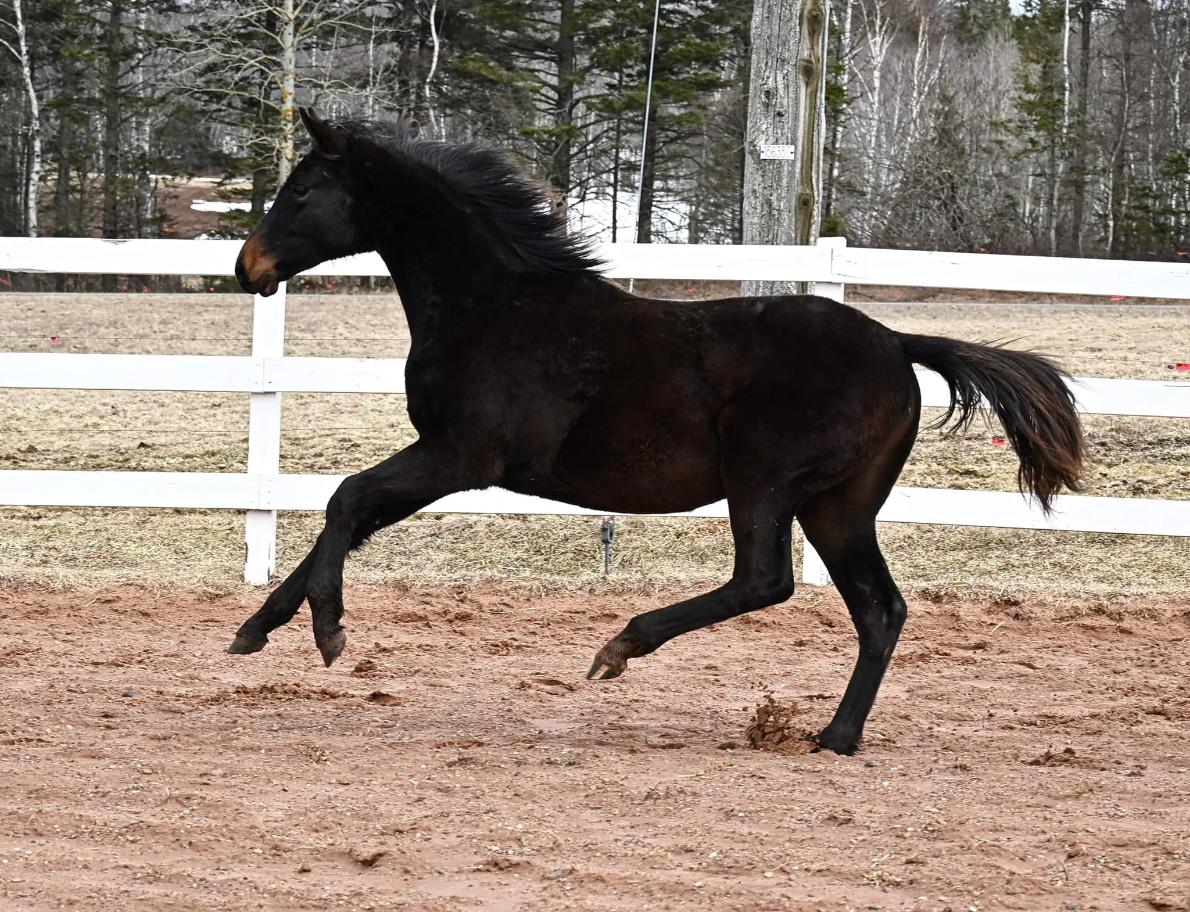 January 30th, 2022
This beautiful stallion arrived safely two days ago and is settling in well. I can't say I have met a prettier horse...he is stunning and so sweet. Welcome to PEI Rockefeller, I any so looking forward to seeing foals from you :)
Introductory offer expires tomorrow at midnight.
PC Amanda Stright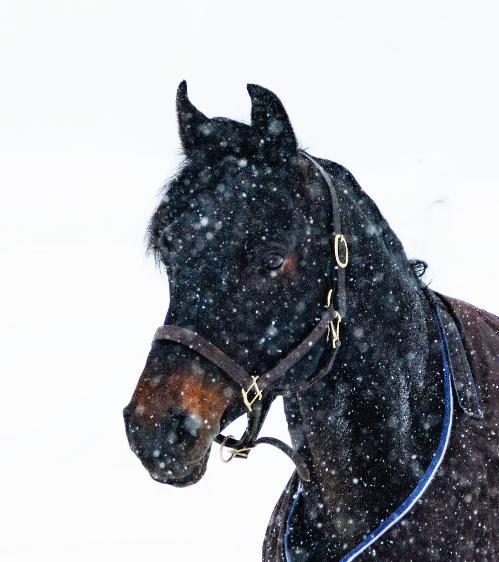 January 11th, 2022
Excited to announce this beautiful mare has joined the farm. Please welcome Premium mare Bellalula (Belissimo M/Weltruhm/Donnerhall) a 2010 Hanoverian mare. For those that watch bloodlines...yes, this is an SPS Wonderful Dream daughter :)) aka Martina. Looking forward to breeding this mare to Rockefeller.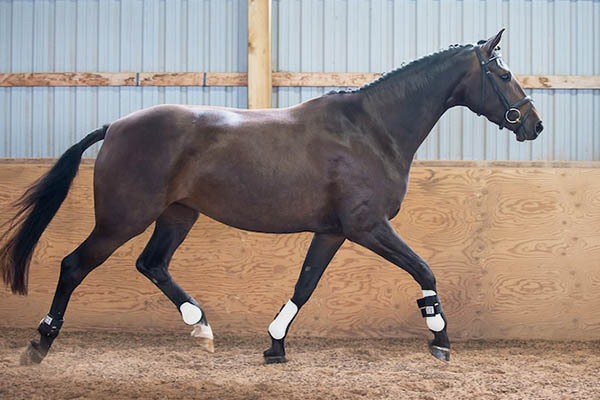 January 6th, 2022
Was hard to keep this news under my hat lol. Very happy to announce Blue Hors Rockefeller will be joining Aileron Stables this month :)
I will be updating the stallion page today. There will be a breeding special on for January.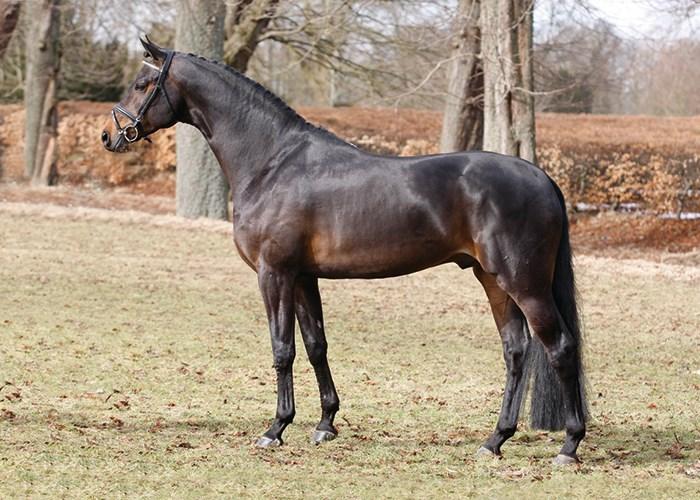 November 29th, 2021
Cyber Monday Sale For Today only!
500$ off a breeding contract to either Dauphin or Rapture R, this is the lowest it will be for next season.
Regular contract is 2,000$ plus collection fee and taxes.
Pay 1,500$ today, taxes and collection fee due before shipping next spring.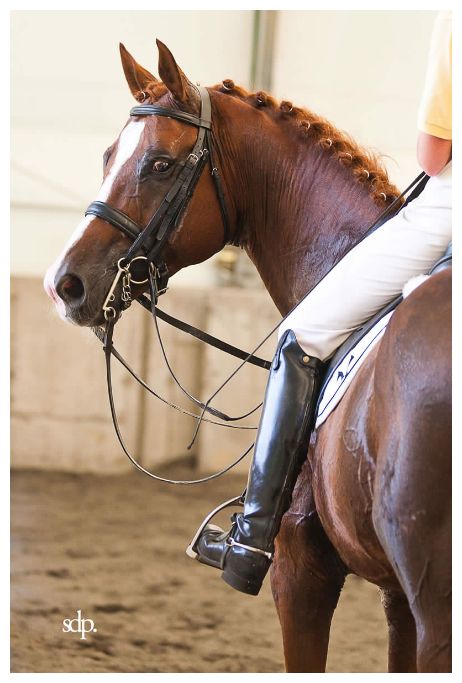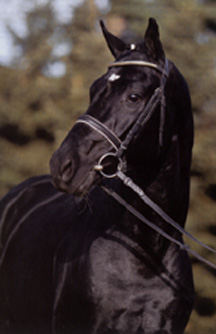 November 26th, 2021
Excited to be offering this lovely stallion with frozen semen. Lokomotion (Lordanos/Landsieger/Furioso II). Please check out the frozen semen page for more information.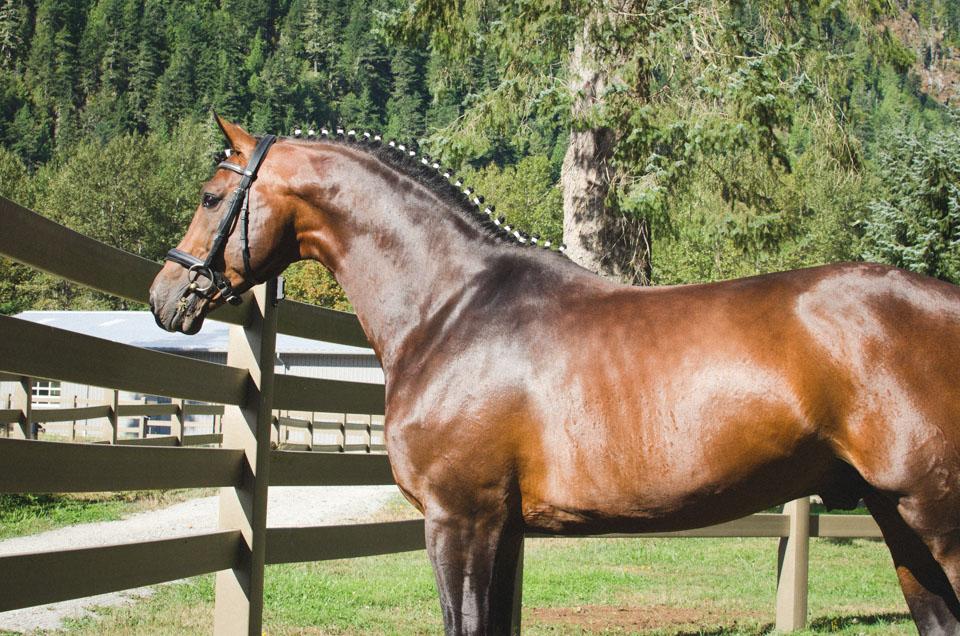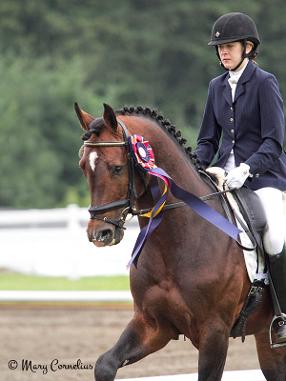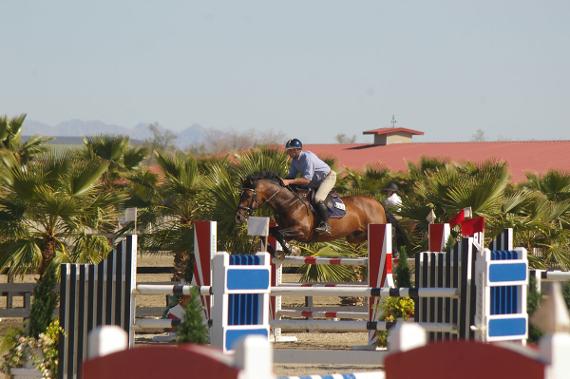 November 4th, 2021
Dinoco is sold. Congratulations to buyer Shauna Thompson of NS.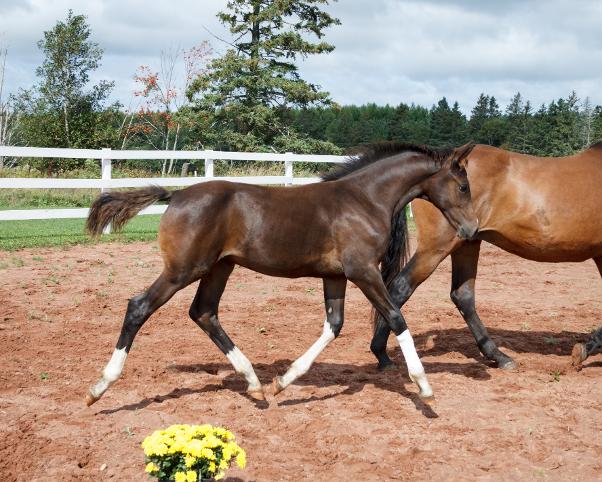 So happy for Dinoco, he is sale pending to a lovely home.
Reverie (Rapture R/Rienzi/Davignon) has found her person. Excited for them both :)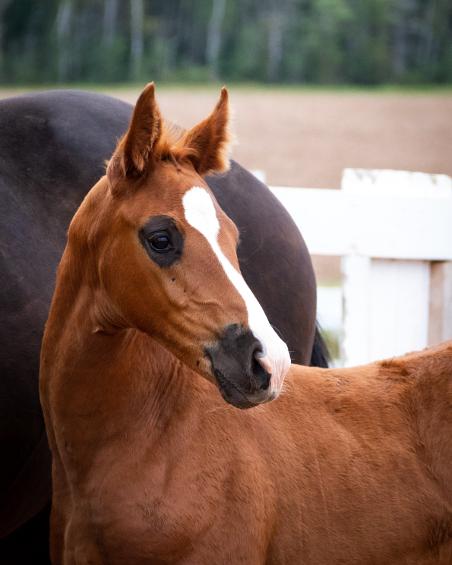 October 2nd, 2021
Lots of updates. The five oldest foals have been weaned, new video and photos have been posted on the sale page, and there is a sale pending on Reverie.
Santerina, Dyanthus, Athos, and Delcina will be heading out to their new homes this month.
Early Bird discounts for the stallions are up....take advantage of having these lovely boys standing with both fresh and frozen in eastern Canada. I can ship to most areas in North America with overnight shipping.
Left: Dinoco (Dauphin/Rienzi/Wenzel)
Right: Strava (Schwarzenegger/Ruiz Soler/Donnerhall)
PC Amanda Stright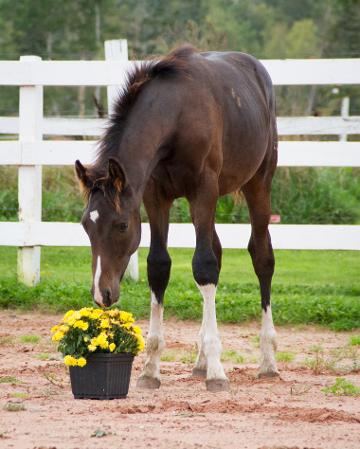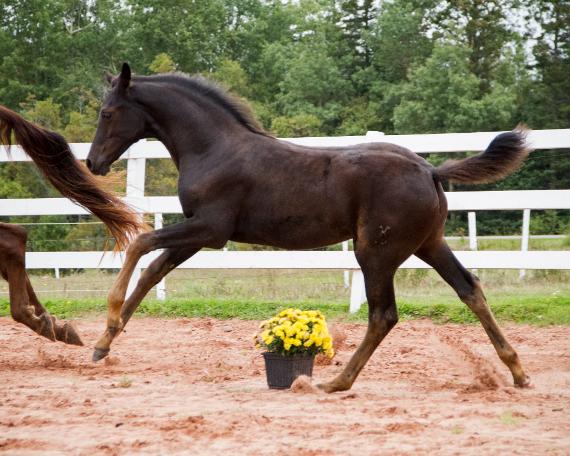 September 14th, 2021
So happy to announce that Delcina has found her person. Repeat buyer Lauren West of ON. So excited for them both.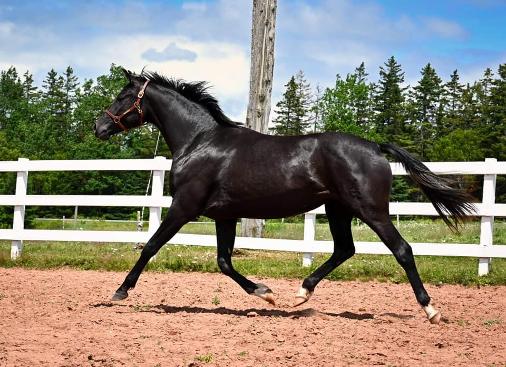 September 10th, 2021
Wonderful to have an in person inspection! Judges Inga Hamilton and Ursula Hosking flew into PEI and travelled farm to farm to inspect mares and foals.
Rosslyn (Rienzi/Donnerhall/Feiner Stern) and Darbee (Dauphin/Sandro Hit/Weltmeyer) were both inspected into the Main Studbook. Both of these mares are in-foal to Rapture R for 2022.
For the foals:
First out to be looked at was Duet, (Dauphin/Brentano II) she was praised for her correctness, and balanced way of going. She loves to canter everywhere!! She will be a good sized filly that would fit into a dressage or breeding home.
Next was Athos (Arrian/Lauries Crusador/Bolero), he impressed the judges with his presence and big trot. He is a modern leggy colt that recently sold to upper level rider Lauren West of Ontario. He was awarded the prestigious Gold Medal Foal Award as an above 8 foal.
Third was Riga (Rapture R/Schwarzenegger/Donnerhall) she is filling out to be a small tank and has so much look at me. She is correct and elegant.
Fourth was Dyanthus (Dauphin/Rienzi/Wenzel) she is tall and looks like she will be a correct mare with a nice shoulder and good hip. She sold early on to the US.
Fifth was Dinoco (Dauphin/Rienzi/Wenzel) he impressed the judges with his freedom in the trot and great big canter. He looks like he will be a flashy dressage prospect with his 4 stockings and sweet personality.
Sixth was Strava (Schwarzenegger/Ruiz Soler/Donnerhall) she was praised for her beautiful face, nice big shoulder and overall correctness. She has a strong mare line that would be useful for breeding as well.
Last but not least was Reverie (Rapture R/Rienzi/Davignon) this one month old filly looked awesome in the trot, strutting her stuff. She will be a bigger boned, substantial mare, with a great personality.
Big thank yous to friends for hustling to help out during this inspection. Very appreciated.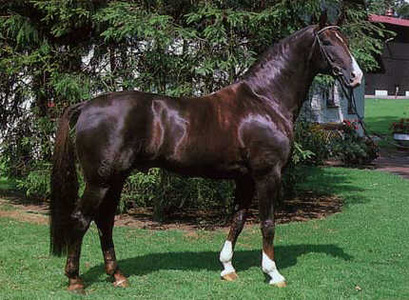 August 24th, 2021
Beyond excited to be able to offer frozen Donnerhall semen available through ICSI straws. I will be distributing here out of PEI while supplies last.
August 15th, 2021
Happy to announce the sale of Athos (Arrian/Lauries Crusador/Bolero) to Lauren West of Ontario, an upper level dressage rider. Will be exciting to follow their career together.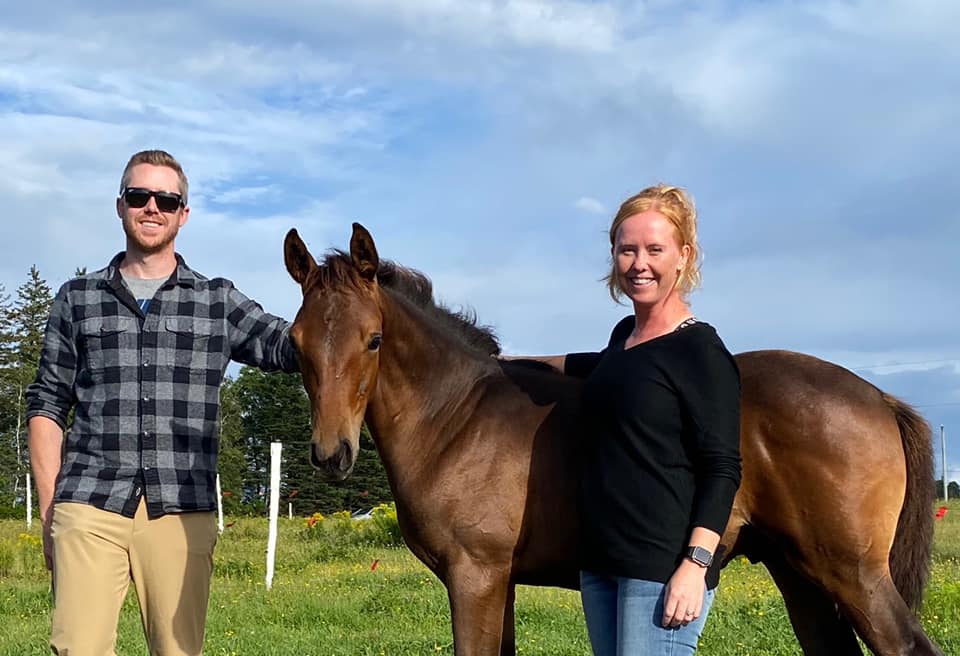 July 12th, 2021
Many new photos and videos throughout the site. A very big thank you to my wonderful friends for all the help creating this media.
Micro had a perfect Echo and Holter on July 9th. She is scheduled to come in to heat in the next week or so. I am planning to breed her with frozen semen to Goro Extra Elite. For those interested please reach out. These will be high drive dogs best suited for sport or very active homes.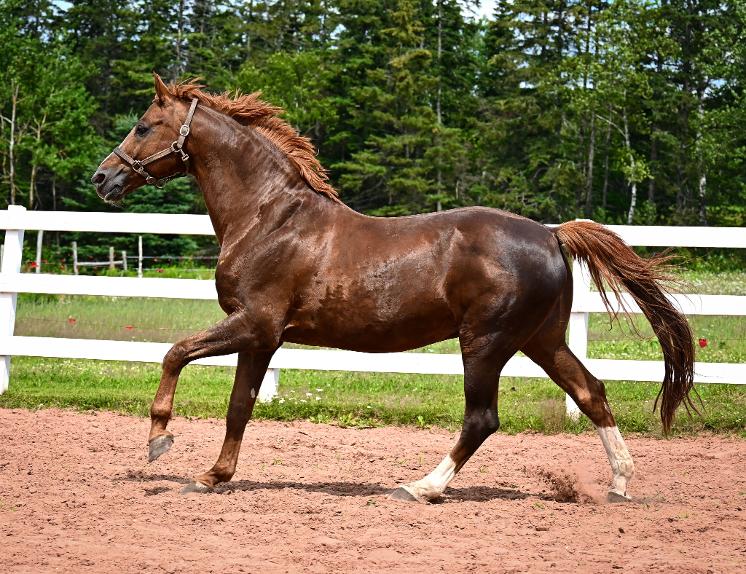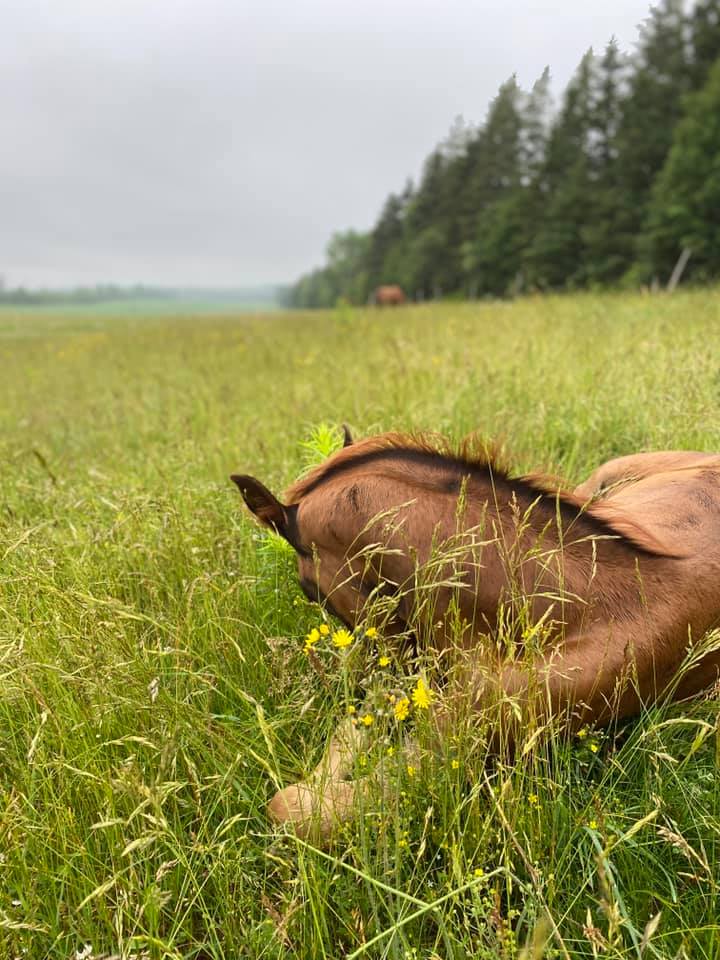 July 2nd, 2021
Happy to have good news from Micro's health testing, OFA normal thyroid, OFA normal elbows, and OFA excellent hips :)
Submitting DNA tests this week to check VWD and DCM. Heart testing next week. Considering breeding her this summer, we shall see how it all goes.
Have four confirmed pregnancies with the horses.
Rapture R x Rosslyn
Liesel x Sir Wanabi
Dauphin x Rara Avis ET
Dauphin x Rara Avis ET
Breedings this week:
Rapture R x Rara Avis ET
SPS Brentacia x Dauphin
Darbee x Wolkentanz II
Rumor x Schwarzenegger
Duchess Alyce x Hohenstein
June 10th, 2021
Have been having fun at dog training with Micro. Some super fun shots by Amanda Stright.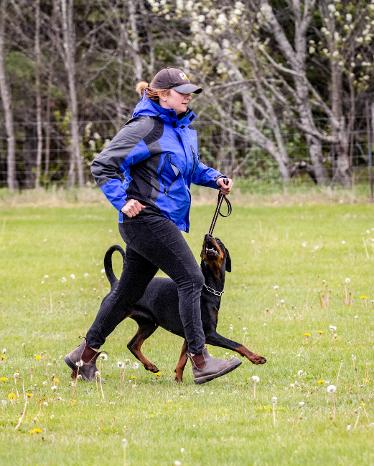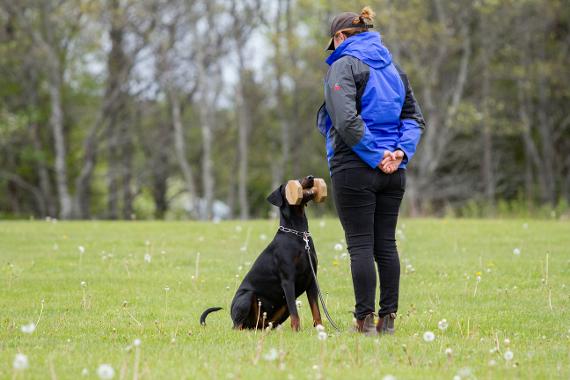 Prestige had a lovely embryo transfer filly on May 11th. C had a stunning embryo transfer colt on May 13th.
The pups are now 4 weeks old.
Liesel was confirmed in-foal to Dauphin. Flushed a Schwarzenegger embryo from Darbee and it has been transferred to Stella.
Rosslyn has been bred to Rapture R.
Santerina is sale pending to NL, Canada.
May 8th, 2021
Has been a busy few weeks with puppies, breeding our own mares, stallion collections, and three new foals.
The two recipient mares carrying the Rara Avis x Dauphin crosses are at day 345 and are looking ready.
Stanhope and Durant arrived safely in their new homes in Thunder bay, Ontario. Big trip for babies, they travelled well and look great, so happy for them and their new owners.
We are excited about three of the crosses we have just made for 2022. Fingers crossed for black dots in two weeks.
Brentacia has been bred to Rapture R
Liesel has been bred to Dauphin
Darbee has been bred to Schwarzenegger
May 7th, 2021
Santerina had a stunning chestnut filly by Rapture R (Rotspon/Donnerhall/Weltmeyer) at 9am this morning. It caught us off guard with one she was only 326 days along, and two the filly being chestnut. I didn't think Santerina had a chestnut gene. I will submit a hair sample from "Riga" to determine if she will turn grey. Riga is the capitol of Latvia, where my brother Gabriel was posted a few years ago.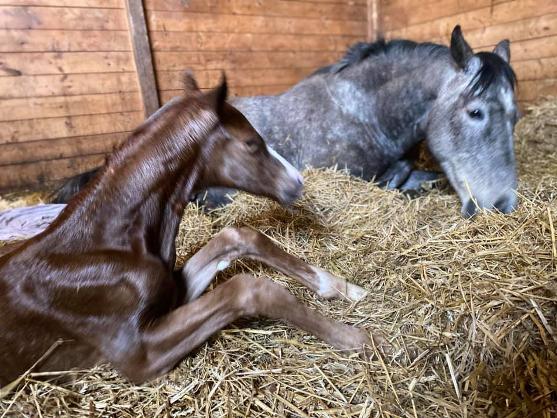 April 26th, 2021
Liesel (Lauries Crusador/Bolero) had a big bay colt by Arrian on Saturday evening at 8:30pm. He looks so much like his sire.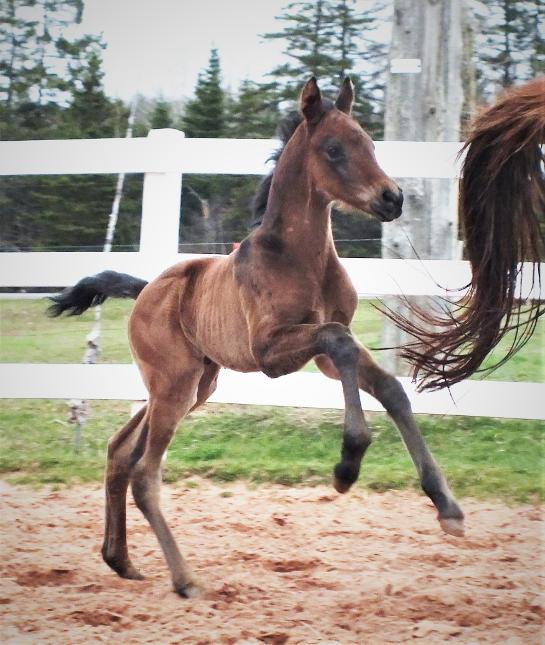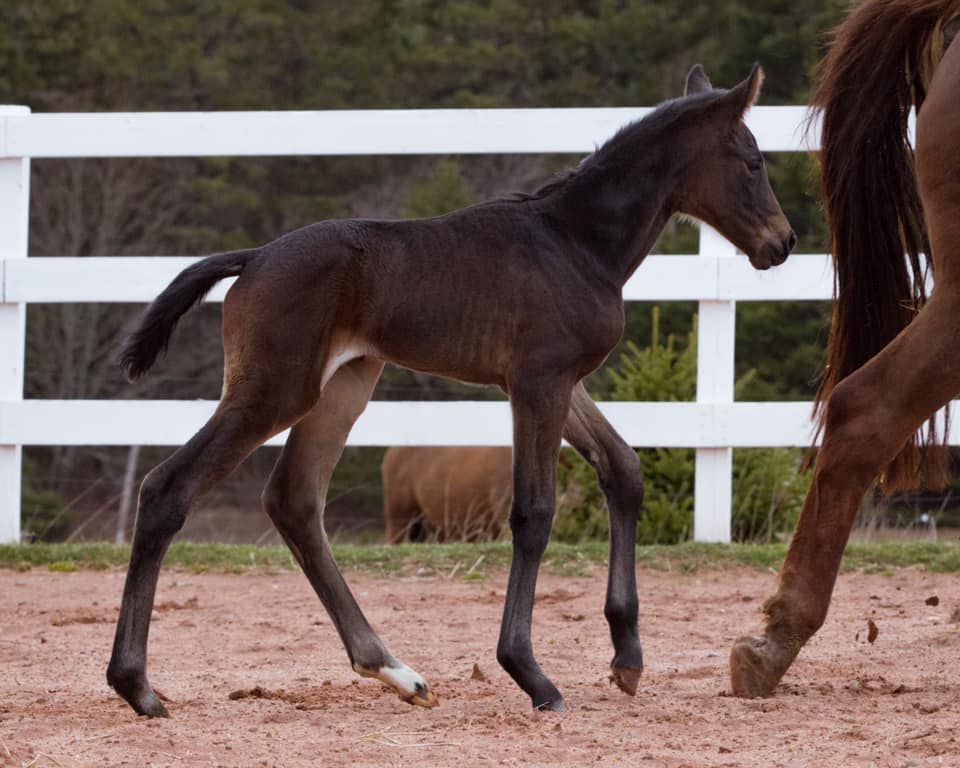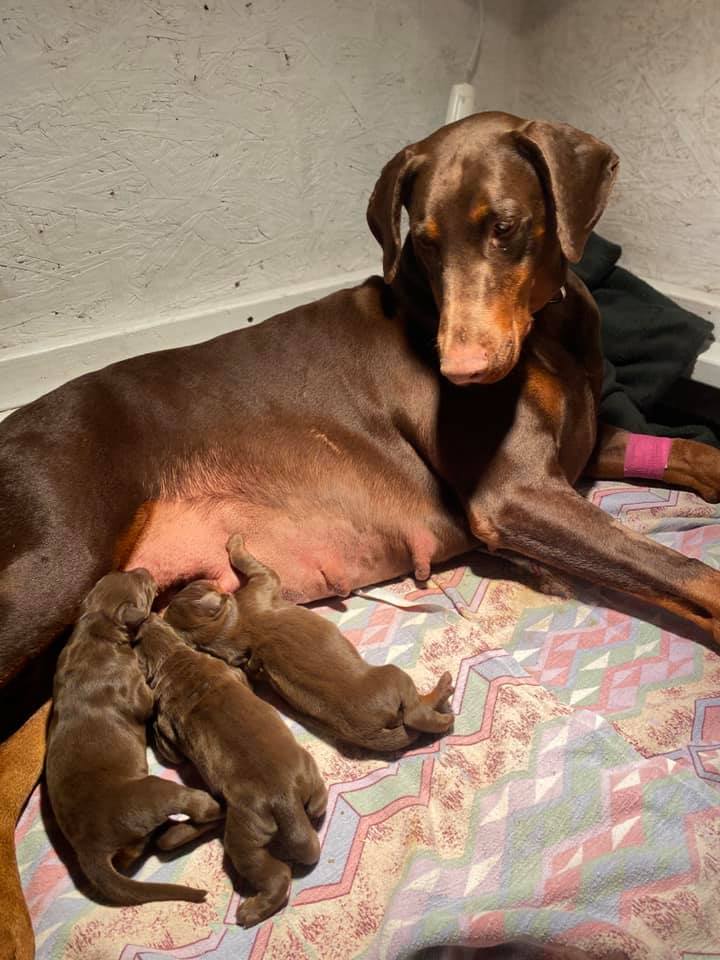 Happy to announce lots.
Deci had three beautiful big red female pups on the 20th via c-section. Both her and the pups are doing great. Thank you for all the inquiries, these little gals are spoken for.
SPS Brentacia produced a stunning dark filly by Dauphin on the 21st. Now named "Duet", she is built very uphill and has a beautiful shoulder. She is a full-sister to Dyneema. For those looking for an upper level dressage and breeding prospect, this is one to consider. Photo above. PC Amanda Stright.
First pregnancy of the season is confirmed for Rapture R for a mare in ON owned by a close friend :)
Love seeing all the lovely foals by our boys landing safely.
Two of our yearlings have sold. So excited to announce more once they land in their new homes next week.
April 13th, 2021
We are on the cusp of the busy season with two mares due to foal and puppies set to arrive this week. Hoping I can keep up with updates.
Looking forward to a couple of lovely young women joining the farm team this spring/summer. Happy to have the help.
Excited that there is a sale pending on Santerina.
Her 2021 foal is available.
March 21st, 2021
Big congratulations to Evi Strasser and Deja Vu Tyme. They have been successful together at GP in Florida this 2021 season. Deja Vu Tyme is a powerful 2007 gelding by Dauphin and out of a Werbellin mare.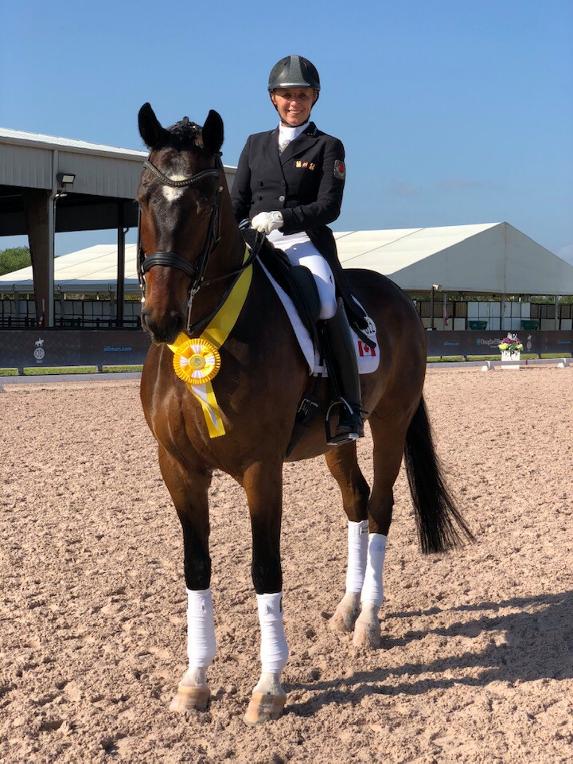 March 20th, 2021
We are excited that Deci is confirmed pregnant! This has been a super cross; producing athletic, sound companions and sport prospects. A word to the wise, this working breed is high energy and needs exercise and mental stimulation...read that again. Dobermans are beautiful smart dogs but they are a lifestyle. They need active owners that are prepared to work with them and challenge them. They love to learn and they love to go with you. Keep them busy and fit and you have the dog of a lifetime. Females finish around 75lbs, and the males around 90lbs. We do not crop, dock, or remove dewclaws. (It is not permitted after purchase either). Please keep this all in mind when applying for one of our pups. Litter is due around April 16th.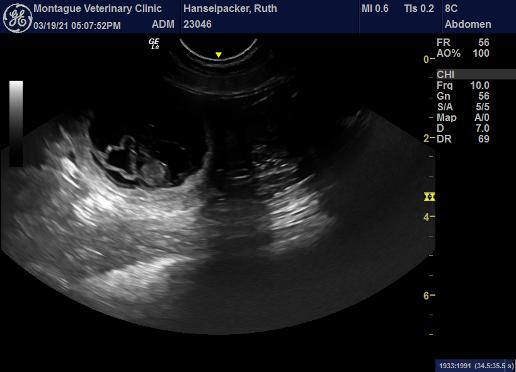 February 22nd, 2021
Deci was bred on February 18th. Fingers crossed, we will know if she took in a month's time.
All the pregnant mares are getting big, will be some super nice foals hitting the ground this spring/summer. I have posted a list of expected crosses and tentative breeding plans on the sales page.
January 29th, 2021
Dobermans: We are looking forward to repeating the cross between Ferro vom Bergkonig and Deci this spring for summer pups. We have limited availability so please touch base if interested. This will be Deci's 3rd litter of this cross. We will be switching males for her last litter to the black and tan IPO 3 male Way out West Guilty as Charged "Grecko" for 2022.
January 14th, 2021
RIP Rienzi
Sad goodbye to this classic stallion this morning. He was 27 and had started to decline with age related changes.
Our thoughts are with his breeders and owners, Marefield Meadows. We feel very fortunate to have been able to enjoy his company and retirement for the last two years.
January 6th, 2021
Excited to welcome this beautiful mare to Aileron Stables. This is Darbee (Dauphin/Sandro Hit/Weltmeyer) a 2009 Hanoverian mare bred and owned by Marefield Meadows. She is out of the mare Solstice who was a daughter of Wintersong. Very fortunate to have this sweet mare on breeding lease.
PC Amanda Stright.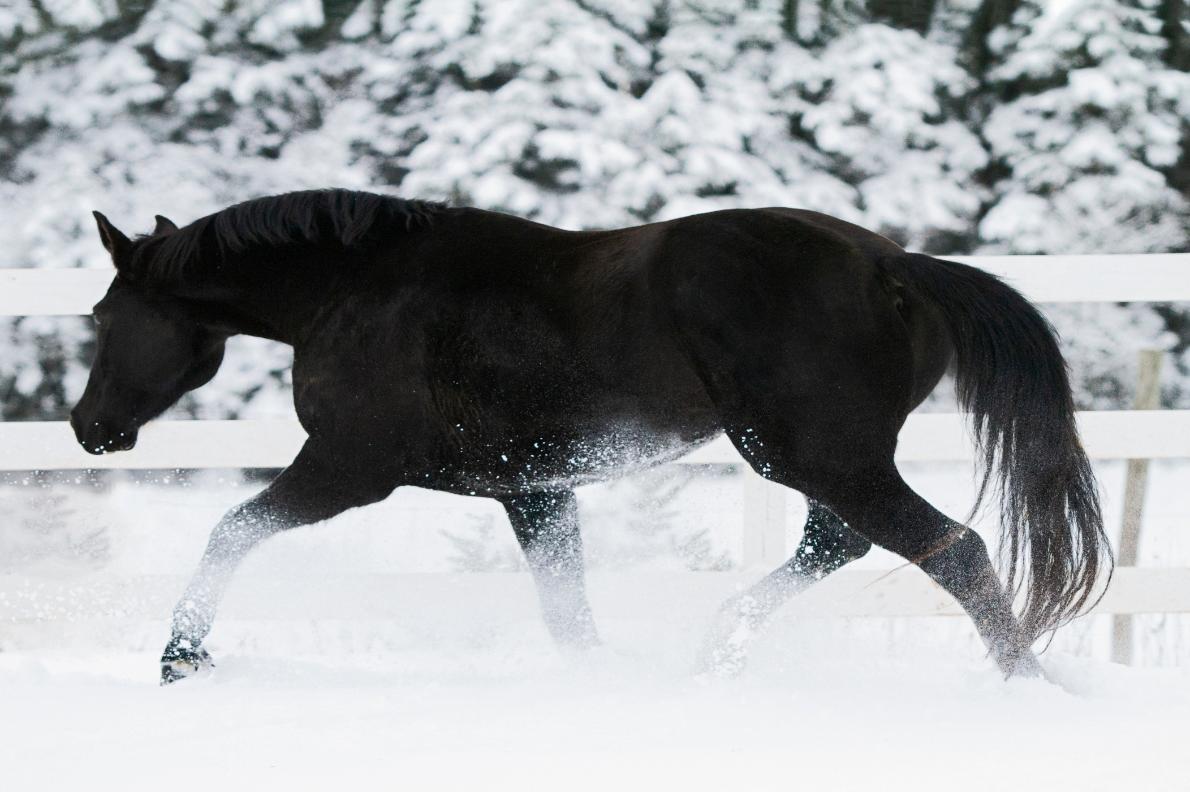 December 22nd, 2020
Merry Christmas to all our clients and friends. A big thank you to all that added horses and pups from our farm to theirs, and to those that chose our stallions for their breeding programs.
We are looking forward to our coming foals and are planning to breed Deci in February for a repeat cross of her and Ferro.
We are lucky to be adding another mare to our herd. Darbee (Dauphin/Sandro Hit/Weltmeyer) will join the farm soon from the US.
Here is a tentative breeding plan for us for 2021.
Liesel x Dauphin
SPS Brentacia x Rapture R
Rumor x Schwarzenegger
Duchess Alyce x Le Rouge
Rimini x Dauphin
Rara Avis x Dauphin via ET
Rara Avis x Dauphin via ET
Rara Avis x Dauphin via ET
Darbee x Rapture R
Rosslyn x Sir Wanabi
Santerina x Rapture R
November 24th, 2020
Our 2021 coming foal list: We are so excited to welcome all these crosses. Breeding horses is an exercise in persistence.
Liesel (Lauries Crusador/Bolero) x Arrian due April
SPS Brentacia (Brentano II/Imperator x Dauphin due April
Rara Avis (Rienzi/Wenzel) x Dauphin via ET due May
Rara Avis (Rienzi/Wenzel) x Dauphin via ET due May
Santerina (Schwarzenegger/Donnerhall) x Rapture R due May
Rimini (Rienzi/Davignon) x Rapture R due June
Rumor (Ruiz Soler/Donnerhall) x Schwarzenegger due July
Duchess Alyce (Dauphin/Weltmeyer) x Arrian due July.
Many of these foals will be available in-utero, please touch base to discuss :)
November 12th, 2020
Has been a tumultuous month. We said goodbye to beautiful Schwarzenegger and to the yearling Dryden. There is limited frozen semen of Schwarzie available.
We have weaned the three oldest foal: Sequel, Strika, and Durant. They are great and ready to head to new homes. They are available.
All the pups headed out to their new homes around mid-October.
Participated in my first dog trial with Micro on November 8th. Unfortunately we were disqualified for some social butterfly moments. Will aim for the BH in the spring.
October 7th, 2020
Early bird discounts are in-effect for Rapture R and Dauphin.
We have lots of frozen semen available including many doses of other fellows that are closely related to our stallions.
Rotspon: 1 dose: 4 straws. 950$
SOLD
Donnerhall: 1 dose: One 5cc straw. 6,000$
Weltruhm: 1/2 dose: 4 straws. 400$
Don Martillo: 1 dose: 4 straws. 1,400$
Dancier: 1 dose: 3 straws 1,800$
SOLD
Heinrich Heine: 2 doses: 3 straws/dose. 570$/dose
Revolution: 1 dose: 3 straws: 1,650$
SOLD
Hendrix: 2 doses: 8 straws/dose. 650$/dose
Lord Laurie: 2 doses: 8 straws/dose. 650$/dose
Mandingo: 1 dose: 8 straws. 530$
Schwarzenegger: multiple 8 straws/dose. 900$/dose. 5 Doses available.
Bonheur: multiple 8 straws/dose. 700$/dose. Limited
Dauphin: multiple 8 straws/dose. 800$/dose
Rapture R: multiple 8 straws/dose. 800$/dose
September 28th, 2020
We are excited to offer early bird discounts for our fresh LFG contracts to Dauphin or Rapture R for 2021. It will be 400$ off for contracts completed by October 30th.
The pups have been growing like mad. They are almost 6 weeks old now and will start heading to their new homes mid-October. The house will feel very different without their boundless energy lol.
I made the choice to retire Schwarzenegger from collections this Fall. He has been a tremendous stallion for the farm; reliable and consistent producer of amateur friendly horses. He is now 23 years old and I noticed him slowing down this season. I feel he owes me nothing and he can relax here and enjoy being a horse.
On left: Rapture R, on right Dauphin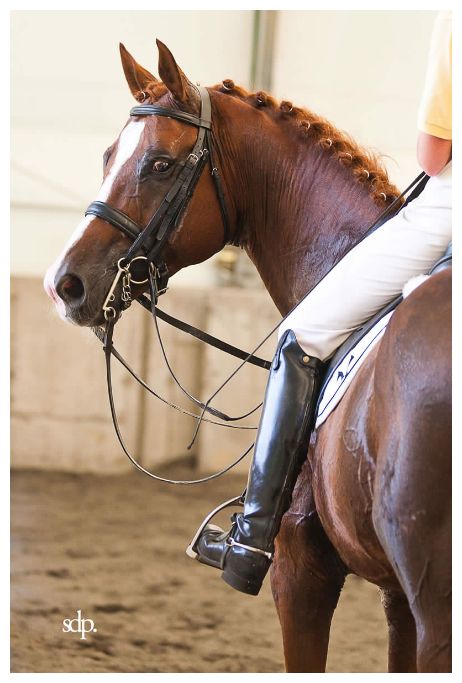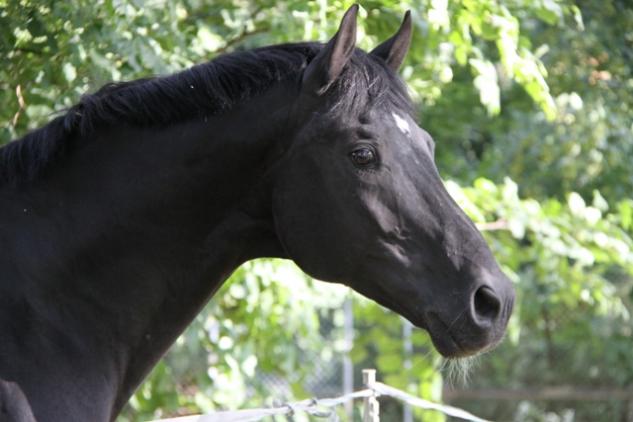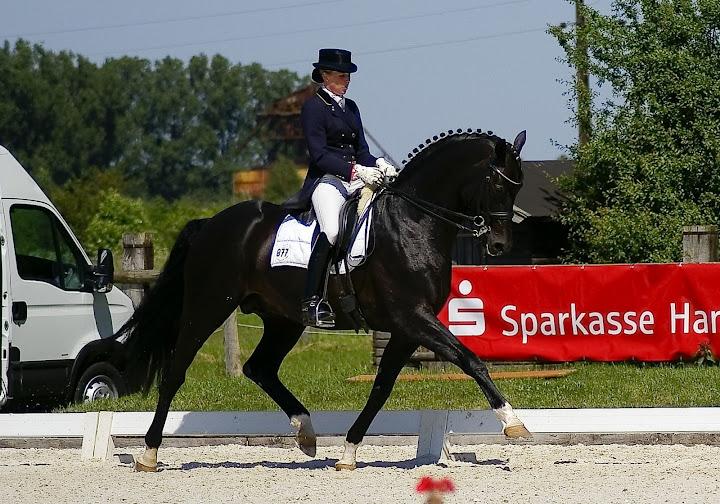 August 28th, 2020
We have had so many inquiries for by the dose for the stallions. We are offering another option.
If the stallions are collected, by the dose is available for 900$ plus tax without a LFG. If they are not collected, the mare owner can pay the collection fee and still buy one dose of fresh cooled for their mare.
We will be collecting until October 15th so for those that want to try one more cycle, this might be a great option for you.
August 24th, 2020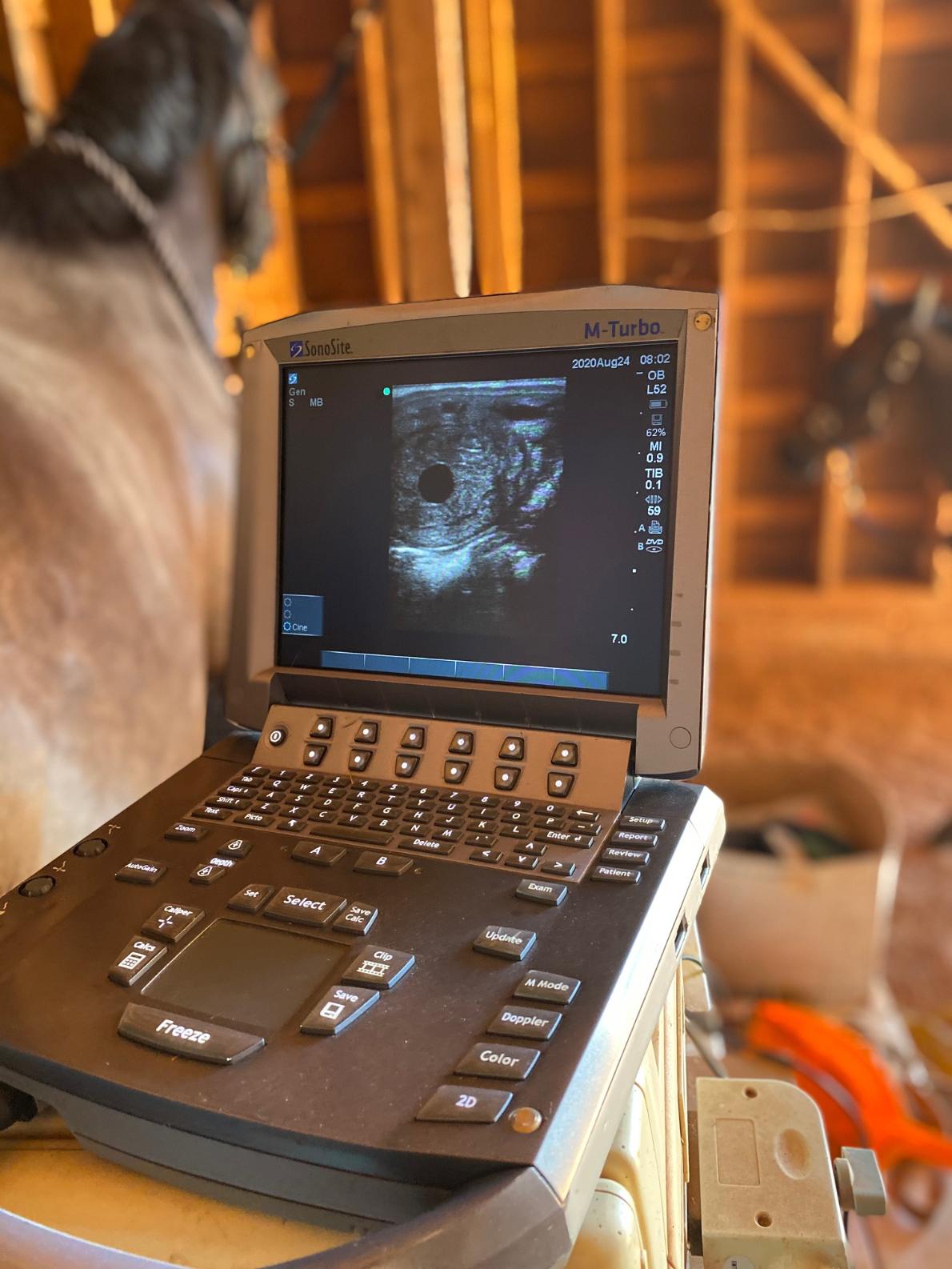 Lots of news....
Sad to announce that Arrian passed away over the weekend. This 28 year old stallion was a force to be reckoned with. We feel extremely lucky to have two pregnancies confirmed for 2021 to him. One with Liesel .and the other with Duchess Alyce.
Pups arrived on August 19th, some complications, but we have 9 healthy little jelly beans.
Rumor is confirmed in-foal to Schwarzenegger again. Hopefully she hangs onto it. We now have 7 confirmed for 2021.
August 3rd, 2020
Deci is in the home stretch. We will be taking her for an xray later next week to get a more accurate count on pups.
Said goodbye to SPS Wonderful Dream last Thursday. She produced 14 wonderful foals that are spread out over Germany, the US, and Canada. She was a queen of a mare.
Hoping to get the last couple mares confirmed in-foal soon so we can focus on pups.
We will be increasing our fees as of November 1st, 2020. Stud fees, board, and collection rates.
July 27th, 2020
Hmm since I last updated...
Bellmora has arrived safely in Florida and is loved. She will have a Dauphin foal in April 2021
Rimini had a beautiful Dauphin filly on July 8th. This lucky filly will head to her new owner in Maryland, USA in the fall.
Duchess Alyce had a big friendly Schwarzenegger filly on July 13th. She is substantial. We have named her Stanhope.
Deci is making progress. She is getting big. An ultrasound showed at least 8 pups. We will find out in 3 weeks. eek!!!
So enjoying Schutzhund training with her daughter Micro. She is a fierce female that is well suited to the sport, I just have to keep up with her lol.
Breeding wise we have 5 confirmed so far. A couple more to preg check (Wonderful Dream, Rimini, and Duchess Alyce. We have to rebreed Rosslyn and Rumor) the goal of 10 for 2021. As most know, tentative plans and foals on the ground are two very different things.
We were lucky to have Amanda Coggins over for a photo shoot last weekend. So lots of new photos.
I posted four new videos of the 2020 foals, that can be found on the for sale page.
Unnamed "D" filly STANHOPE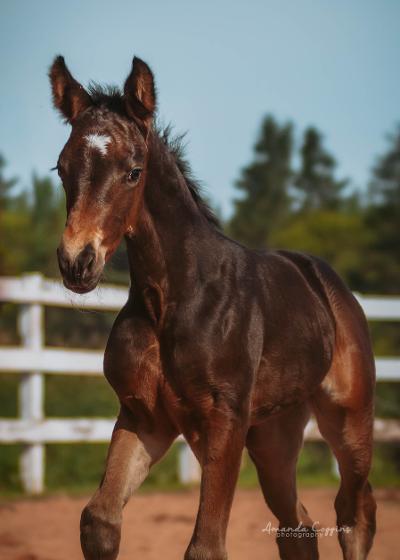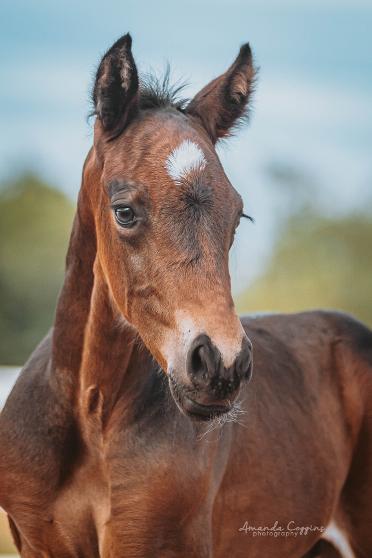 July 6th, 2020
Like most of our breeding, we breed mainly for dressage but keep sight of maintaining versatile athletes. Our youngsters are often sold to dressage, hunters, and eventing homes (in that order). Our newest stallion, Rapture R, fits this profile. He showed GP dressage but also scored over 130 in the jumping portion of his performance test (shown below). We are extremely proud of the horses bred here and love to hear the updates from those that have used the stallions or purchased youngsters.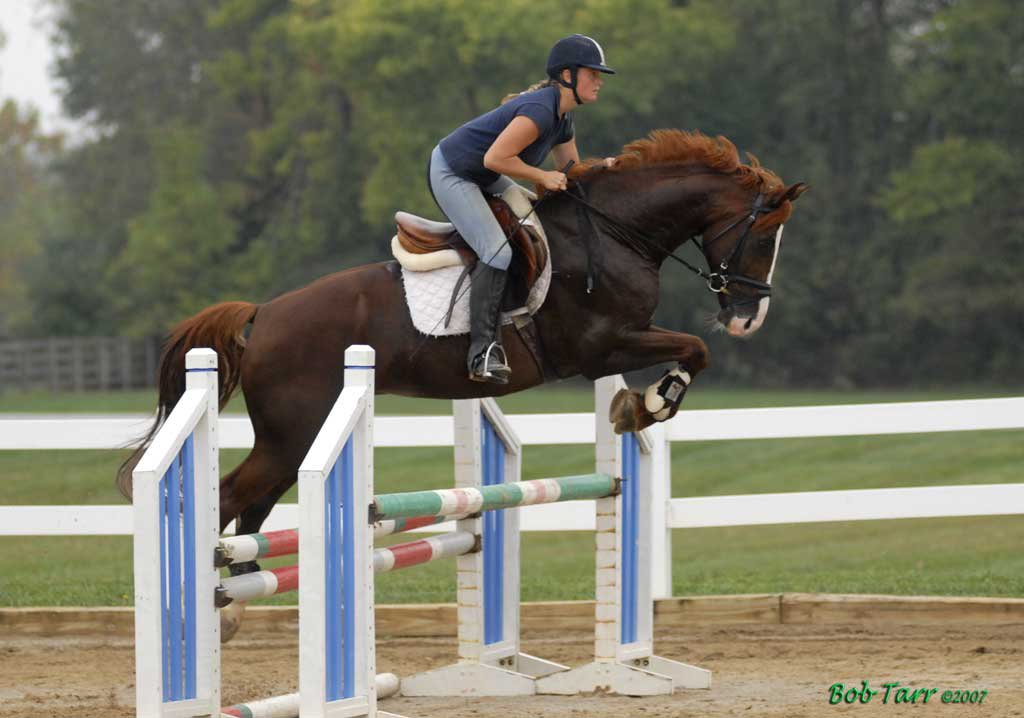 July 3rd, 2020
Things are starting to slow down a little bit on the farm after the initial burst of foaling and collections. So happy for all the mare owners that have notified us of pregnancies. We are taking advantage of the pause before the next two mares foal to try to catch up on media.
We will be extending the season for all the stallions. Instead of ending August 15th, we will collect until October 15th. All the inspections are cancelled and we will have help until then.
Excited to announce the first pregnancy is confirmed for Rapture R, we bred Santerina on her foal heat the day after he arrived. We will be preg checking Rosslyn, Rumor, and SPS Wonderful Dream next week.
Looking forward to an ultrasound for Deci in 10 days or so, eek.
June 25th, 2020
Rapture R has arrived safely on farm. He is a beautiful fellow. We have bred three mares to him here on farm, fingers crossed. SPS Wonderful Dream, Santerina, and Rosslyn.
The three mares and foals are doing well out in a runin together. So nice to see the foals starting to play with each other. They are a stunning bunch.
Rosslyn foaled on June 14th. A tiny, sweet little filly. The filly was good for 36 hours and then crashed and required IV fluids and anti-biotics. She rallied and was doing great, so we went ahead and named her Souris. An unfortunate stall accident yesterday ended the chapter. She looks to have been stepped on and had a broken hindleg. A thank you to Dr. Ryan for her quick response to come euthanize the filly.
Deci was bred on June 19th, eeekk. So hopeful she took. It would mean pups around August 15th.
We had a cat adopt the farm and have a bit of a surprise....she has 3 kittens.
Rimini and Duchess Alyce are making progress, we expect to meet their foals in the next two weeks.
Dyneema has sold and was picked up the other day. Lucky mare heading to a super hunter home.
We have four pregnancies confirmed with heartbeats.

1) Liesel x Arrian
2) SPS Brentacia x Dauphin
3) Rara Avis x Dauphin ET
4) Rara Avis x Dauphin ET
Photo below: SPS Brentacia and her Schwarzenegger filly, Sequel. Photo Credit: Amanda Stright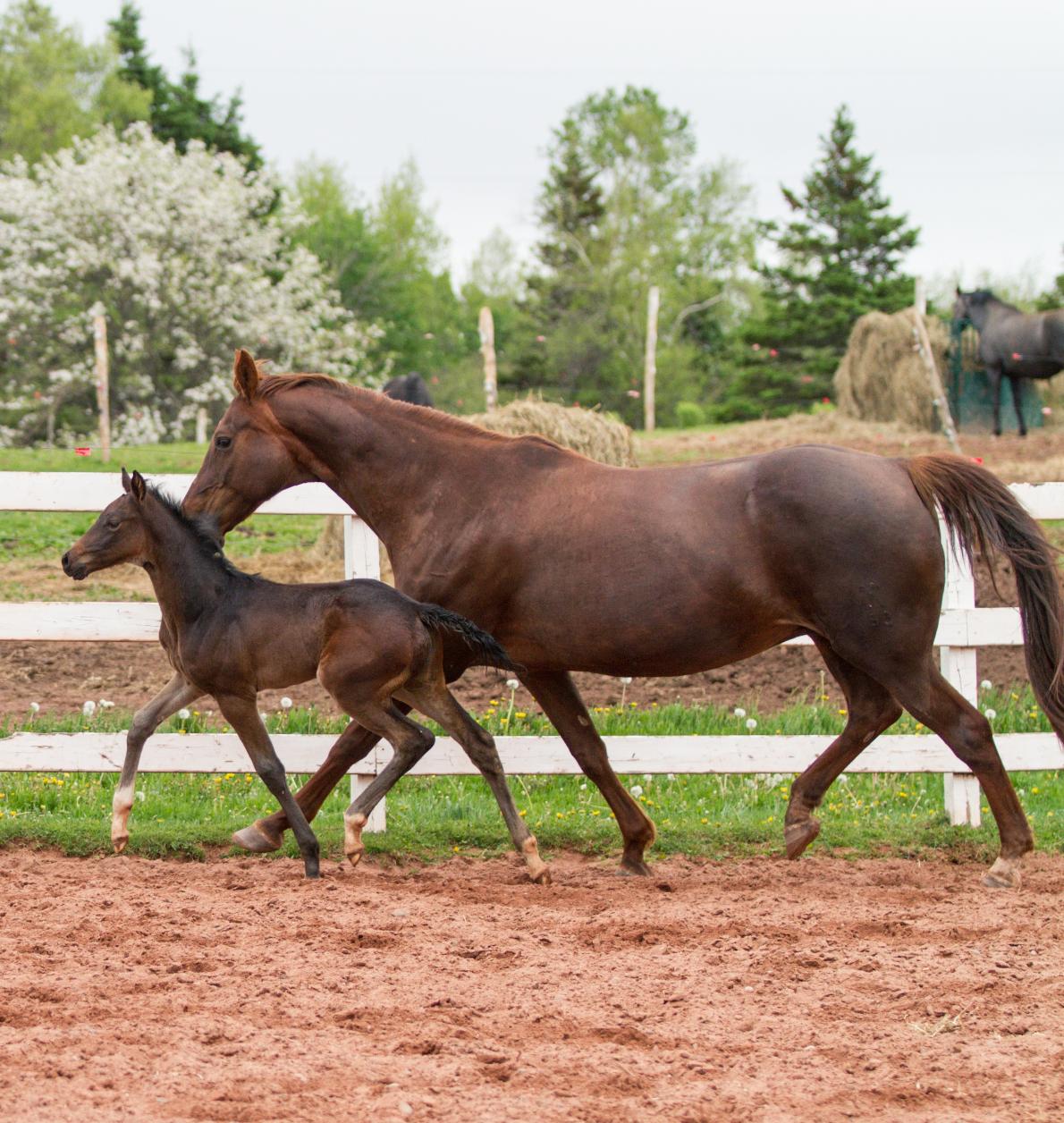 June 2nd, 2020
Feels like I blinked and a month disappeared lol.
We are thrilled to be the new owners of Rapture R, a 2001 Elite Hanoverian Stallion. Pedigree: Rotspon/Donnerhall/Weltmeyer). He has a performance record through GP and offspring at FEI. He will be joining our lineup this month.
We have an exquisite new addition, pleased to introduce you to Strika (Schwarzenegger/Ruiz Soler/Donnerhall). She is so sweet and has such a chiselled profile. She is completely black except for a patch of white whiskers. She arrived May 29th at 9:30pm. Photo below. Her dam Rumor is taking such great care of her.
Excited to announce a pending sale on beautiful Dyneema. Fingers crossed.
We were happy to have our first pregnancy of the year confirmed. Liesel (Lauries Crusador/Bolero) to Arrian. This will be our first Arrian foal at the farm. We will be doing preg checks on SPS Brentacia and SPS Wonderful Dream later this week.
The stallions have been busy busy! So happy to share the happy news of pregnancies for Dauphin, Schwarzenegger, and Arrian.
I am so grateful to have Jason home on parental leave, Maria working for us full-time, and some help from Jason's wonderful Mom Janet. Russell is the cutest little fellow, so go go gadeget lol.
That's all for now. Next to foal is likely Santerina, with her Dauphin foal.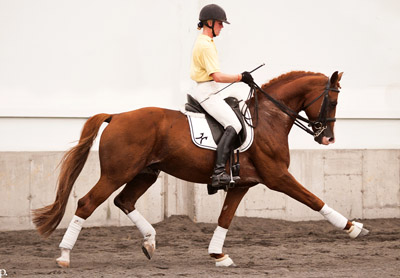 Above: Rapture R
Below: Strika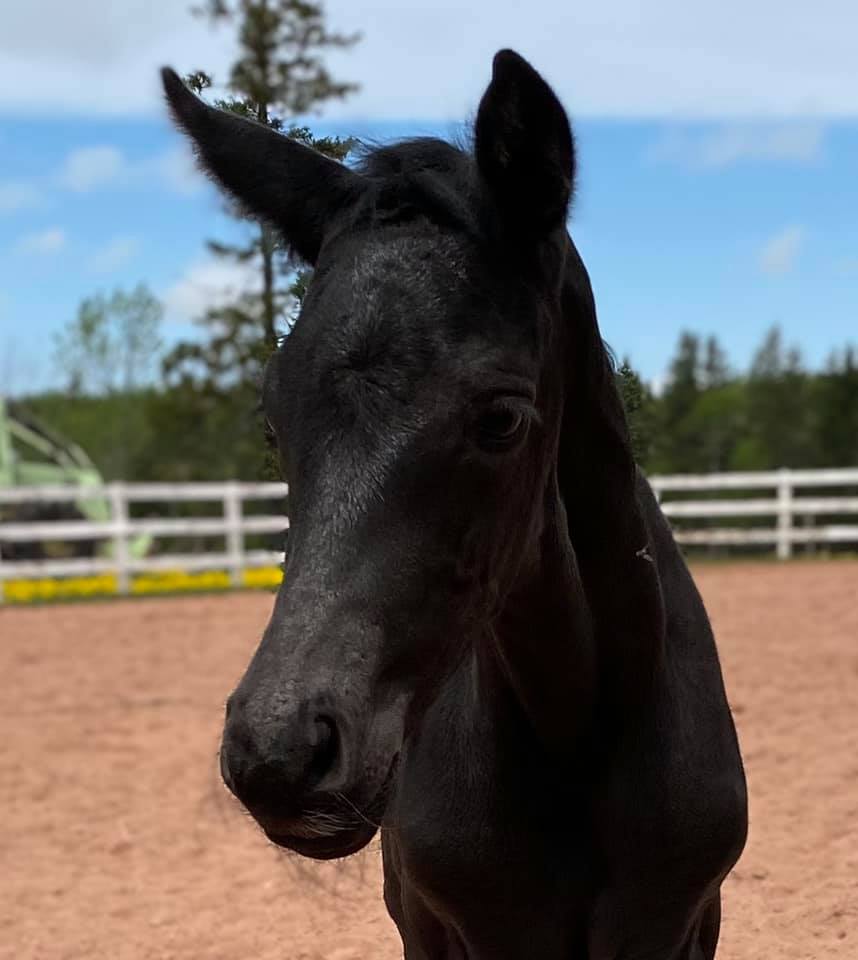 May 10th, 2020
Great news. SPS Brentacia had a beautiful dark Schwarzenegger filly this morning. They are doing well. She is dainty at this point. We chuckle at this every year. Brentacia has small foals that get going for growth once out. The full-sibling from last year, Steinway is a super tall fellow.
Excited to announce the sale of Bellmora to Florida. A big thank you to Pearl Macgregor for putting the training on.
Next one to foal will likely be Rumor with her Schwarzenegger (colt we are thinking).
May 5th, 2020
We had the colts gelded today. Big thank you to Dr. Bill Best.
Sorry to announce that SPS Wonderful Dream reabsorbed her pregnancy some time over the winter. We will be expecting 6 foals for 2020. That is the way, it never turns out as planned, so always allow some buffer.
SPS Brentacia is at day 330, and making progress.
We have some exciting news about one the Aileron horses, fingers crossed.
April 27th, 2020
We are starting to get excited about the coming foals. Brentacia is showing lots of changes and Rumor is making progress as well.
April 25th, 2020
A note to mare owners, we are happy to work with you, payment plans are available. If interested in breeding your mare, touch base via email and lets set it up.
Is the same for purchasing horses from the farm, terms are available.
April 18th, 2020
Spring is definitely here. Collections have been flying out the door, everybody is shedding, open mares are cycling, and the shenanigans are happening all around the farm.

We are thinking of everyone going through the pandemic, what a unique experience of a global happening. We hope everyone is staying safe. We are hunkered down on our little farm and wave at Fedex as they pick up packages. We realize stallion owners are in a unique position depending if they are collecting at home vs hauling out to collect. This is the first year we will offer the stallions by the dose with fresh. We are not going to collect the stallions for this, but if we have doses left over after the contracted breedings are taken care of, we will offer the other breedings. I figure it is something we can offer where shipping availability, stallion availability, and veterinarian access are all questions marks. A breeding dose with no LFG will be 800 CDN (plus tax if sold in Canada).
Below: The "R" field. Three are Rienzi daughters, and one by Ruiz Soler.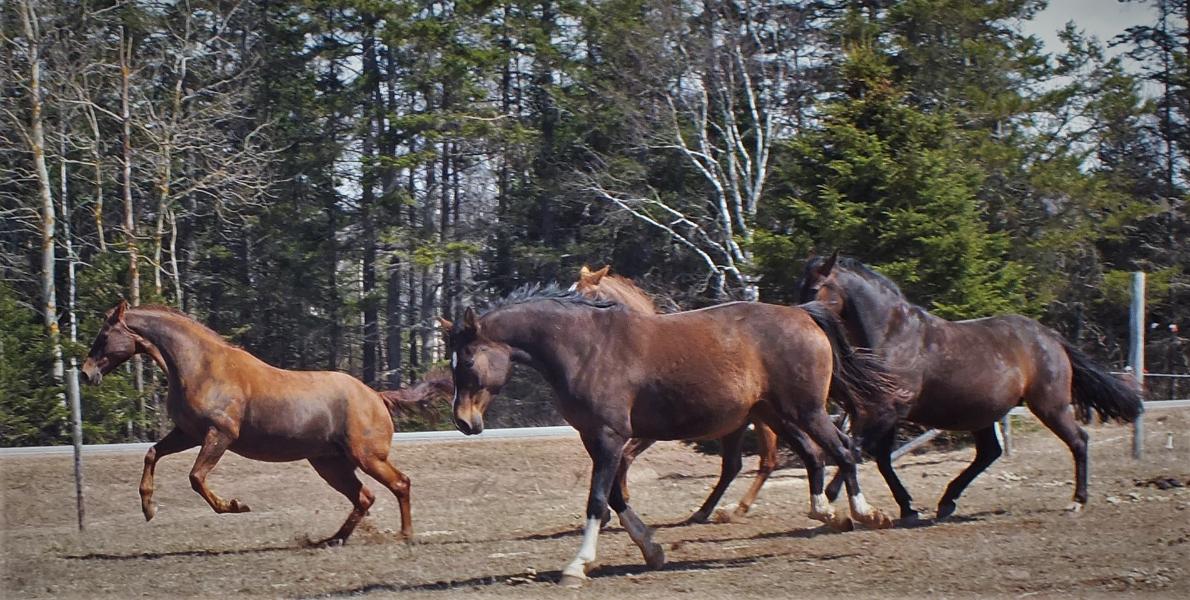 March 16th, 2020
Collections will open back up for the season on March 17th, 2020.
Scary updates with the Corona virus traveling around the world. We will do our best to service our client base. If you are considering a sale horse and would like more information let us know. We will try our best to keep video current.
March 12th, 2020
Mixed News.
Happy to announce the sale of Siskel to Morgan Louis. These two have enjoyed each others company since Siskel was a baby untying shoelaces.
In sad news, Rara Avis lost her Dauphin foal at day 286. Unsure of the cause at this point.
March 5th, 2020
Very neat to see photos of Spartakus, a Schwarzenegger son out of a Falkland mare. He and his owner have been competing at Grand Prix since 2017. Owned and ridden by Carrie O'Neill.
PC Terri Miller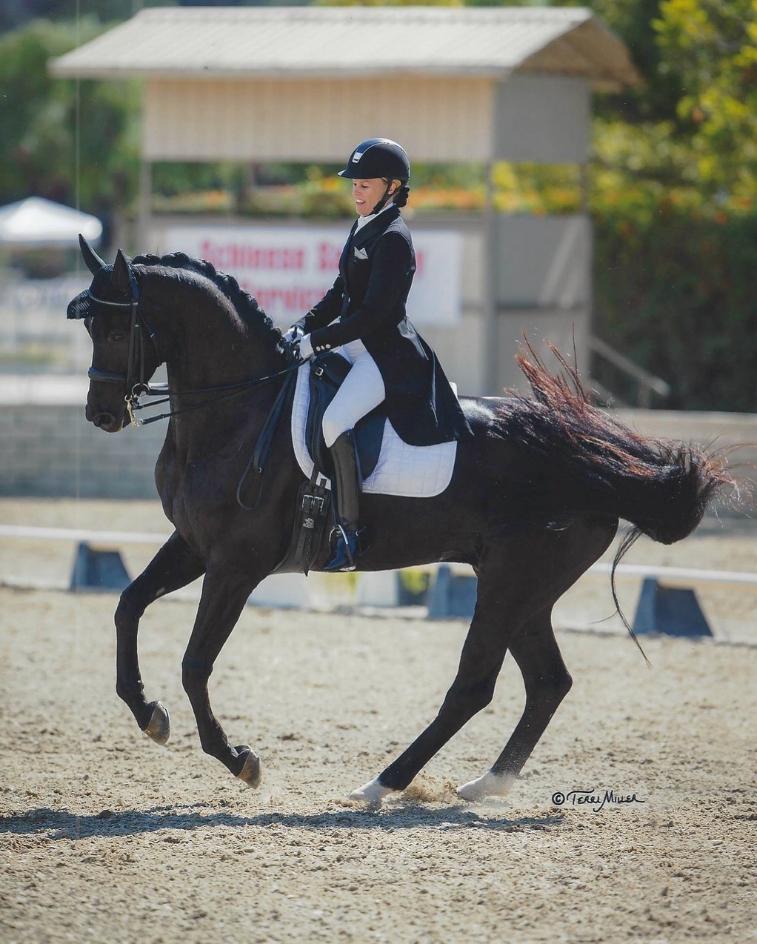 February 4th, 2020
Frozen semen sale! Buy any frozen dose of Schwarzenegger, Dauphin, Lord Laurie, Hendrix, or Mandingo and receive one 8 straw dose of Bonheur (Brentano II/Roncalli xx/Glander) for FREE.
Limit of two free doses per customer. Offer expires February 10th. Limited quantities. Dry shipper available for rental.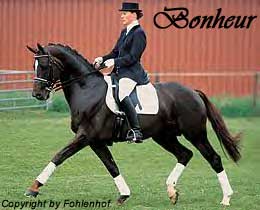 January 30th, 2020
So many things on the go as we start to gear up for the season. Jason has been busy on farm improvements and generating pedigree charts for all the horses.
We have new videos and photos throughout the site.
The Hanoverian Annual General Meeting will be held in Toronto on April 18th and 19th. Is a great way to learn more about the workings of the club, meet fellow breeders, and enjoy some fun educational activities.
January 28th, 2020
Some neat things: Dauphin has two offspring at GP dressage!
Schwarzenegger has an offspring at GP dressage, a 1.60m jumper, and the top AHS hunter.
We are planning a repeat breeding for the Dobermans. We will breed Deci on her next cycle back to Ferro Vom Bergkonig. Last year's litter fulfilled our breeding goals and we look forward to another full cross. If you are interested in reserving a pup, please contact us. The pups are best suited to active homes. We had a range of sizes and drives in the last litter and would anticipate the same from this one. Breeding will likely take place in June, and pups would be ready to go in the Fall at 8 weeks of age. We will set up an official wait list to help match puppies to owners.
January 10th, 2020
Oh boy, lets see.
We had many new additions in 2019 including stallions Arrian and Rienzi, mares Rara Avis, Rumor, and Rosslyn, puppy Micro, and baby boy Russell.
Jason worked away on some farm improvements and we now have a big runin in our back field and water lines through the barns.
November 27th, 2019
Black Friday sale on Hanoverian stallions Schwarzenegger (Sion/Calypso II/Graphit) and Dauphin (Donnerhall/Feiner Stern/Pik Ramiro). 400$ off per contract. For those that missed the first early bird sale, this is your opportunity to save by being prepared for the season.
Contracts and payment must be completed by midnight on November 29th, 2019.
Both stallions are N/N for WFFS.
November 11th, 2019
Things are settling in for the winter here at the farm. Little Russell is a joy in the house, very sweet and snuggly.
The eight pregnant mares are progressing along, will be a stellar line up of foals with the first one arriving late April.
We do plan to breed Deci again in the future but are unsure of when at this time.
Happy to have wonderful homes for them: there are 4 in PEI, 1 in NB, 1 in NS, and 1 in NC.
Our newest mare is Liesel (Lauries Crusader/Bolero). A huge thank you to Parkwood Stables for this wonderful mare. We look forward to breeding her in 2020.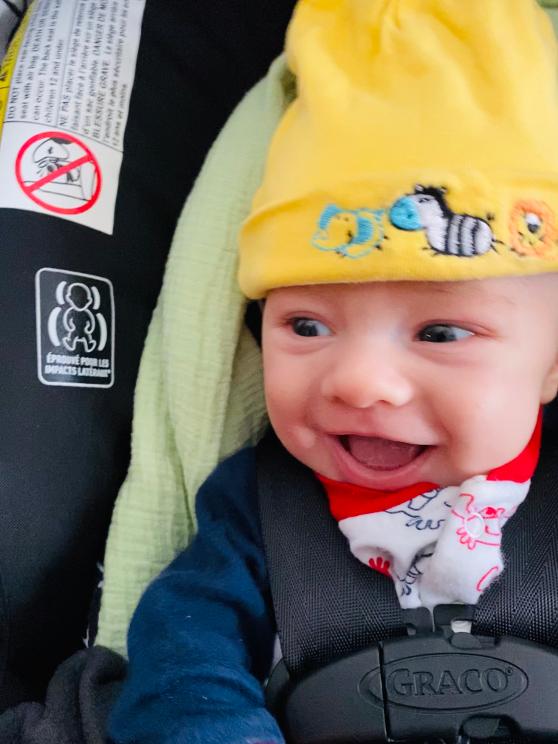 October 26th, 2019
We were very happy to welcome little Russell David Acorn on October 5th. He has been a wonderful addition to our home and we love him :)
We were fortunate to find Blue a good home here on PEI at a horse farm. Last pup left is the handsome "Sky", a big red male who is so affectionate and sweet.
A beautiful mare is joining the herd this week, more to come on that shortly.
Photo of Sky, credit to Amanda Stright.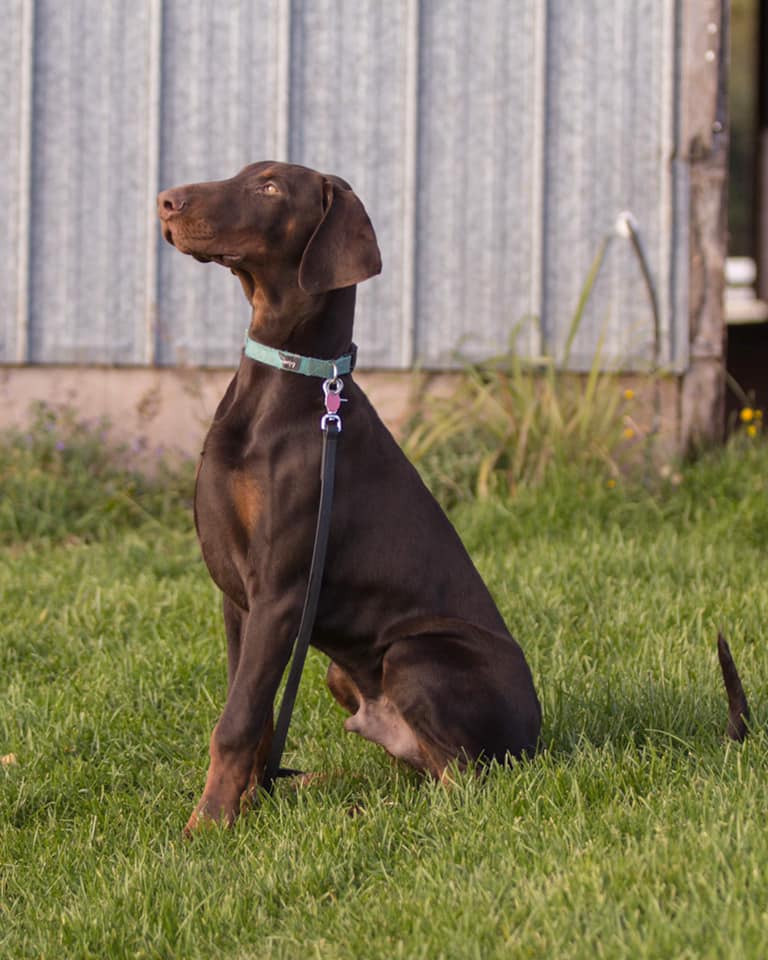 October 1st, 2019
We still have two big beautiful male Doberman pups available; Blue and Sky. If interested, please do not hesitate to line up a visit and come meet them.
We are counting down the days until we can meet our newest arrival :)) Getting there!
September 30th,
We had a great inspection on September 1st.
We took the four mares and foals from the farm and were quite happy with the comments from the judges.
Dauphin had three stellar fillies at the show, with two being awarded Gold
Medal Foal status. One was our Aileron Stables' bred filly Da Solstice (Dauphin/Weltruhm) now owned by Dr. Christine Stec. "Salsa" turned heads with her presence and correctness.
Steinway (Schwarzenegger/Brentano II) enjoyed cantering around the ring and not trotting lol. He is tall and lanky at this point in his growth and will make his owner Kenzie Cosman a super nice partner.
Delcina (Dauphin/Schwarzenegger) moved very well and was praised for her elasticity and range of movement. She is available.
Dryden (Don Martillo/Dauphin) was called a Powerhouse by Dr. Christmann and one to watch as dressage prospect. He is available.
A huge thank you to our team for hustling to make the show a success. Maria Richards, Willow M'Cloud, and Morgan Louis all did a great job handling in the ring and preparing horses through the day.
Leslie Melvin, and Amanda and Jonathan Stright for jumping in as needed. And of course my partner in crime Jason Acorn that did everything else, he was as can do as can be and was a great facilitator for the day including hauling all our mares and foals.
Pictured left to right: Delcina (Dauphin/Schwarzenegger/Donnerhall) with her surrogate dam, and Dryden (Don Martillo/Dauphin/Weltmeyer) and his dam Duchess Alyce. PC Amanda Stright.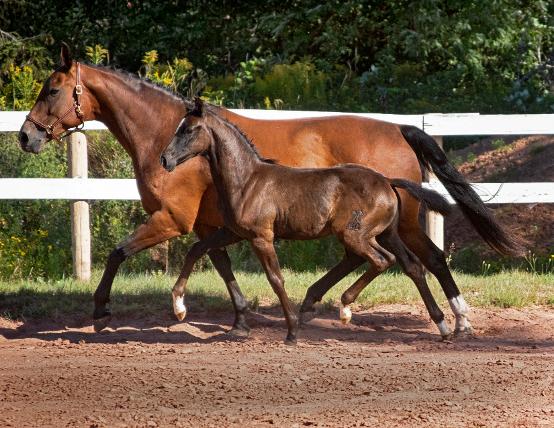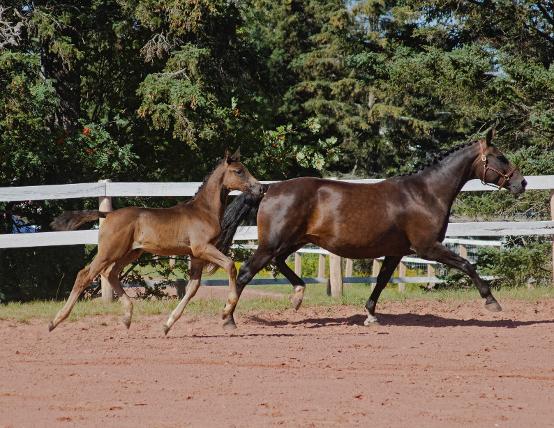 August 21st, 2019
We have two really nice foals available from the 2019 crop, I haven't posted much about them but they are available to be seen either at the farm or at the upcoming inspection.
1) Delcina (Dauphin/Schwarzenegger/Donnerhall) 2019 ET Hanoverian filly. This filly is a sports car, she is agile, and elastic with very good movement. Expected to finish around 16-16.1hh.
2) Dryden (Don Martillo/Dauphin/Weltmeyer) 2019 Hanoverian colt. This colt is a big powerful diesel that looks so much like his sire. He has a ton of suspension and would be one to watch for the young horse classes. Will be a big fellow, expect 17hh.
August 20th, 2019
We have two red and tan males left available. They are now 12 weeks old and an absolute blast to work with. Flights across Canada available within the next two weeks.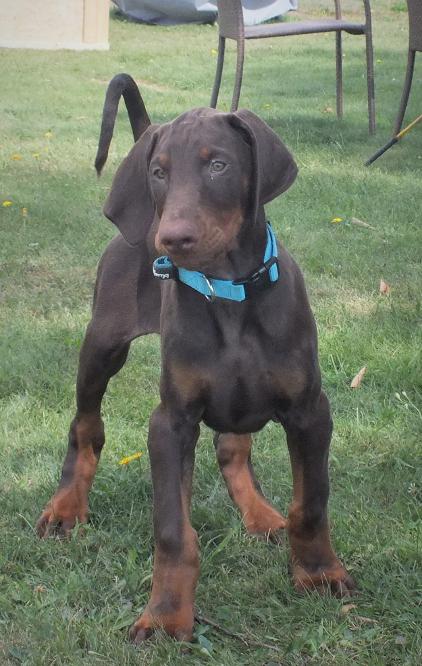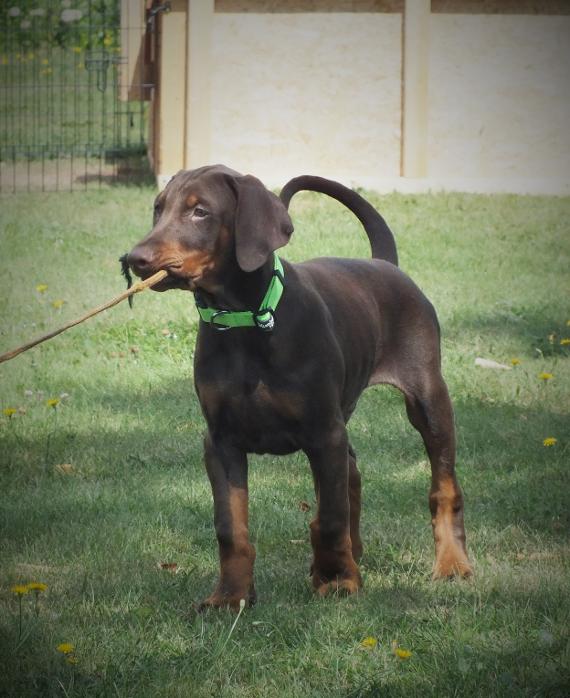 August 7th, 2019
The little Dobermans have started to head out. Ryker (Tan-black male) has headed to Fredericton, NB. Echo (White-red female) has headed to Regina, SK. Murphy (Red-Black male) and Shira (Orange-Black female) will head out soon to NS and NC respectively. We are keeping Micro (Yellow-Black female) for breeding and sport and have started schutzhund training with her.
We have 4 puppies available to select active homes. They are 10 1/2 weeks of age, have had their 2nd vaccine, 4th deworming, and are microchipped. They are crated individually at night and use to a 3 km walk everyday. Have had an enrichment pen to play in (slide, tunnel, various types of surfaces and toys), they come into the house through the day to experience the hustle bustle. All of them have the ability to settle well and are well socialized with many visitors to the farm.
The Four Available:
Sky collar (red male) is a big, happy go lucky boy with moderate to high drive. Loves toys, is an excellent snuggler and is full of bounces and adventure.
Blue collar (black male) is a big calm, quiet boy that loves a kiss on the nose, low drive. He is really good at tracking and would be fun quiet everyday companion. SOLD
Lime collar (red male) is medium sized male with high drive that loves to work. Smart and active, he is go go gadget and would be very exciting to compete in schutzhund sports. SOLD
Black collar (red female) is medium sized with moderate drive. This is such a happy girl that lights up when you talk to her. Affectionate, snuggly, smart. SOLD
Photo of Deci with one of her sons, Sky. PC Jason Acorn.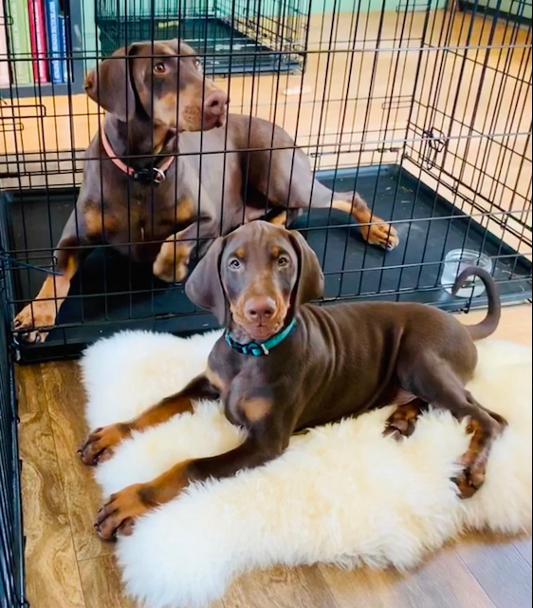 July 14th, 2019
That time of year when things are crazy and busy and I get behind in updates. For those that follow the farm or I on Facebook there are many candid pictures and clips.
A giant shout out to Maria Richards for hustling and being a huge help to Jason and I.
Has been non-stop with foaling, puppies, home improvements, collections, wonderful visitors, and being pregnant and tired lol. 12 weeks left until we meet our little human hooligan.
So let's see...
June 17th Duchess Alyce delivered a strapping black colt by Don Martillo. He is so powerful and has a sweet disposition. He will make a very interesting dressage prospect.
June 18th Prestige delivered an exquisite embryo transfer filly for Santerina and Dauphin. She is uphill and has so much movement. Very neat dressage and breeding prospect. Pictured below.
June 21st SPS Wonderful Dream delivered a gorgeous filly by Dauphin. She is correct and has a lovely way of going. One to watch for the future. She is sold to a great breeding and dressage home that has two other Wonderful Dream offspring.
Puppies are growing like weeds, we are fortunate to have found wonderful homes for several, though still have some available to active homes. They are 7 weeks old now and will start to head to their new homes at 10 weeks of age. We travel across Canada...delivery able to be facilitated. Touch base today to inquire for more information.
We have had FOUR sets of twins on the farm this breeding season (two sets of Schwarzie's and two sets of Dauphin), a little frustrating as has meant a restart for two of the mares.
Confirmed at the moment:
Rara Avis x Dauphin: Heartbeat found
SPS Brentacia x Schwarzenegger: Heartbeat found
Rumor x Schwarzenegger: embryo found
SPS Wonderful Dream x Dauphin: Embryo found
To Preg check:
Rosslyn to Schwarzenegger
Rimini to Schwarzenegger
Santerina x Dauphin
Embryo transfer set for July 15th: Duchess Alyce x Schwarzenegger, hopefully into Prestige.
There is 1 month left for collections...if you are having trouble with frozen and want to try fresh, touch base, happy to help.
Picture Below: Delcina (Dauphin/Schwarzenegger/Donnerhall) 2019 ET filly available for sale. May be grey. PC Amanda Coggins.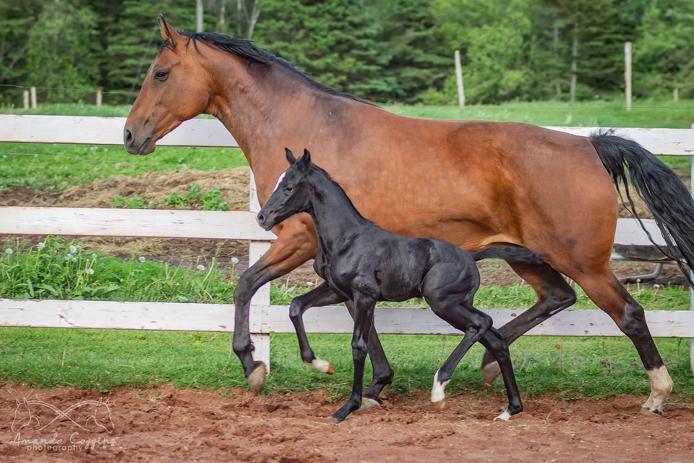 June 8th, 2019
Big congratulations to Kenzie Cosman on the purchase of Steinway (Schwarzenegger/Brentano II/Imperator). What a fun match to have this bold colt purchased by an eventer.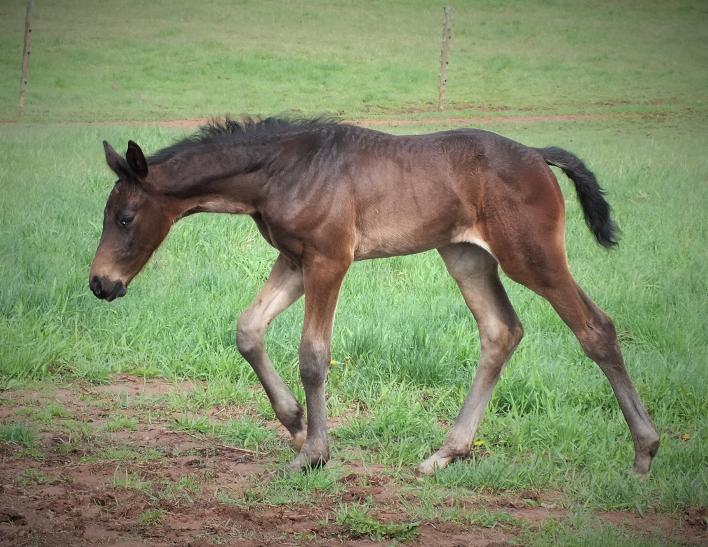 May 30th, 2019
The puppies have arrived! There are 5 males and 4 females. They will be available to select homes. Please see the Doberman page for more information.
We are having a blast with these little guys, hard to believe they are 5 days old.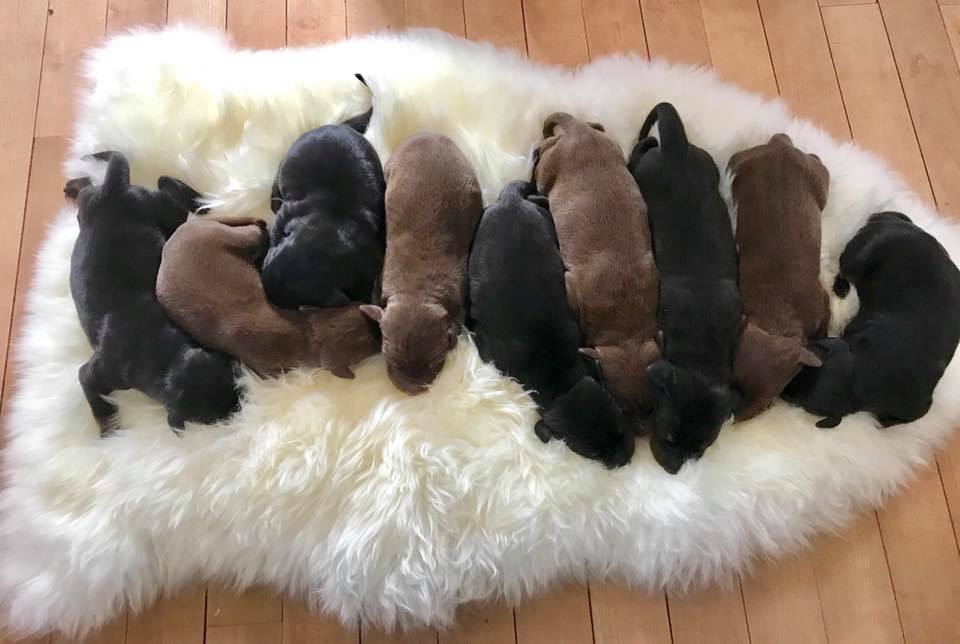 May 24th, 2019
We have been a little swamped with the collection schedule and breeding six mares on the farm in the last 10 days.
Steinway (Schwarzenegger/Brentano II/Imperator) is growing like a weed. He has such a fun, inquisitive personality. He is a gem, had his introduction to electric fencing this morning and figured it out in no time. New photos of him coming soon.
Deci is now day 63. Hopefully puppies in the next 48 hours, she looks ready.
Bred Santerina to Arrian, Rosslyn to Schwarzie, and Rimini to Schwarzie.
Love getting the updates from our mare owners of successful preg checks from breeding to the stallions.
May 20th, 2019
Deci is making progress, now day 59. Can't wait to see the match of her and Ferro realized.
So far have bred three mares: Rara Avia to Dauphin, SPS Brentacia to Arrian, and Rumor to Bernay. Fingers crossed for preg checks in a couple of weeks. Next to be bred: Rimini and Rosslyn to Schwarzie, and Santerina to Arrian. May try an ET for one of these breedings, we shall see.
There are a couple spaces left for mare management here at the farm this season. If interested touch base to book your spot.
Bellevue and Bellmora are now in training with Pearl MacGregor. Look forward to watching their progress.
May 14th, 2019
Lots of things on the go.
We were able to see our little hooligan yesterday. We will be having a boy in October.
Deci is nearing the finish line. She had an xray at day 52 that showed 9-11 puppies in there. Wahoo!! Is looking like an expected arrival of May 24th or so. These puppies will be available to very active homes, preference given to those that will work them (Schutzhund, obedience, rally, tracking, agility, etc). If interested, please email me at Hanselpacker@hotmail.com
I bred Rara Avis to Dauphin, fingers crossed. Next on the breeding lists are Rimini to Schwarzie, and Santerina to Arrian.
May 2nd, 2019
He has a name, going with Steinway (Schwarzenegger/Brentano II/Imperator). (Grand pianos that are beautiful and functional). This lovely boy will be available for sale, look forward to snapping more pictures over the next few days.
Deci is starting to show, she looks lovely and round. We are so looking forward to puppies the end of the month. Planning to have her x-rayed a few days before whelping to get a head count on how many puppies to expect.
Planning to start breeding the open mares on their next cycles this month.
Rumor to Schwarzenegger
Rosslyn to Schwarzenegger
Rara Avis to Dauphin via ET and then to carry.
Brentacia to Rotspon or Arrian on her 30 day heat.
May 1st, 2019
This beautiful colt arrived on April 30th at 2:30am. Pedigree: Schwarzenegger/Brentano II/Imperator. Still working on a name, but it needs to start with an S.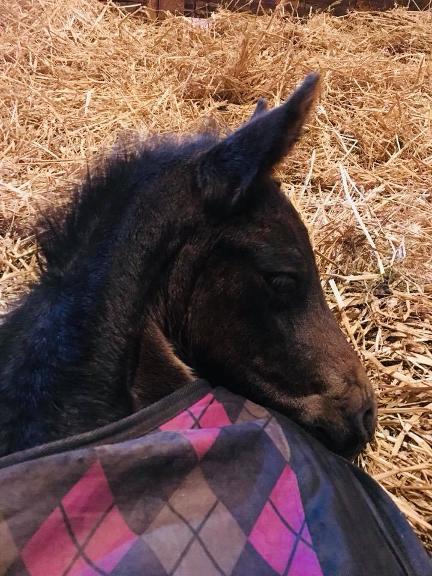 Maria and I are waiting patiently for Brentacia to foal. She is 332 days now and all systems just about ready to go. Excited on the prospect of Schwarzenegger and Brentacia complimenting each other.
Some exciting news coming on one of the sale prospects, would be a fantastic home.
The open mares are starting to cycle well. At this point just keeping records and waiting, the cold wet spring has given pause for breeding just yet. Really enjoying getting to know the 3 new mares, lovely personalities and really fun planning out hypothetical crosses.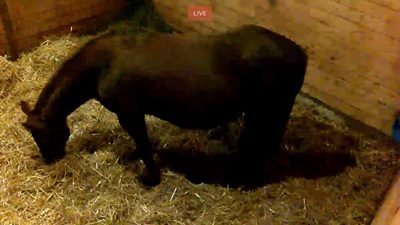 A huge thank you to Marefield Meadows for the lease on these three beautiful mares.
They arrived safely from VA today and are settling in. Left to right:
Rara Avis (Rienzi/Wenzel I/Domingo), Rumor (Ruiz Soler/Donnerhall/Feiner Stern), and Rosslyn (Rienzi/Donnerhall/Feiner Stern).
Also a thank you to Symes Transport for doing a great job hauling the mares and stallions up from VA over the last three weeks. Was a pile of driving.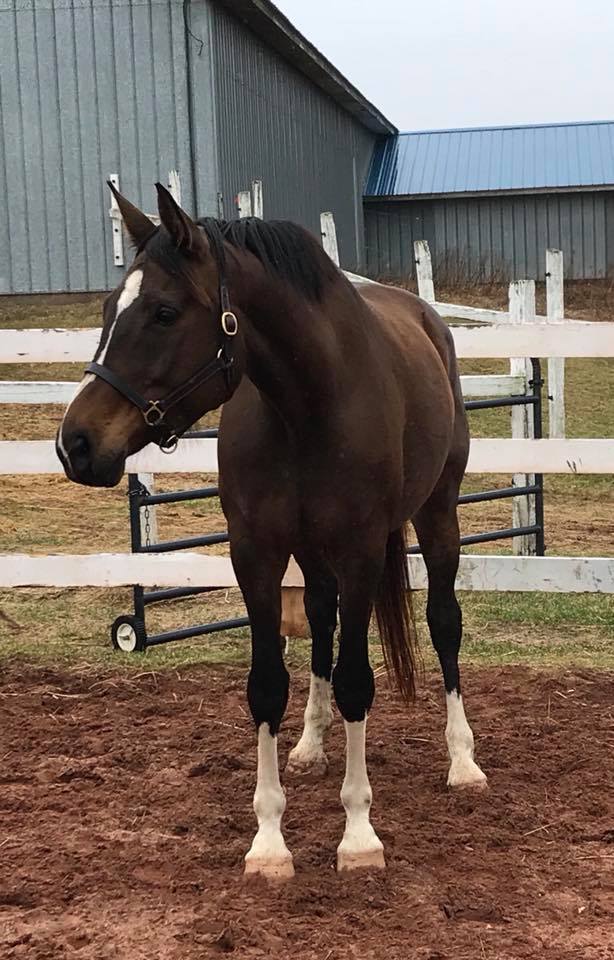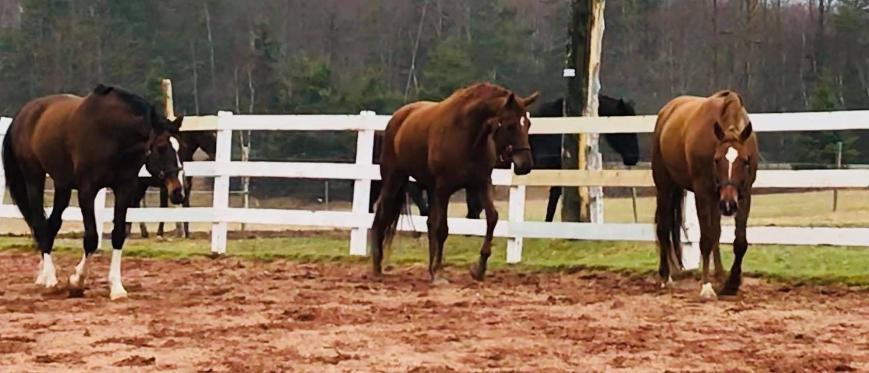 April 22nd, 2019
The classic beauty Rienzi (Raphael/Bolero/Lombard) has settled in well to the stallion barn. He is such a wonderful dual-purpose producer. The stallion barn feels like a roster of boys to compliment all kinds of different mare bases. He is available with proven frozen at 600$ per dose plus tax. Doses are packed in 4 and 5 straw doses. Dry shipper available for rental. Limited quantity, touch base today to order your breedings.
Photo credit: Scarlet. Courtesy of Judy Hedreen.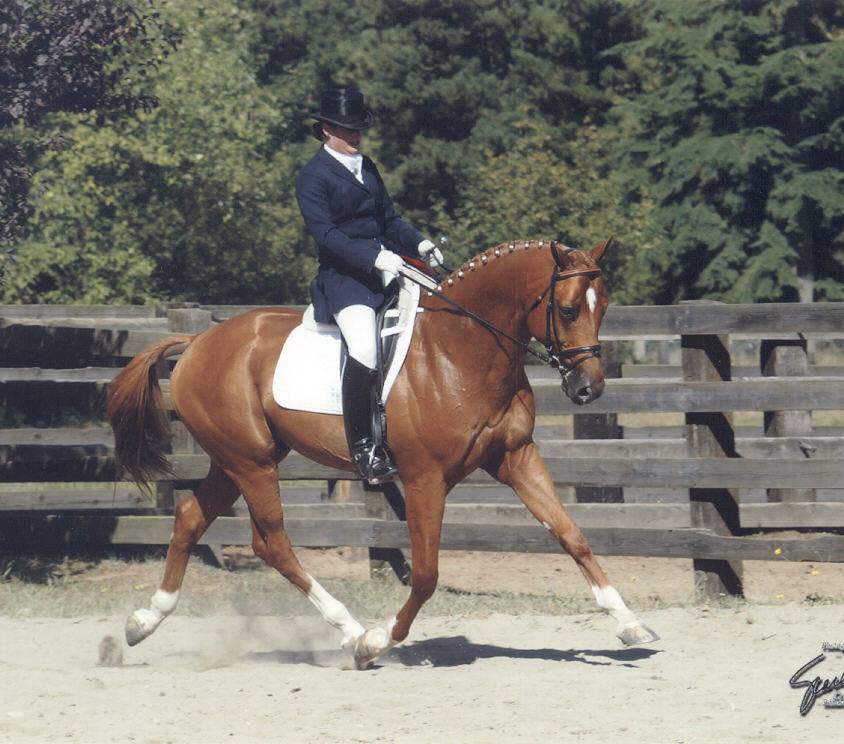 April 19th, 2019
It is looking promising for puppies in late May. For those following along on Deci, I will have more information coming on the Doberman page over the next few days.
Lucky to have Maria Richards on the team, she joined us April 8th and has been a great addition to the farm, has freed me up to get caught up on the paper and computer work.
SPS Brentacia is making progress, she is at day 323 today. Highly looking forward to meeting her Schwarzenegger foal, it will be the only Schwarzie foal for us this season. Hopefully in the next week or so.
Three new broodmares will be joining the farm on breeding lease from Marefield Meadows, they should arrive early next week with Chuckie Symes Transport.
April 17th, 2019
Feel very fortunate to have two stallions in the barn that are on the Top Lists for the Hanoverian Verband.
Schwarzenegger on the top list of Jumper producers and Dauphin on the top list for producing Type. 2019 Hanoverian Yearbook.
These lists are important to showcase what older stallions are producing by evaluating daughters during inspection and their mare performance tests. It gives a tip to the breeders of the positive attributes these stallions are reliably passing on.
Including Schwarzenegger and Dauphin, there are less then 5 stallions that stand with fresh in North America on those lists.
Schwarzenegger was bred by Axel and Martina Windeler and is owned by Aileron Stables. Dauphin is bred and owned by Marefield Meadows, and leased for breeding to Aileron Stables.
Hoping for many more seasons with these wonderful producers.
April 12th,
Excited to offer the elite Hanoverian stallion Arrian to Canadian breeders for Marefield Meadows. He has settled in well and has fantastic semen.
Available to a limited number of mares. Special introductory rate of 1,500$ LFG, collection not included.
April 3rd, 2019
I am behind in the news department lol.
Let's see....
Jason and I are excited to be adding a human addition this coming October. Things will be a little different no doubt.
We had some fun renovations done to the house over a period of 6 weeks, that is not enjoyable to live in but nice to have once done.
Deci was bred on March 27th, fingers crossed for gorgeous Doberman puppies the end of May.
We had a wonderful AGM for the Eastern Hanoverian Breeders club of Canada here on PEI March 30th and 31st.
Two new exciting arrivals landed safely at Aileron Stables April 2nd. More to come on that shortly.
First collection of the season went out the door today despite the weather. Dauphin was the lucky fellow.
Our full-time employee will be joining us in less than a week. Look forward to working together.
Three broodmares will be joining the farm near the end of the month. Some very neat breeding, and lots of ideas in the works.
SPS Brentacia is slowly making progress and looking forward to meeting her Schwarzenegger foal the end of April.
That is it for now, but as you guessed...we aren't bored lol.
February 27th, 2019
Dauphin's beautiful dam, SPS Fabia. Hard to go wrong with the stunning type and correctness this mare exemplifies.
Big thank you to Marefield Meadows for access to these lovely photos.
Photos by: Christmann.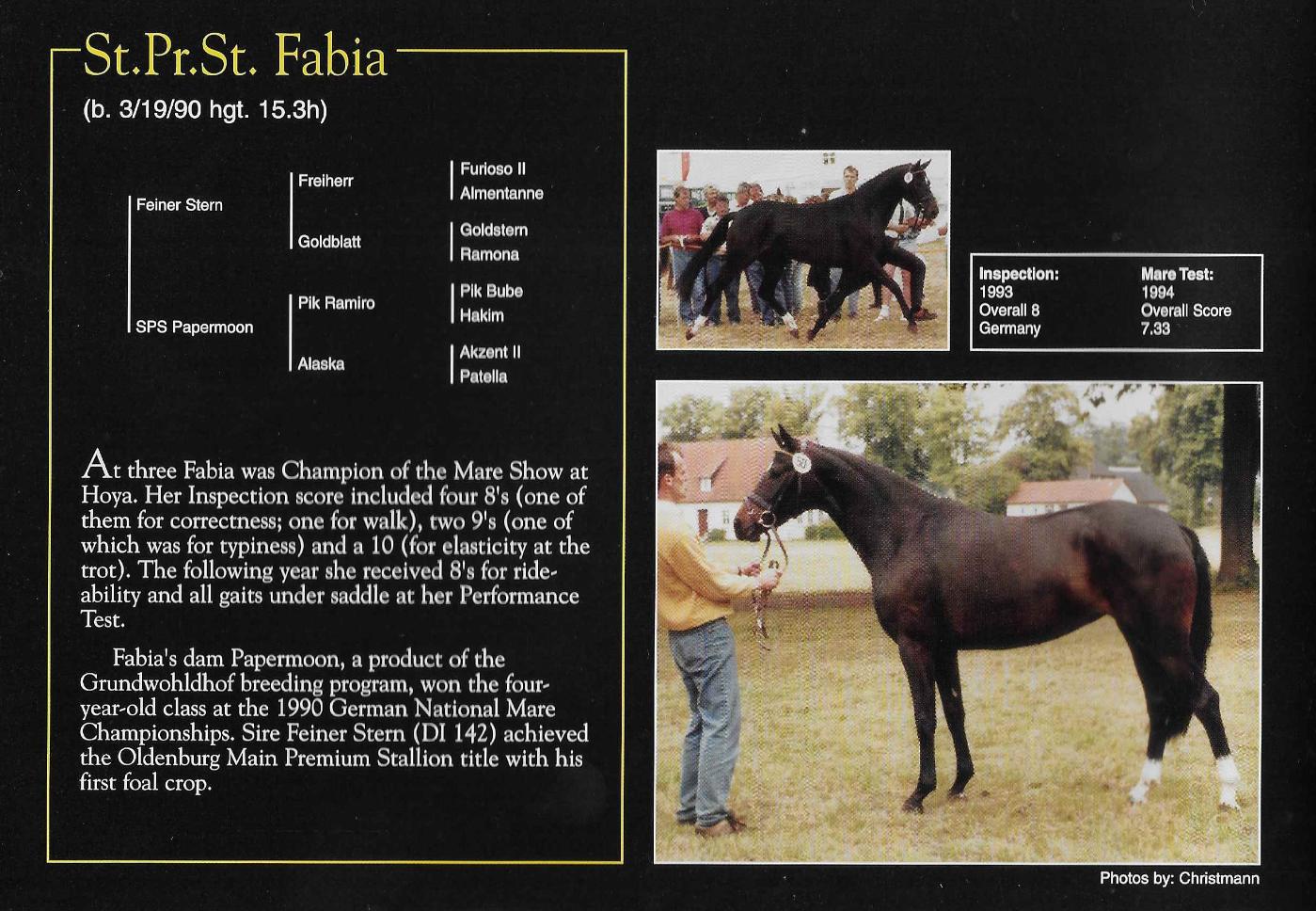 February 24th, 2019
Have made some changes to the available summer job with having found part-time help for the shoulder season (spring/fall). The option is there for Full-time position to start May 1st-September 3rd.
February 7th, 2019
Exciting times ahead, a few plans rolling out. Deci will be bred on her next heat cycle to Ferro Vom Bergkonig FH1: https://www.vonschwarzdobermans.com/males
February 4th, 2019
Position Available at Aileron Stables
April 1st-December 1st, 2019
A seasonal position is available at Aileron Stables for a motivated candidate for 2019.
The job is steady paced and would average 44 hours per week of manual labour.

Monday to Friday 8:00am-5:00pm with a ½ hour unpaid lunch break and Saturday mornings 8:00am-noon.
Opportunity for more hours for those that are keen.
The farm focuses on breeding quality Hanoverians; some of the jobs would include assisting foal deliveries, stall mucking, assisting stallion collection, handling young horses, sale preparation for videos (bathing, grooming, and braiding), fencing, operating a tractor, painting, handling at a breed inspection, microscope work, assisting the veterinarian or farrier, record keeping, gardening, and helping with a litter of Dobermans.

Requirements:
• Horse experience
• Large dog experience
• Current driver's license
• Willing to work and learn
• Over 19 years of age
• Able to perform physically demanding tasks
• Reliable
• Preference given to those with experience driving a tractor, and truck and trailer.
• Farming experience an asset.
• Show grooming an asset.
• Calm, quiet personality that is low stress.
• References

*No pets permitted
*This is not a riding position.
*Will train the right candidate that is game and willing to work.

Pay $12,50/hour

Please send resumes to hanselpacker@hotmail.com

Deadline for resumes February 24th, 2019.
Picture below of Willow and Soldato, summer 2018. Photo credit: Jackie Harlow.
January 31st, 2019
All recovered from a great adventure from Jan 14th-26th. Jason and I took Day Dreamer (Dauphin/Weltruhm/Donnerhall) down to his new home in Florida to Anna Toomey, Dr. Christine Stec, and Dr. Brian Ausman. Lucky Day Dreamer joins his big brother Deuce (Dancier/Weltruhm/Donnerhall). Look forward to watching he and Anna dance in the dressage ring 🙂
Fortunate to have a wonderful friend near the US border to give us a break and a rest for our little traveller.
It was a blast and covered a lot of ground.
21 stops, 8,356 kms, lovely people, beautiful horses, and fantastic Dobermans. My favourite stores...Tractor Supply, Dover, IKEA, and Costco lol. The truck hauled like a machine, I complimented it often as we filled it with finds along the way.
What a pleasure to spend time at Marefield Meadows; amazing people, incredibly generous with their hospitality and support. The books, omg the books, so excited to go cover to cover.
We were very fortunate to tour some lovely breeding farms: Westphalians for USA LLC, Willow Hill Equestrian, Hilton Farms, Elevage Diabolo ZLD, and Marefield Meadows. Great setups and such happy horses.
The beautiful Dobermans and German Shepherds we met, wowsers. Von Schwarz Dobermans is a source of excellent dogs and information, fantastic owner. Excited for a match for Deci in the spring.
As the common joke goes, I tend to be "efficient" when I travel and my family was ready for the 20 minute special Lol. (Was at least 6 hours this time). Happy to see our brothers and their families, and close friends. Also a treasure to meet up with my wonderful Aunt Lois.
So lucky to have Jason, excellent co-pilot, lots of laughs, and our brains going full tilt.
Big thank you to our friends at home that took care of the farm during some questionable weather, very appreciated!!
Pictured Below: Deuce and Day Dreamer together in Florida :)
January 5th, 2019
Happy New Year all.
Heading to Florida with Day Dreamer the middle of the month. For American buyers looking at Aileron horses, this is a shipping opportunity. I have one empty boxstall all the way down.
December 29th, 2018
The Dream team have sold :))
Dark Dreamer is heading to Ontario to a lovely breeding and riding home, and Day Dreamer is heading to Florida to a lovely dressage home.
Congratulations to both homes, I look forward to following the progress. Can't wait to meet the third full-sibling this summer.
Have acquired a couple doses of exciting stallions for the tank, nice to have lots of diversity for the mare base.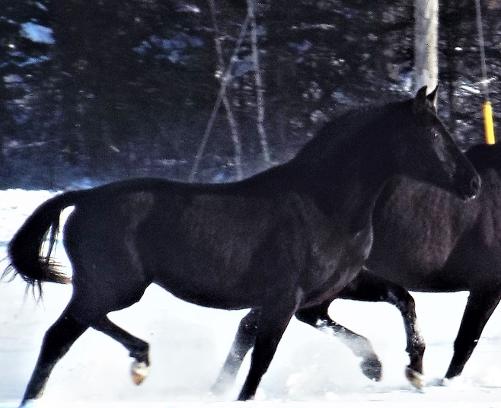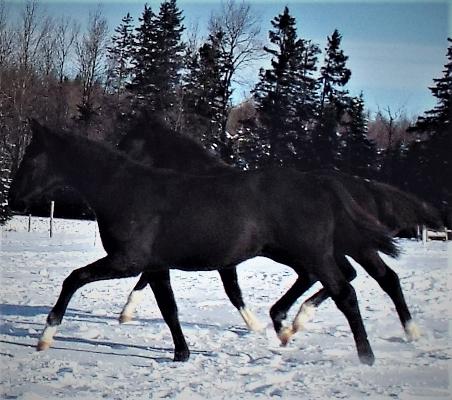 December 20th, 2018
Couple exciting things in the works, fingers crossed :)
Left to right: Dark Dreamer (Dauphin/Weltruhm/Donnerhall), Siskel (Schwarzenegger/Weltruhm/Donnerhall), and Santerina (Schwarzenegger/Donnerhall/Pik Senior).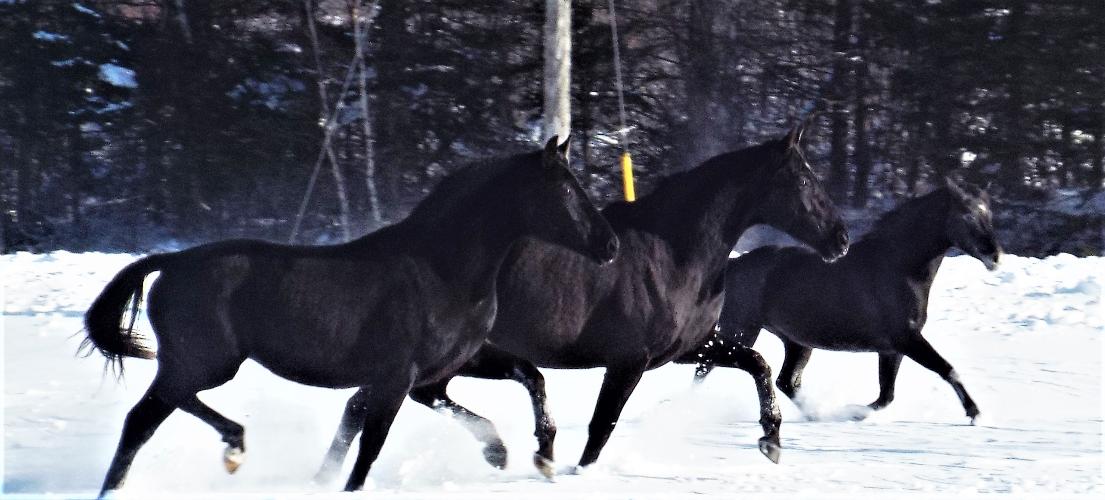 December 6th, 2018
BOGO SALE
on Frozen semen
Are you looking to stock your tank for 2019?
With any frozen dose(s) purchased, a free dose of
Bonheur
will be included.
Limited quantities of all stallions listed
Offer Expires January 1st, 2019
November 28th, 2018

I will be opening up a few spots for breeding management of mares being bred to either Dauphin or Schwarzenegger for 2019. For those interested, fire me off an email for more information or to secure your spot for the upcoming season. Hanselpacker@hotmail.com Board: 20$/day.
A few things to look forward to... The Eastern Breeders Hanoverian club with be hosting its AGM on PEI this coming spring (March 30th/31st). Will be educational and an opportunity to meet many fellow breeders. More details to come soon.
There will be a sale on frozen semen shortly, time to stockpile for future years.
Keep an eye on the early bird discounts, they are an opportunity that come up only in the Fall. There will be only two donated breedings for the stallion service auctions this season. CHS and AHS.
This is the time of year when things slow down and I have a chance to firm up plans for the spring.

Breeding plans for 2019:
SPS Brentacia x Rotspon
SPS Wonderful Dream x Dauphin
Duchess Alyce x Revolution
Rimini x Schwarzenegger ET
Rimini x Schwarzenegger ET
Rimini x Schwarzenegger
November 10th, 2018
Legato (Londonderry/Dauphin/Weltmeyer) traveled to his new home in Wolfville, NS this past week. He is a lucky colt to have many friends and the perfect pasture nanny. Photo Credit: Bev Meilleur.
Happy to welcome Siskel (Schwarzenegger/Weltruhm/Donnerhall) home from training with Michelle DeGarie in NB. She did a fabulous job with him over the last year.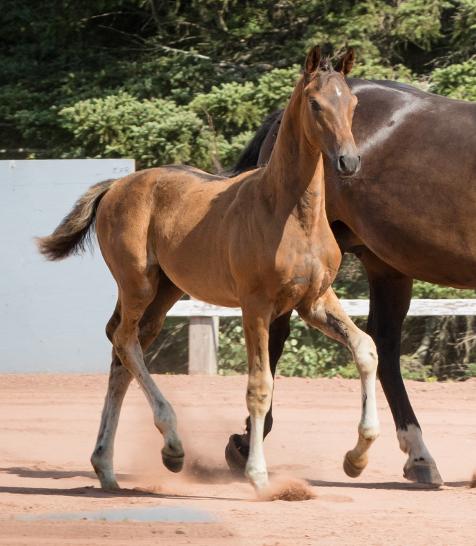 November 2nd, 2018
Said Goodbye to the magnificent mare SPS Fenjala (Fabriano/Prince Orac xx/Adsatz) today. Was very lucky to have owned her for a couple of years.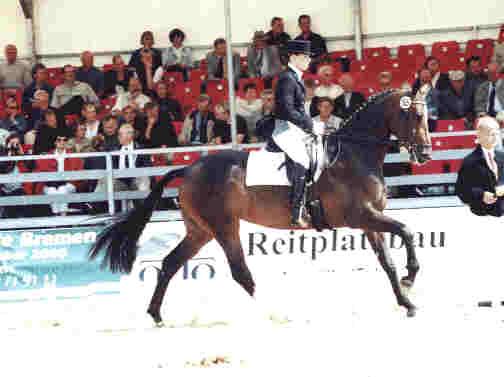 October 15th, 2018
Early Bird discounts are in-effect for the stallions!!! 400$ off any contracts completed on November 1st, 2018.
A couple of shots of Santerina (Schwarzenegger/Donnerhall) snapped by Amanda Stright during the inspection.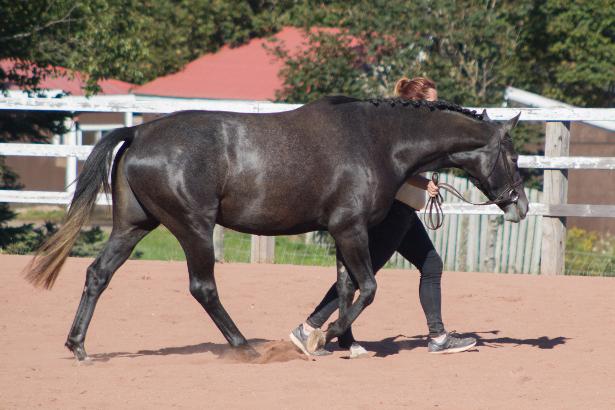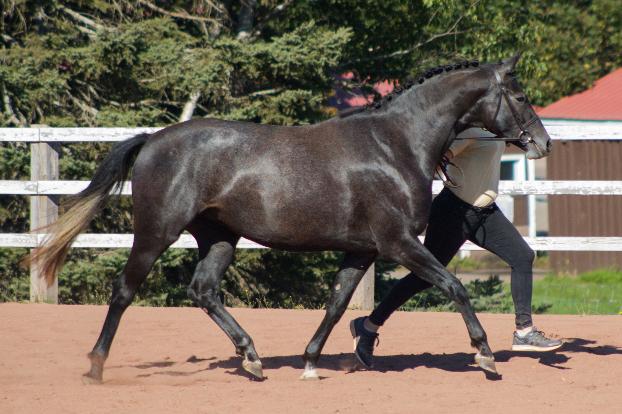 October 12th, 2018
Beautiful SPS Wonderful Dream and her colt by Dauphin, Day Dreamer. Photo credit: Amanda Stright. Weaning is right around the corner and am looking forward to seeing the little ones taking that next step.
There are multiple updates throughout the site, enjoy perusing all the new photos :)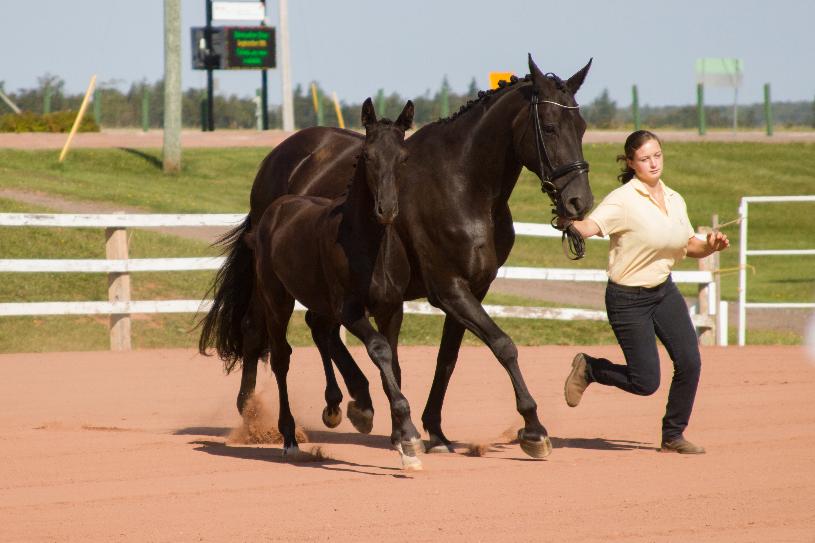 September 30th, 2018
Has been a whirlwind. Enjoyed a pretty spectacular 9 day trip to Germany for a beautiful wedding of the perfect couple :)) We (Virginia, Lisa P, and Max) took the opportunity to travel and see some lovely horses/country, take in some amazing food, enjoy a vibrant atmosphere, and have some crazy laughs that I will treasure. Omg, sometimes I really have to acknowledge how incredibly fortunate I am to have a wonderful circle, my health, a beautiful little farm in the country with content horses and Dobermans. Big thank you to friends Amanda, Calloway, Willow, and Jason for keeping all the critters happy.
The results are in from the inspection … Legato and Soldato were on the list of 19 foals in Canada that received a Gold Medal Foal award, distinguishing them as an overall 8.0 or above. Even more exciting is Soldato is a recipient of the Albert Kley Top Ten Award, as one of the top Ten foals inspected in Canada for 2018. So happy for the owners of both Legato and Soldato.
I will be traveling to Maine to connect shippers over the next 6 weeks, if you are shopping from the US... let's get this all planned before the snow starts to fly.
September 12th, 2018

Had a wonderful inspection on September 1st and 2nd. Santerina scored an overall 7.0 and was entered in the Main Studbook of the Hanoverian Verband. She is for sale in-foal to Dauphin for 2019.


The foals showed well and both Legato (Londonderry/Dauphin/Weltmeyer) sold to Nancy Murray and Soldato (Schwarzenegger/Rienzi/Davignon) sold to Colleen Hughes and Family made it to the final ring and received a Gold Medal Foal award. I was impressed with both Day Dreamer and Dyneema with how they strutted their stuff, good friendly, amateur friendly youngsters. Big thank you to everyone that pitched in to make the inspection a success. It could not be done without all the help.

Big congratulations to the Hughes Family on the purchase of Soldato (formerly Sentinel).
I have canceled the home phone, and will just be using my cell phone now: 902-940-7516.
New video of Bellevue and Bellmora below.
August 18th, 2018
Has been a crazy month :))
Had a wonderful trip to Alberta/British Columbia August 3rd-13th. Spent a week exploring beautiful country with my boyfriend, Jason Acorn. On Saturday, August 11th, I had an amazing experience completing the Emperor's Challenge 1/2 marathon over top Mount Babcock in Tumbler Ridge, BC. Had been preparing for it for 7 1/2 months here on PEI, it was gruelling/slow/taxing and a very fulfilling first race. I finished in a time of 2:44:35 and ranked 286 out of 857 finishers of the 1,100 entries. Next hurdle is the PEI full marathon October 14th (Brackley to Charlottetown).
I am enjoying having less horses on the farm so I can a) give each horse here more individual attention and b) take time for me to not be completely immersed.
Has been an enlightening summer and I am extremely fortunate to have had Willow M'Cloud working here full-time. She has done an exceptional job and I can't wait to see what the future has in store for this indominable generous spirit. Any vet clinic that lands her will be very very lucky.
Excited for Swan Song (Schwarzenegger/World Cup IV/Matcho AA) she has been sold to Samantha Kidd of North Carolina. She will head out to the US in the next couple of weeks. Big congratulations!!
We are gearing down getting ready for the Hanoverian Inspection that will be September 1st and 2nd at the Crapaud Agriplex. Spectators are most welcome. Come out and see Hanoverians from NB, NS, and PEI strut their stuff in front of the Hanoverian Verband judges.
New Video of Bellevue undersaddle coming shortly.
Happy to announce SPS Wonderful Dream is confirmed back in-foal to Dauphin (lol second time this year). So far 5 confirmed and hoping for one more, for a total of 6 for 2019.
Big trip to Germany planned for late September for Lisa Pfister's wedding (another amazing woman I have had the pleasure to get to know), really looking forward to it :)))
Photo below: Left: The kissing booth, Willow and the minions. Right: Dyneema (Dauphin/Brentano II) taking it all in.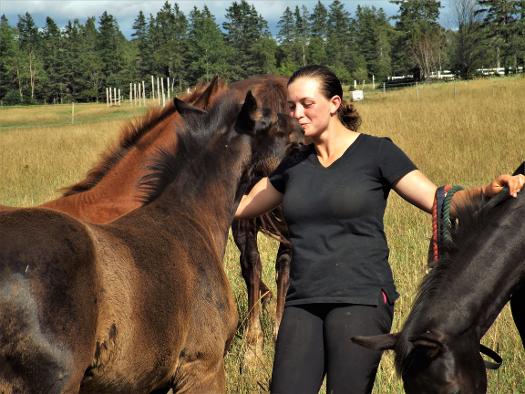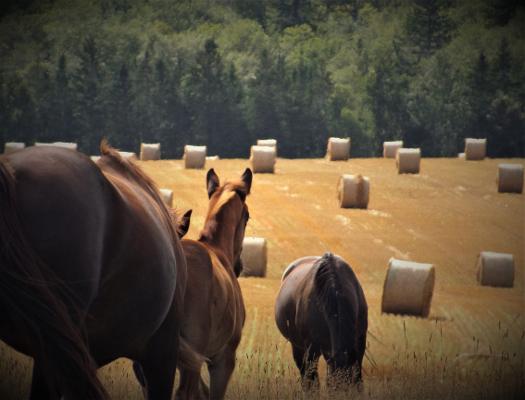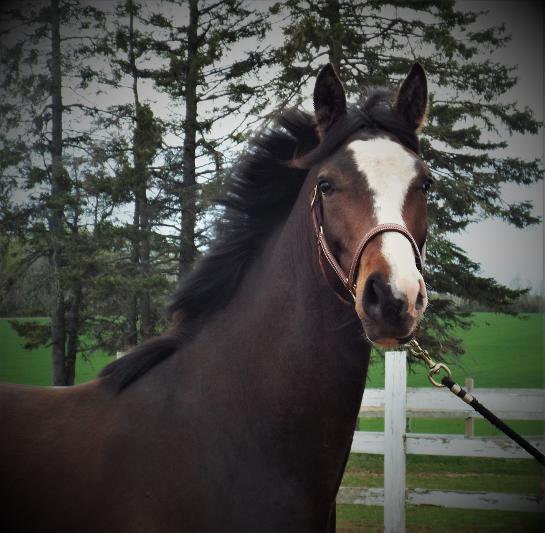 July 25th, 2018
I am due for an update.
The two three year olds are progressing well with being started. Willow is riding both Bellevue and Santerina.
Pregnancies so far:

SPS Brentacia in-foal to Schwarzenegger
Rimini in-foal to Schwarzenegger
Santerina in-foal to Dauphin through ET
Hopefully a couple more to add to the list soon.
Had a disappointing conclusion to a good foaling season in losing the last foal, an embryo transfer by Schwarzenegger and out of SPS Fenjala due to dystocia.
Very happy with the 4 foals here, is a nice crop of sweet youngsters. I look forward to presenting them at the upcoming Hanoverian Inspection in Crapaud, September 1st and 2nd.
Pictured below: Bellevue, Santerina, and Bellmora growing well and enjoying the heat wave.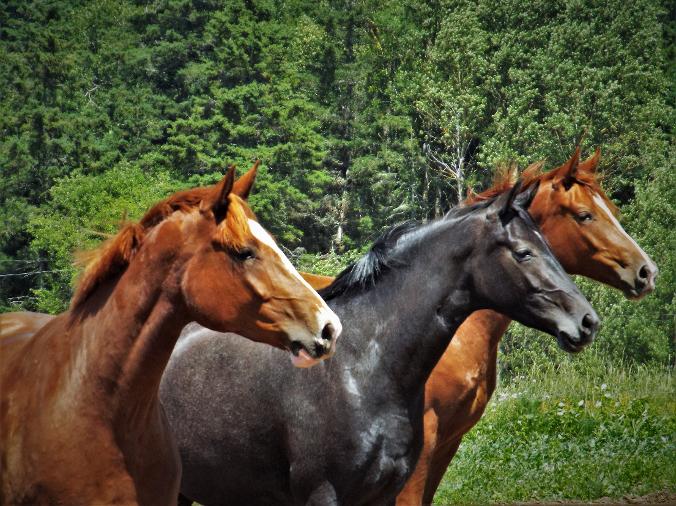 June 19th, 2018
Had so much fun putting this video together. Is a good group. Looking forward to the last foal to arrive, the recipient is 343 days along now.
Happy to announce SPS Brentacia is confirmed in-foal for 2019 to Schwarzenegger.
June 14th, 2018
Has been a busy month, great fun though. Waiting patiently for the recipient to start to show progress for foaling, she is carrying a Fenjala x Schwarzenegger embryo and is 338 days now.
Five horses headed out to their new homes: Esprentina NPF with her colt Dalton to Michigan USA, Hallstatt and Stratford to Ontario, and Stellarton to Nova Scotia. Farm is feeling quieter with 19 here.
Santerina and Bellevue are coming along in their work with Willow. For someone looking for a nice 3 year old, these two are interesting young prospects.
The little guys are growing like weeds, such a nice group of sweet babies. From left to right: Legato (Londonderry/Dauphin/Weltmeyer), Sentinel (Schwarzenegger/Rienzi/Davignon), and Day Dreamer (Dauphin/Weltruhm/Donnerhall). These guys are having loads of fun together.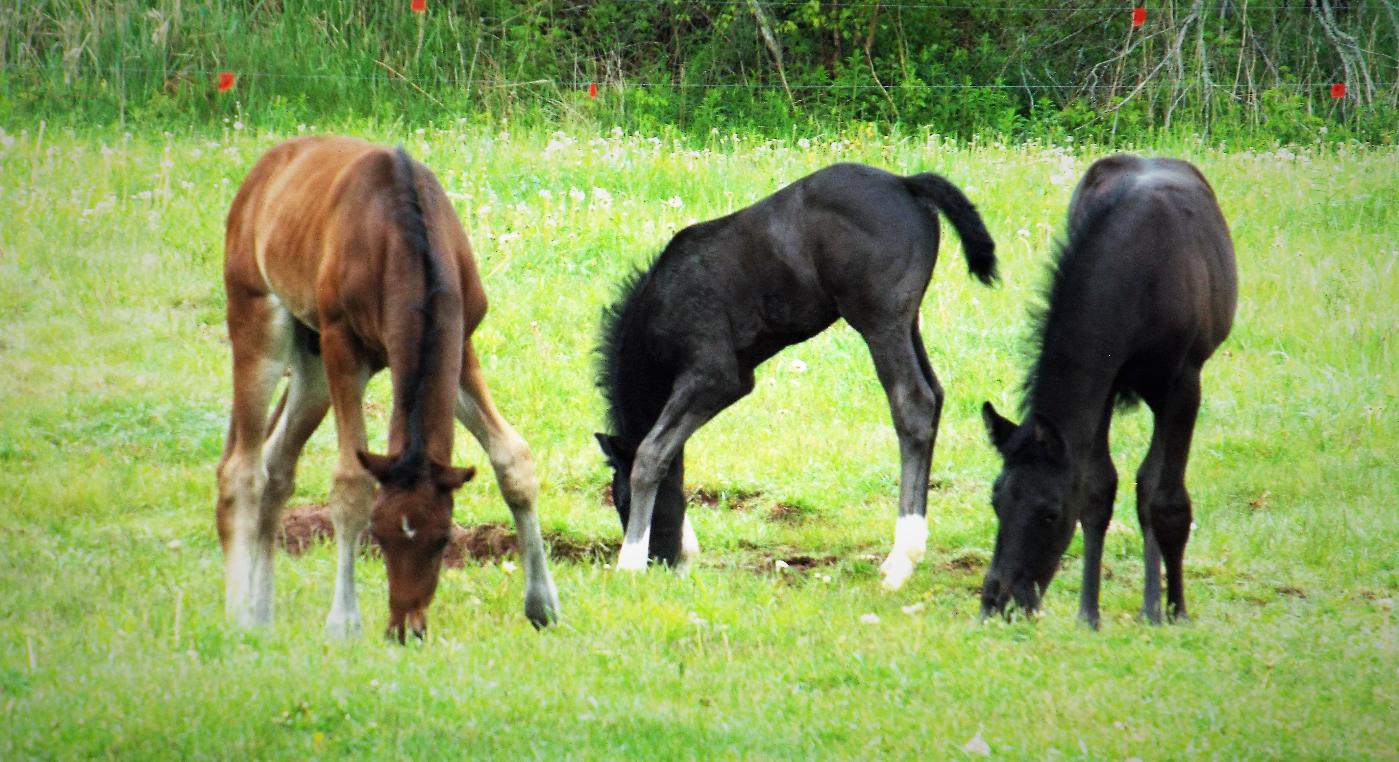 May 27th, 2018
It has been raining beautiful foals.
Both Duchess Alyce and SPS Brentacia foaled on May 21st, and Rimini foaled on May 25th.
Congratulations to Nancy Murray on the purchase of Duchess Alyce's stunning Londonderry colt.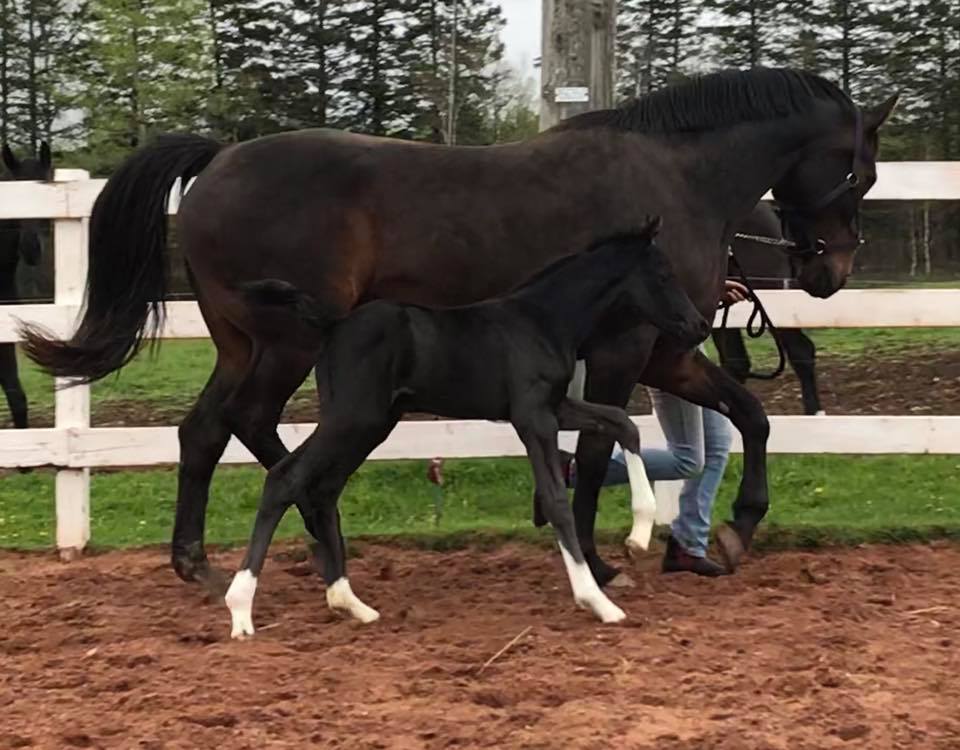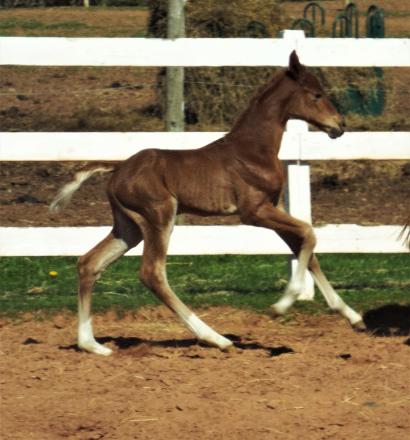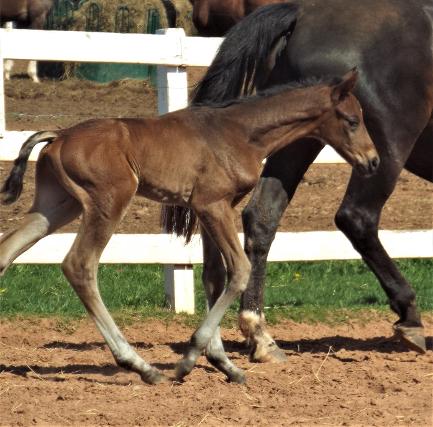 May 17th, 2018
Dark Dreamer (Dauphin/Weltruhm/Donnerhall) 2017 HV filly. For those looking for a breeding and dressage prospect, this stunning filly is available. More information to follow this week. Will be posted on the youngster sale page.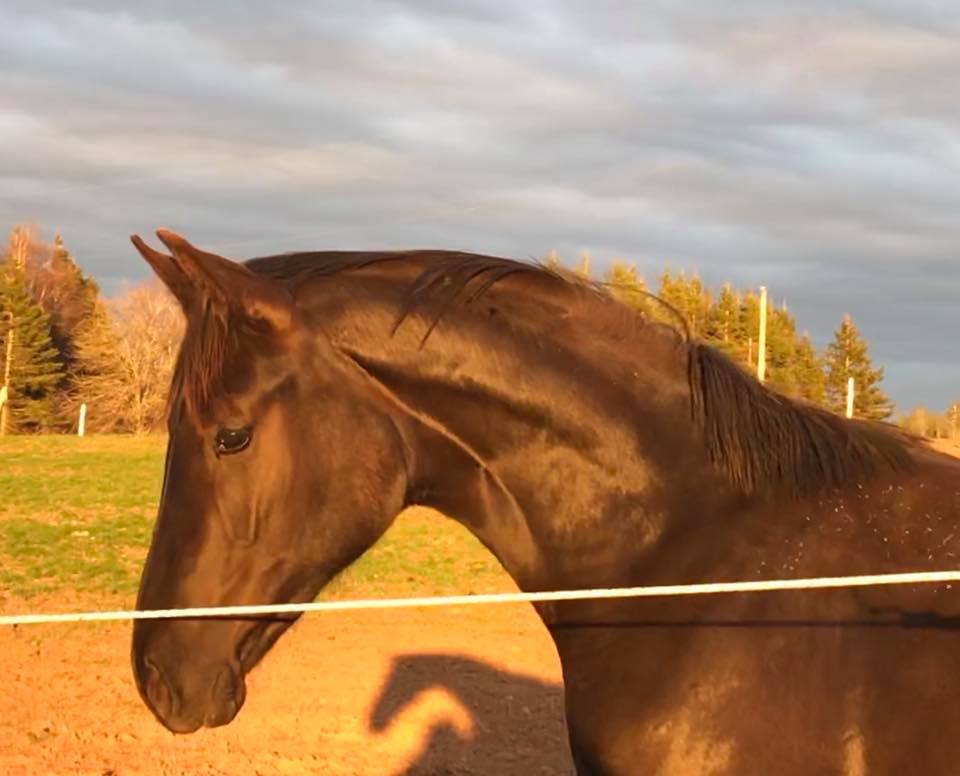 May 12th, 2018
Video of Day Dreamer :)
May 6th, 2018
For those from the US looking at Aileron Stables sale horses, I am heading to Maine to meet a shipper ~May 31st. I have one box stall in the trailer available and the shipper has plenty of space.
April 30th, 2018
Both Schwarzenegger and Dauphin have been tested clear of WFFS. N/N.
April 16th, 2018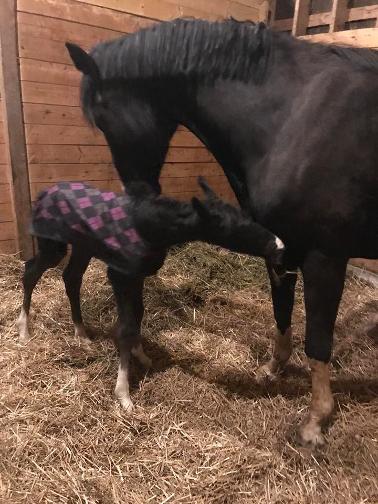 Esprentina NPF (Sir Oldenburg/Florestan) foaled a lovely black colt by Dauphin at 11:15pm tonight. Both mare and foal are now owned by Kim Sexton Ennett of MarKim Farms. They will head to their new home in May. Congratulations Kim!!
April 15th, 2018
Day Dreamer (Dauphin/Weltruhm/Donnerhall) at 2 and a half days of age :)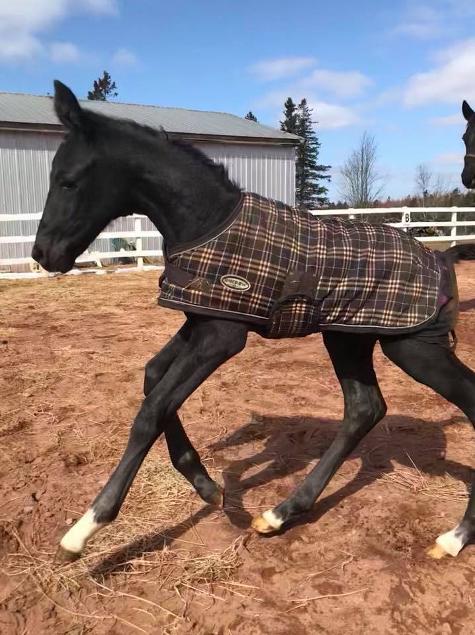 April 13th, 2018
SPS Wonderful Dream had a handsome black Dauphin colt at 12:15 AM, she was at day 337. He is as cute as a button and already showing an engaging fun personality. Pictures and video to come as he unfolds.
April 3rd, 2018
I am very much looking forward to having the two 3 year olds undersaddle. Bellevue and Santerina (pictured below) will be started later this spring. They have had a fulfilling winter being turned out with the broodmares, but they are definitely looking for some entertainment lol. They both have had some off farm adventures visiting a local indoor and popping over a crossrail on the longside. Great fun seeing them add to their repertoire.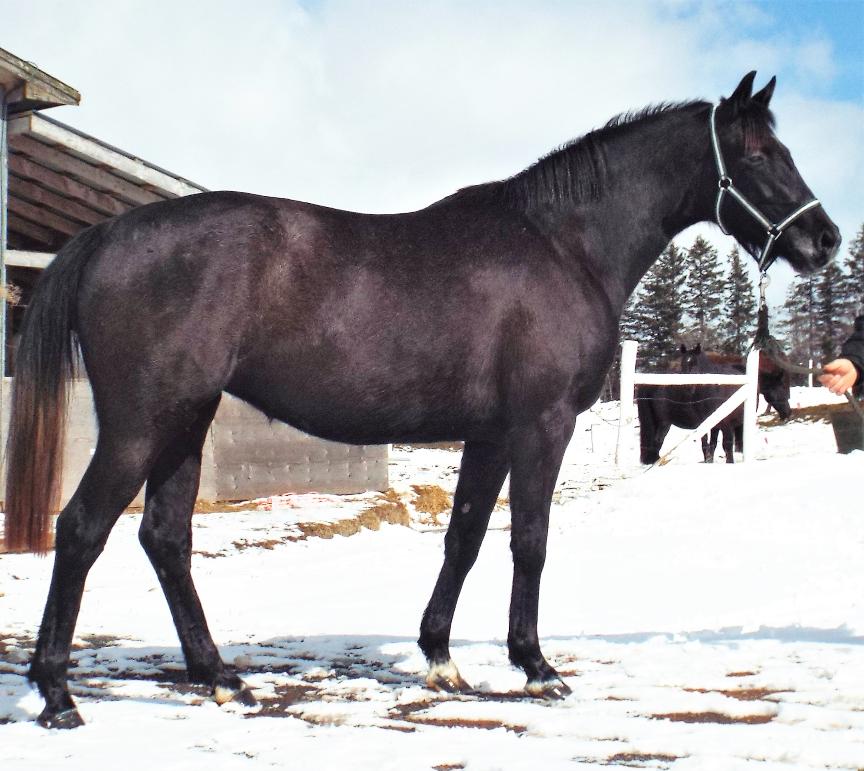 March 22nd, 2018
Storm day on PEI, which means, update the website :)
The first two broodmares are making progress with Esprentina NPF (Tina) at day 331 and SPS Wonderful Dream (Martina) at day 315. Tina is now within normal range (320-370), but I suspect a little while longer.
Tina and her 2018 in-utero Dauphin foal have sold to US breeder Kimberely Sexton Ennett and MarKim Farms. Congratulations!! Pictured Below.
I most definitely have foal fever after seeing all the lovely foals landing all over the world through Facebook.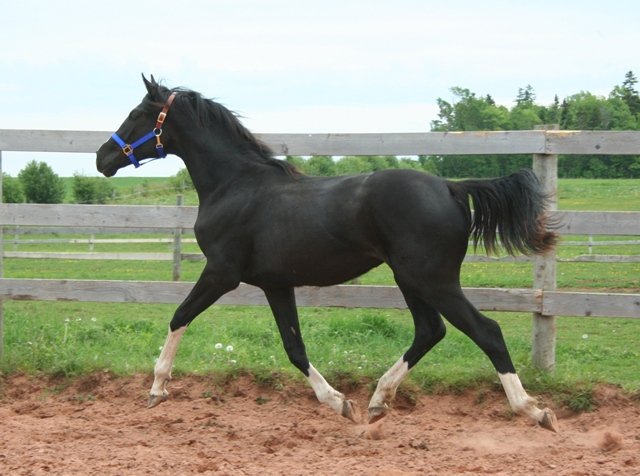 February 13th, 2018
New video of Siskel from Michelle DeGarie in NB. Well Done Michelle, he looks great!
February 11th, 2018
Exiting news for Stellarton (Schwarzenegger/Fabriano), this gorgeous sweet colt has sold to a lovely NS eventing home. Highly anticipate following their career together.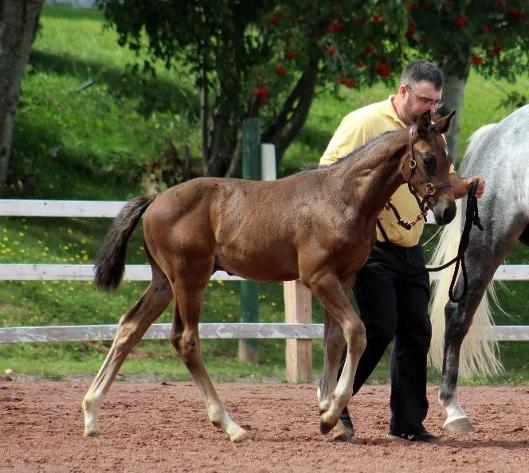 February 7th, 2018
Duchess Alyce (Dauphin/Weltmeyer/Raphael) x Londonderry 2018 cross is under contract. Look forward to seeing this cross and congratulations to the new owner.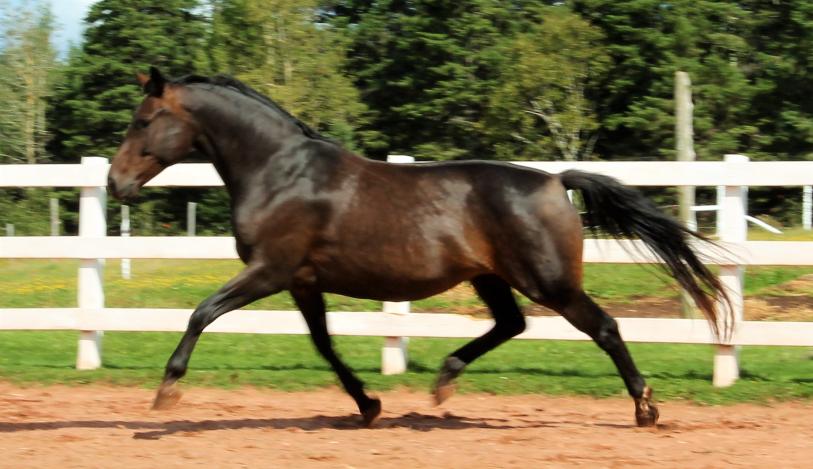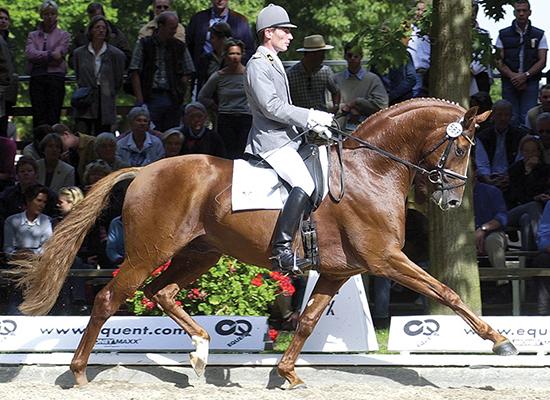 February 1st, 2018
Exciting news for Belfast, he has sold to a lovely buyer in Virginia, USA. Look forward to following his progress.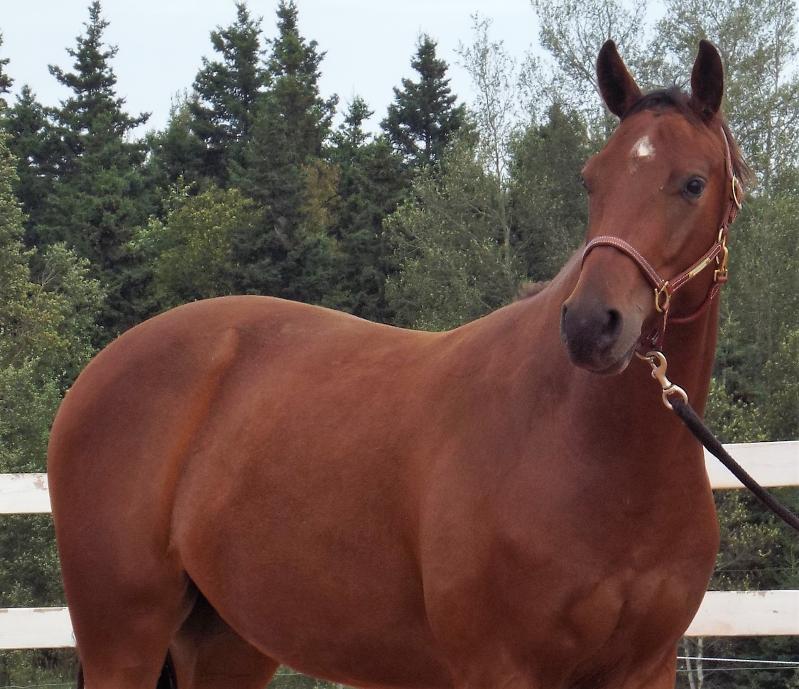 January 24th, 2018
For those looking for a beautiful proven producer. We will be offering Esprentina NPF up for sale after she foals in April. She will come included with a breeding to Dauphin. She will have to stay at Aileron Stables until her 2018 foal is weaned in October. Contact me for more information: hanselpacker@hotmail.com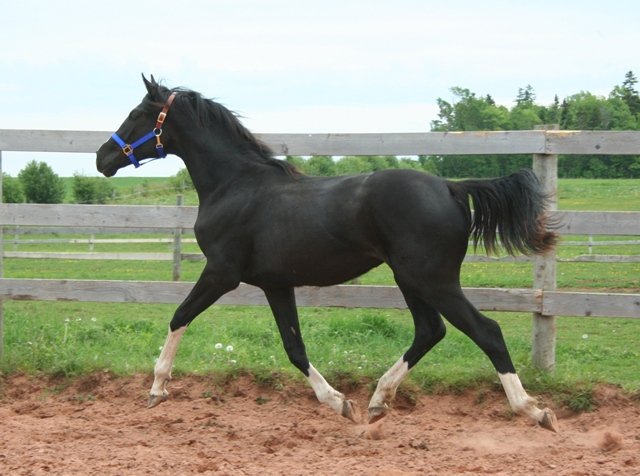 January 9th, 2018
Interested in breeding to Dauphin or Schwarzenegger in 2018? Couple of incentive offers for our mare owners:
Discounts Available:
Two or more contracts? 300$ off per contract (Can buy for the following season as well as one from each stallion).
Premium or High Performance Mare? 400$ off per contract.
December 27th, 2017
Happy Holidays to all the clients, friends, and family!!
There will be a couple of exciting sales to add to the sale page in the next couple of days. If you have had a favourite, make sure to check back.
November 28th, 2017
Fairview (Furst Nymphenburg/Brentano II/Imperator), Belgrade (Bonheur/Weltruhm/Donnerhall), and Siskel (Schwarzenegger/Weltruhm/Donnerhall) made the trip to Fredericton, NB over the weekend to Sunhill Stables. Fairview and Belgrade are owned by Michelle DeGarie, and Siskel is now in training with Michelle.
Pictured below: Fairview :)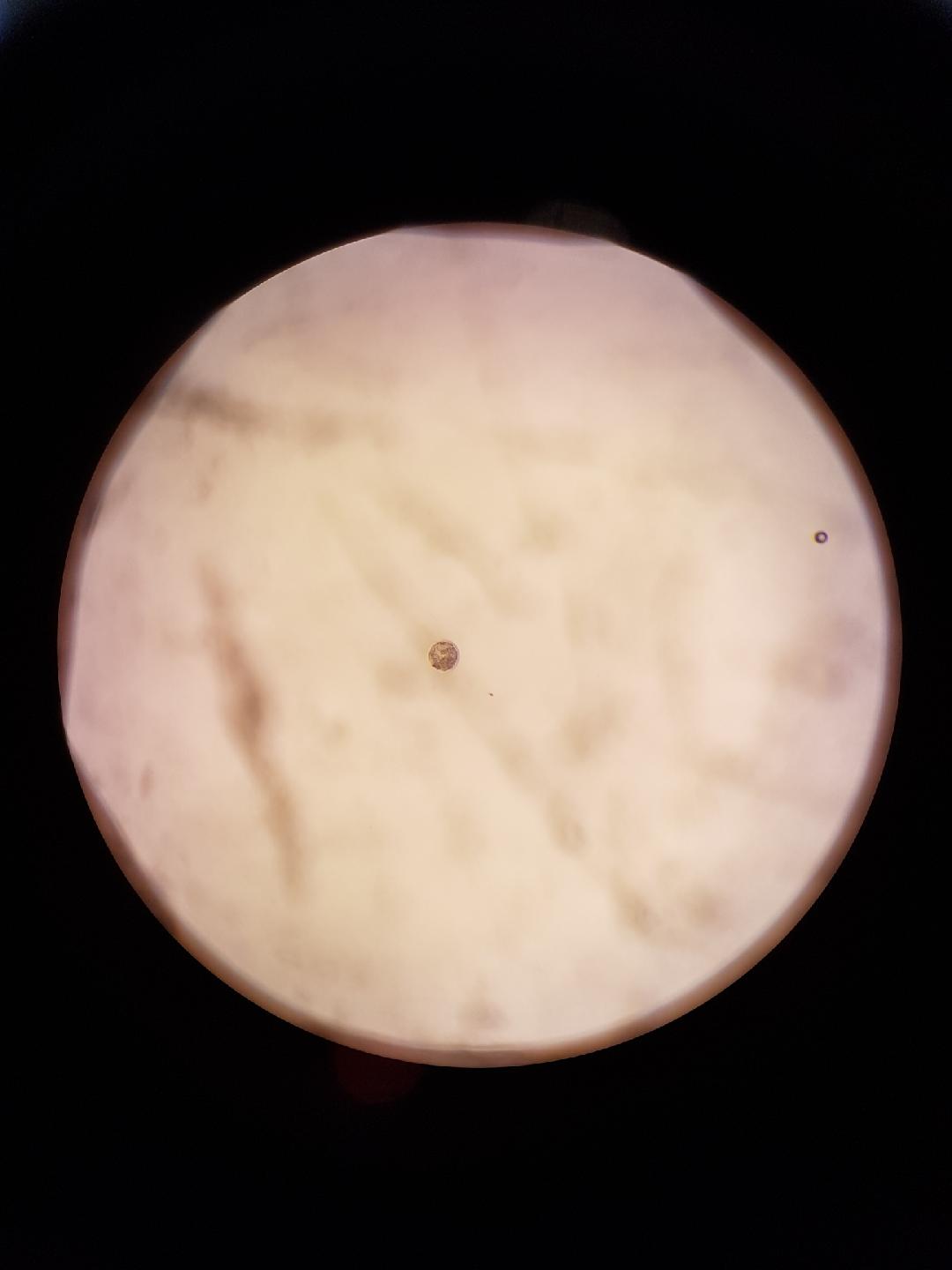 The fall and winter are our favorite times to sit and dream about the coming foals. Fillies or colts? Black, bay, chestnut?? Nick and I speculate on promising matches and debate the breeding choices every winter. Making a plan in the off season makes the busy spring easier. Though as anyone in the breeding world knows, those plans can quickly change and you need a), b), and c) options.
Our 2018 Lineup!
Esprentina NPF (Sir Oldenburg/Florestan) x Dauphin: A tall dark extravagant mover for the dressage ring?
SPS Wonderful Dream (Weltruhm/Donnerhall) x Dauphin: Beautiful typey and correct dark dressage prospect?
Rimini (Rienzi/Davignon) x Schwarzenegger: Another powerhouse that is dual-purpose with push?
Dutchess Alyce (Dauphin/Weltmeyer) x Londonderry: Typey, elegant, with suspension and the sweetest personality?
SPS Brentacia (Brentano II/Imperator) x Dauphin: Correct, beautiful, maybe another one capable of training up to GP?
SPS Fenjala (Fabriano/Prince Orac xx) x Schwarzenegger ET: Character plus, beautiful, elastic, graceful, dressage prospect?
October, 2017

****Early Bird Discount in effect! ****
100$ Discount when contract is completed and paid in-full by January 15th, 2018
Have multiple mares? Touch base to see what we can work out.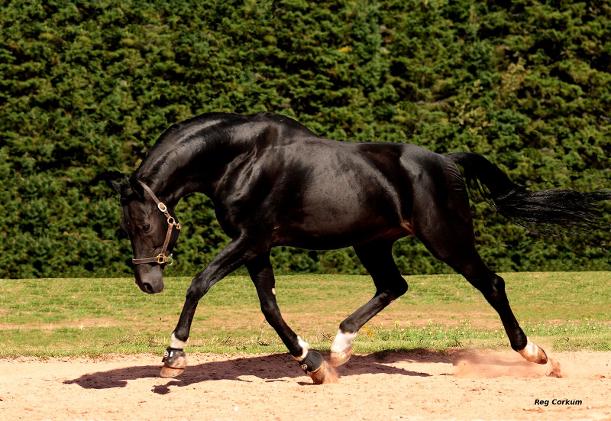 Nick and I just returned from a wonderful 10 day vacation out West. We took in beautiful parts of BC from Kelowna to Squamish up to Fort St. John. Some of the crazy highlights were the Northern Lights from the hot tub with Susi Q, learning to two-step (omg), meeting a musician that will be one to watch for in the future, hiking trails I wasn't sure I would be able to get back down, and the beautiful Sea to Sky highway. We continued onto Alberta, visiting family and zip lining into Cold Lake (aptly named). Had lots of laughs and good exercise (basketball with the fam jam was pretty awesome). We were lucky enough to visit a few Hanoverian farms in our travels. Met many lovely people along the way and saw some very nice horses. Thank you to all for the hospitality.
FYI Squamish, BC farmer's market, wow-great vibe and lovely people (and the food!!!)
Thank you to Morgan Louis for farm sitting, Amanda Stright for helping out, and for haylage service extraordinaire from Pius Walsh.
Giant thank you to Nick for organising all of this, I am occasionally a hermit, so it took some planning for this to all pan out.
September 7th, 2017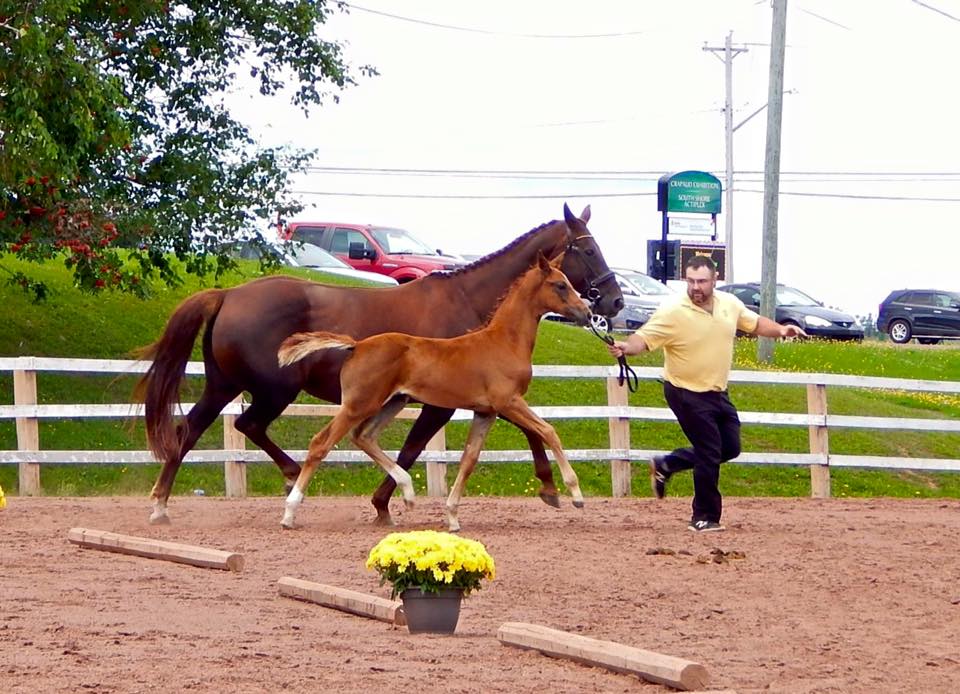 Photo Credit: Jackie Harlow
We had a wonderful inspection at the Crapaud Agriplex on September 1st. There was a mare performance test, mare inspection, mare show, foal inspection, and foal show. Many beautiful Hanoverians from around the Maritimes congregated at the agriplex. My favorite day of the year!!
We were super proud of Fairview (Furst Nymphenburg/Brentano II/Imperator) for winning Champion dressage foal. We had purchased her dam, SPS Brentacia, last fall while she was in-foal to Furst Nymphenburg from Sharon Beard. Michelle DeGarie was quick to buy Fairview at 8 days of age :)
We had some very nice comments on our three other foals: Stellarton, Dark Dreamer, and Stratford. We are hanging onto Stellarton and Dark Dreamer for the time being.
Virginia Cooke and I then traveled to the Parkwood Inspection on the morning of September 2nd to take in their 2 day show. Beautiful inspection and quality horses. Ted and Elaine Parkinson were so welcoming and the best hosts!
August 21st, 2017
Video of Siskel undersaddle, only plays on a computer :) He is growing up.
Such a smart fellow that took it all in stride, 10 rides.
August 7th, 2017
One of our young horse buyers was down for a visit and fell in love with Stratford. We helped make a little switch, and Stratford will be heading to Ontario with Hallstatt. Swan Song will be on the market shortly. She is coming into her own, and has such presence. For those that have admired this filly for the last year, here is your opportunity.
We are very excited that our embryo from Schwarzenegger x SPS Fenjala has held on in the recipient. Yay! A repeat of Stellarton!
So far 6 confirmed for 2018. We are working to add one more, fingers crossed!!!
July 23rd, 2017
Three weeks left for the collection season for Schwarzenegger and Dauphin. We are able to work on fairly short notice. We have a wonderful local FedEx office that goes the extra mile. Touch base today if you would like to book a LFG contract and try to get the rest of those open mares in-foal.
Stratford (Schwarzenegger/Rienzi/Davignon) enjoying a nap in the straw. This is lovely horse weather with warm temps, steady breeze, and the horse flies have backed off.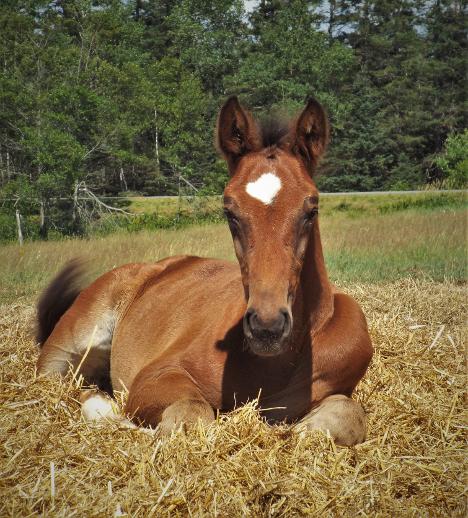 July 16th, 2017
Having great fun with our two three year olds; Siskel and Belfast. We are very lucky to have Willow M'Cloud helping us out this summer, she is doing a great job. Siskel has been lightly backed and is taking it all in stride. Belfast is next!
SPS Brentacia was confirmed in-foal to Dauphin for a late May foal. That brings the tally up to five so far. Unfortunately SPS Fenjala's Dauphin embryo did not stick in the recipient. Will try again :)
Getting prepared for the Hanoverian Inspection. It will be September 1st at the Crapaud Agriplex. Will be a great opportunity to see all the lovely Hanoverian foals from around the Maritimes. 18 foals are expected to attend!
July 13th, 2017
Happy to announce Fairview (Furst Nymphenburg/Brentano II/Imperator) has sold to Michelle DeGarie of NB.
This is one elastic moving charmer.
Photo Credit: Jackie Harlow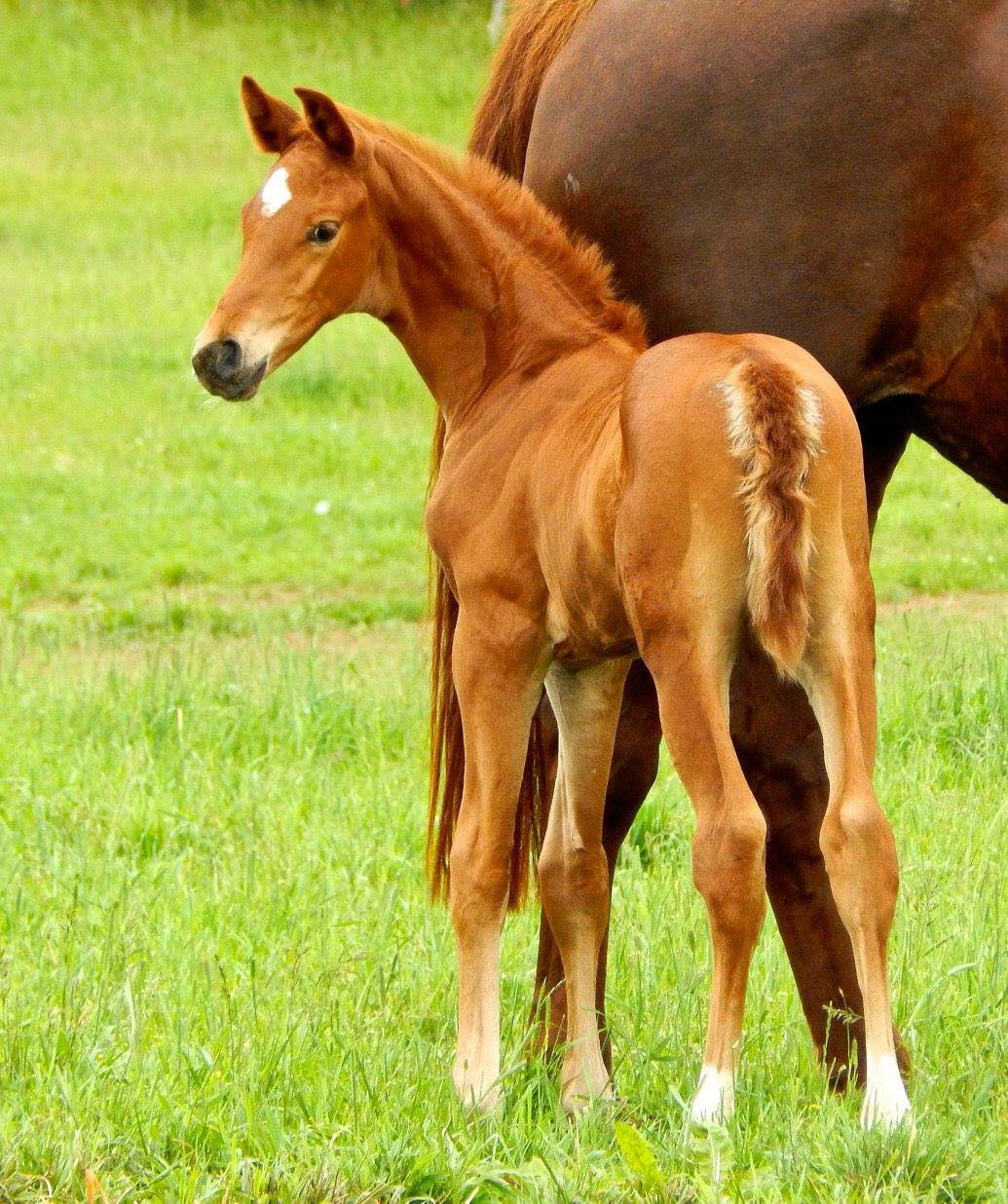 June 29th, 2016
Meet Stellarton! Our embryo transfer colt out of SPS Fenjala (Fabriano/Prince Orac xx/Absatz) and by Schwarzenegger. We are quite smitten with him. The wonderful recipient mare Cassie did a great job carrying this colt and is an excellent mother.
We are happy to have another interesting line-up of foals for 2018:
SPS Wonderful Dream x Dauphin
Esprentina NPF x Dauphin
Rimini x Schwarzenegger
Duchess Alyce x Londonderry
SPS Fenjala x Dauphin (ET, to be confirmed)
SPS Brentacia x Dauphin (To be confirmed)
We may aim for one or two more with SPS Fenjala via embryo transfer.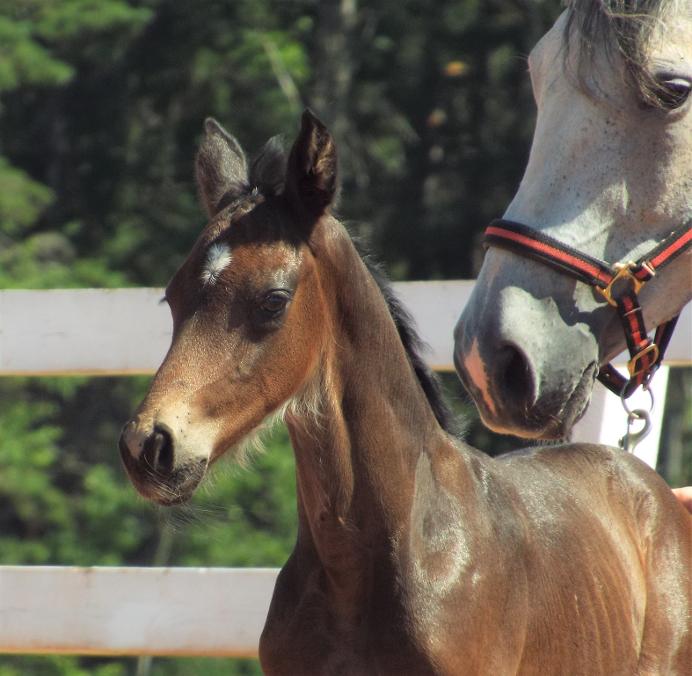 June 15th, 2017
Newest addition, a beautiful chestnut filly by Furst Nymphenburg out of SPS Brentacia (Brentano II/Imperator). The filly was bred by Sharon Beard of ON.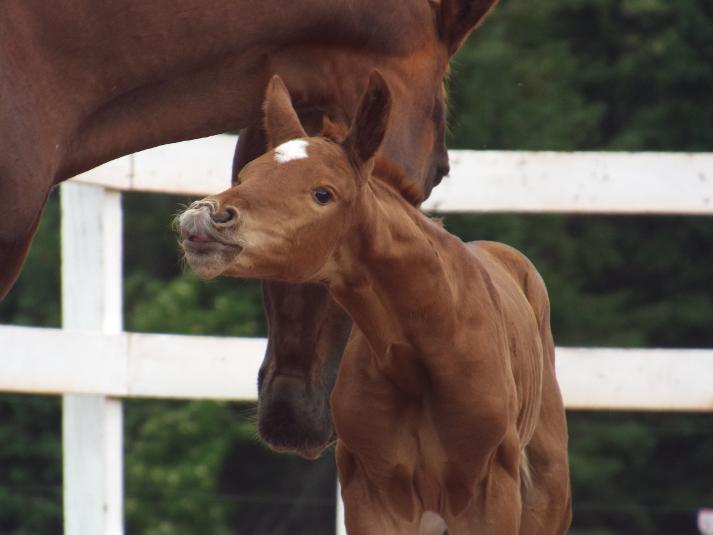 June 4th, 2017
A big welcome to Stratford, new colt born June 1st. Pedigree: Schwarzenegger/Rienzi/Davignon.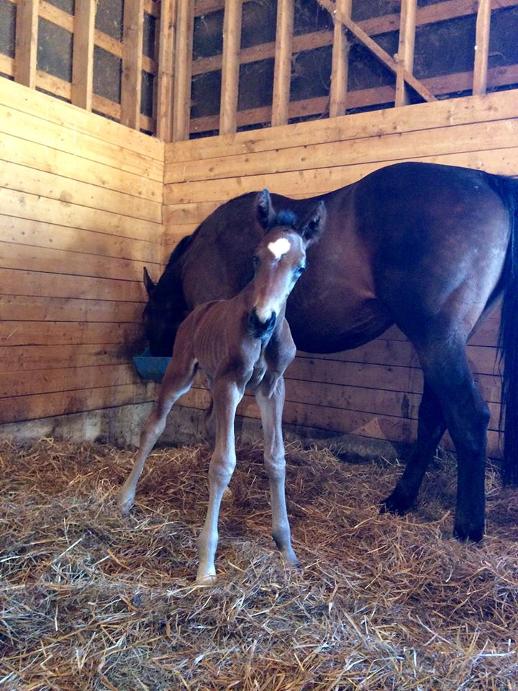 May 29th, 2017
We are happy to announce we have two confirmed pregnancies so far this season. Esprentina NPF and SPS Wonderful Dream are both confirmed in-foal to Dauphin for 2018.
The stallions are producing many pregnancies around North America. Semen quality is fantastic. Call us today if you would like to book to either of these dark beauties.
We are enjoying seeing the arrival of the beautiful foals for our mare owners.
May 20th, 2017
Duchess Alyce produced a tall leggy dark Schwarzenegger filly on Thursday night. Unfortunately there were some foaling complications and the foal had internal damage, she passed at 30 hours old. Ali is doing ok and is back out with her pasture mates.
May 3rd, 2017
Very excited to introduce Dark Dreamer (Dauphin/Weltruhm/Donnerhall). A beautiful black filly born at 4pm on May 2nd, day 338.
We have been waiting quite some time for another filly from SPS Wonderful and are very happy to welcome her to the farm.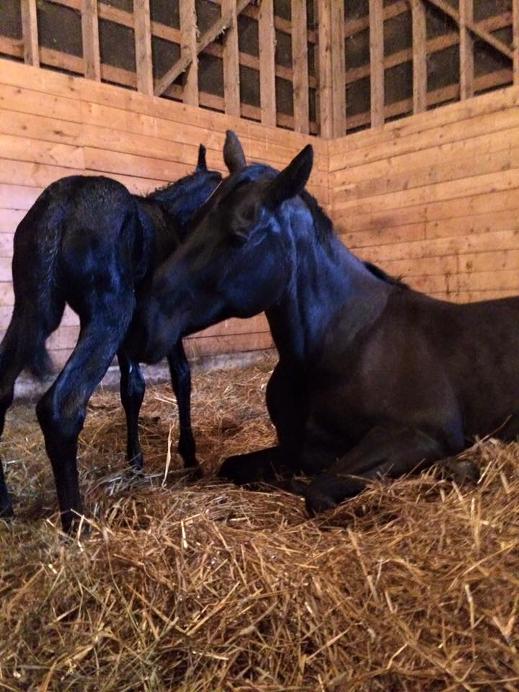 May 2nd, 2017
Waiting patiently for SPS Wonderful Dream to foal, she is day 338 and dripping milk at the moment.
We bred Esprentina NPF to Dauphin last week. Fingers crossed for a black dot in the near future.
The stallions are glad the season is in full swing :)
We have some fun crosses planned for 2018, please check the sales page for more information.
April 20th, 2017
We are pleased to offer Santerina for the discerning buyer. This gorgeous grey filly was to be retained for our breeding program, however, our size preference is 16.2hh with substance and medium bone. This filly will likely finish 15.3-16hh and is quite refined. For someone looking for a wonderful mind, and powerful movement-this is your filly.
Photo Credit: Jackie Harlow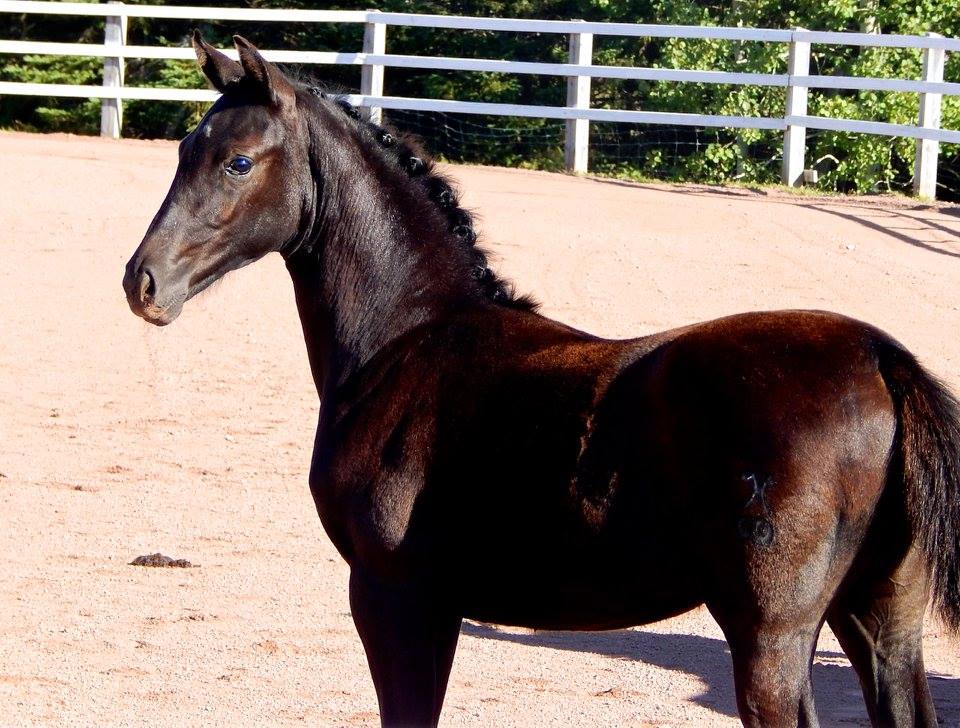 April 8th, 2017
Wolkentanz's Willow HB (Wolkentanz II/Sir Oldenburg/Florestan) 2016 HV filly left today for her new home in Maryland, USA. We wish her owners all the best with her undersaddle and in the breeding shed.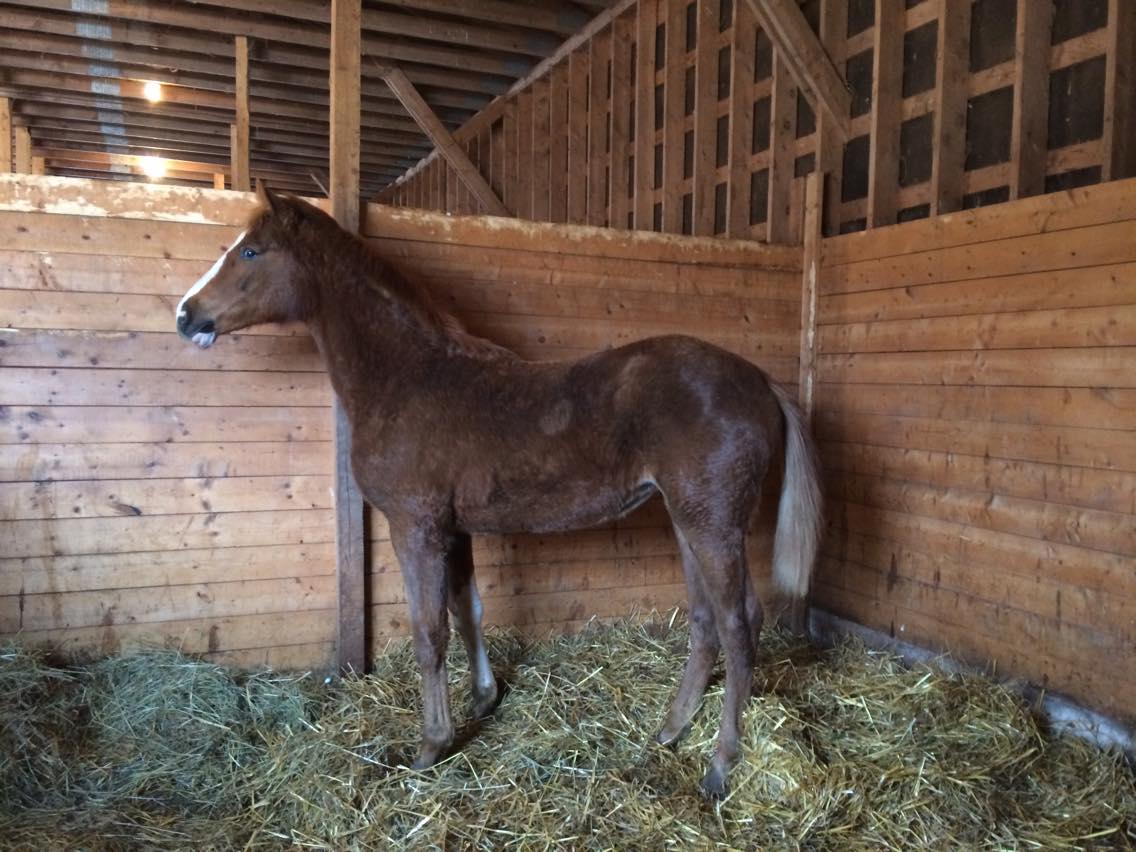 March 28th, 2017
Some dates to keep an eye out for with collections through the season.
FedEx: Canada http://www.fedex.com/ca_english/services/serviceguide/holidays.html
FedEx: United States http://www.fedex.com/us/service-guide/holiday-schedule.html
SPS Wonderful Dream is 303 days along today, slowly but surely we are getting there. Love brushing the mares and feeling those foals kicking. I would guess she will foal April 26th-April 29th (ish lol).
There are two mares quite close behind her, Duchess Alyce (292 days) and Rimini (290 days), both are carrying Schwarzenegger foals.
March 10th, 2017
Started a new page as the "News" page was big and slow to load with all the files and videos.
First shipment of the season left today for Wisconsin. Dauphin was the lucky fellow. We have a wonderful local FedEx depot in Charlottetown, they were quite funny, said seeing the boxes come in is their first real sign of spring lol.
Both Belgrade and Hallstatt were gelded last Monday.
Looking forward to the first foal of the season; Dauphin x SPS Wonderful Dream. Guessing late April, early May. She is not nearly as big as she was last year carrying Hallstatt. Please be a filly. We are hoping in a big way to retain a filly from "Martina" for our breeding program.
There are 19 horses on the farm at the moment, what a nice number :) They are not all ours: there are four weanlings being boarded, three horses on breeding lease, and one recipient on lend. Our aim is to over winter about 14 for next year, we'll see how it goes. We have reduced taking outside horses at this time to focus on our own.
Happy to announce we have filled the summer position on the farm, thank you to all that applied.
Link to our archived NEWS