Schwarzenegger 1997-2020
Sion - Calypso II - Graphit -Gotthard (Breeder: Axel Windeler)
Approved Hanoverian Stallion: HV, CHS, AHS, and CWHBA.
KWPN-NA registry "A" from KWPN mares. Eligible for one time breeding permits with GOV.
CEM negative, EVA negative semen
Negative for WFFS: N/N
Colour Black/Brown: A/a E/E cannot produce chestnut.
Overnight shipping across Canada and to the US.
***Schwarzie on the Top list of Jumper producers for the Hanoverian Breed from

2012-2016, 2019-2020

Frozen semen available $1500 cdn + Hst per dose :~1100 USD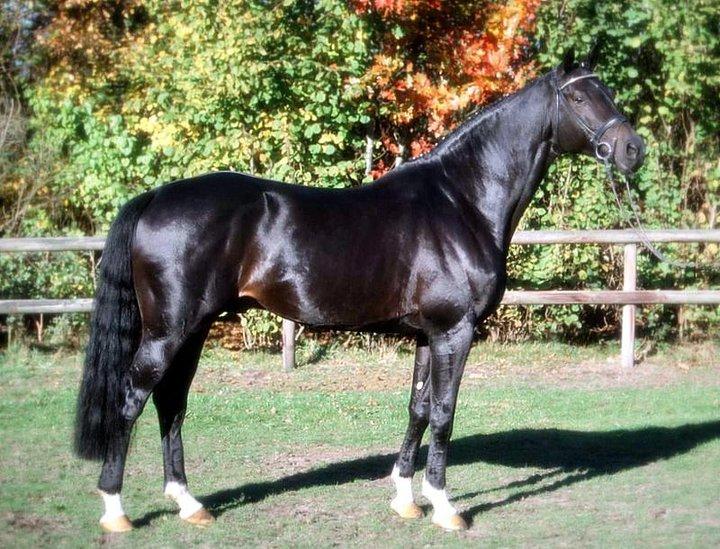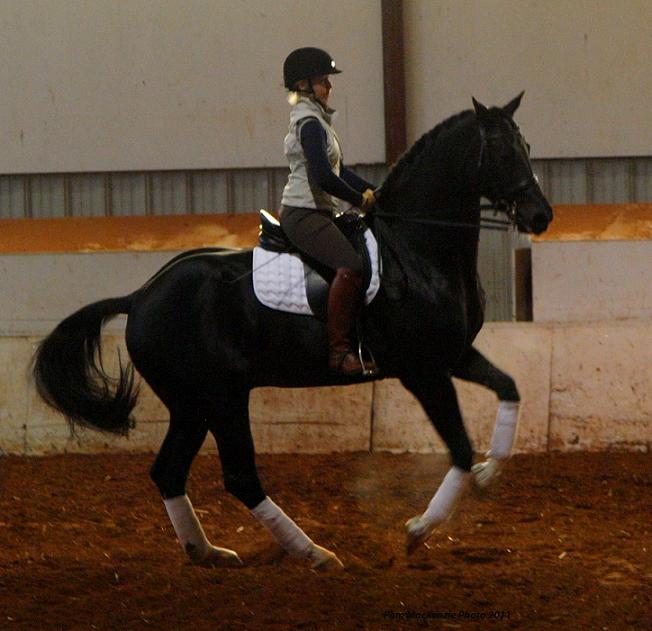 Schwarzenegger and Harma Germs-Fraser at the Ingrid Klimke symposium in 2011. Photo by Pam MacKenzie
Schwarzenegger now has three offspring competing at S class dressage and one at S class jumping.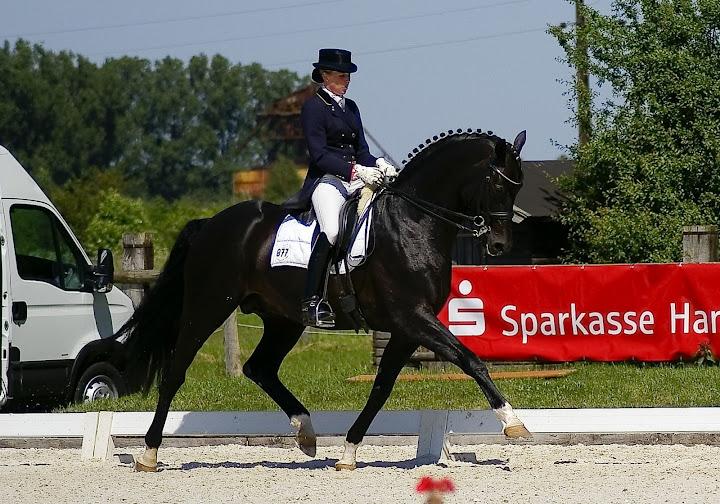 Schwarzenegger is an elite breeding stallion with a perfect character. Schwarzenegger was born in Verden, Germany in 1997 from the Windeler breeding program. He is black/brown in colour with four white socks and a small star. With a height of 17 hh (1.72 m), and a natural uphill build, he carries himself with a dignified presence. In his stallion performance test in Redefin, he scored an impressive 125,24 points. This score placed him 3rd overall out of 22 stallions. His integrated breeding value estimation is 122 for Dressage and 114 for jumping. His temperament and character impressed the judges with a score of 9 and 10 respectively. In his offspring he tends to improve the canter with a 12o as well as the the jumping manner and scope with a 128. He also throws his wonderful mind and kind expression making very rideable offspring. He has offspring competing in both advanced dressage and advanced jumping classes. His offspring are known for their super basic gaits, fantastic trainability/rideability, and the tendency to show talent for both dressage and jumping.
As a foal, Schwarzenegger was the vice-champion at the Lower Saxon Foal Championships. He has brilliant basic gaits and an outstanding rideability. He has placed at advanced level dressage competitions. In 2007, he was victorious at various advanced level dressage tests. He has competed successfully at Intermedaire I in Germany.
Schwarzenegger would be a great cross for both dressage and jumper breeding programs! We look forward to hearing from you!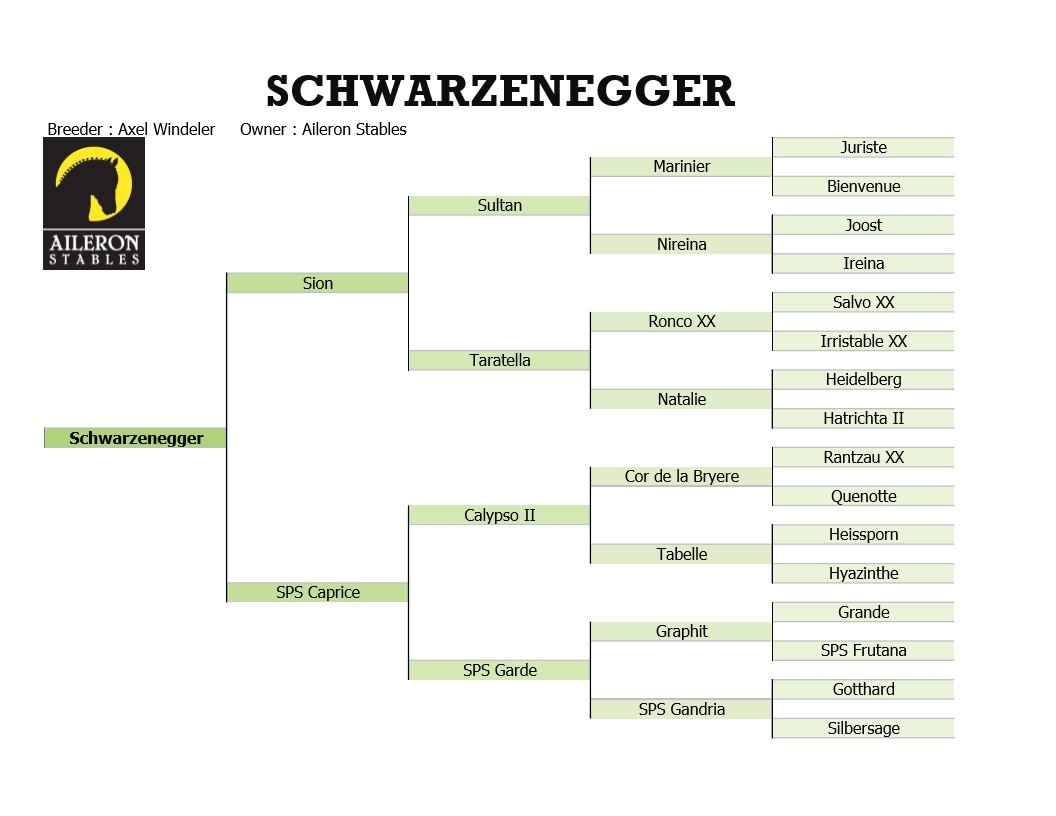 Below: Here is a video I took of Schwarzenegger at the Windeler's in Germany in March 2011. Ridden by Yvonne Reiser of Pferdezucht Windeler.

Below: October, 2011 Video from a Cindy Ishoy clinic in Saint John, NB. Ridden by Harma Germs-Fraser of Island Wide Equestrian. Video by Beth Leach.
Below: Video of Schwarzenegger at the Ingrid Klimke Symposium in Truro, NS in November. Ridden by Harma Germs-Fraser of Island Wide Equestrian. Video taken by Rosemary Burton. Here are a couple of earlier segments of the lesson http://youtu.be/0azQ17cRgUk and http://youtu.be/bLtFX5r1pQw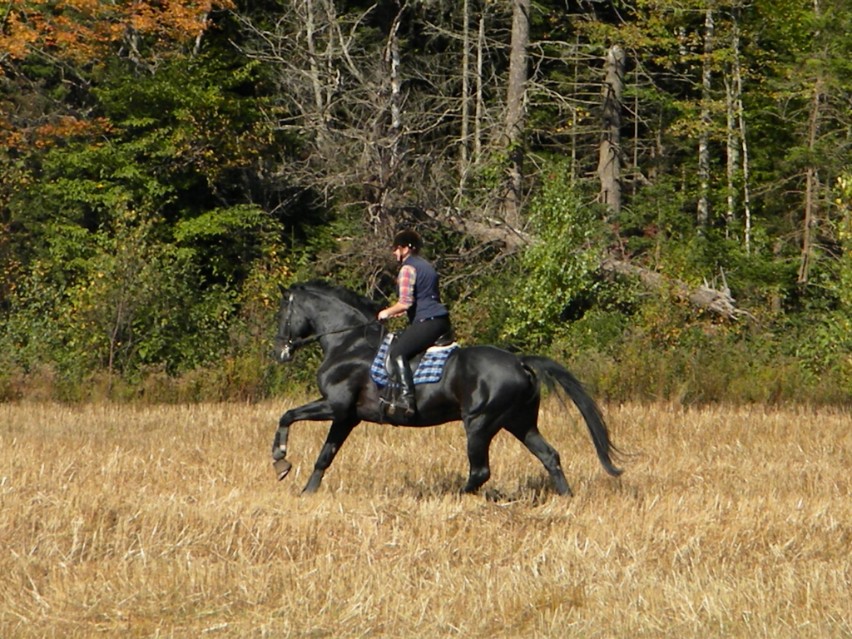 "Schwarzie as he is affectionately known around the farm is an absolute gem: he just seems to take to everything and is so accepting and brave considering some of the adventures I have taken him on. I just couldn't be happier with how this big guy has fit into our lives. He is teaching me so much!" Ruth. Here is a short collection of photos from Germany http://www.youtube.com/watch?v=9blpbAk1BlM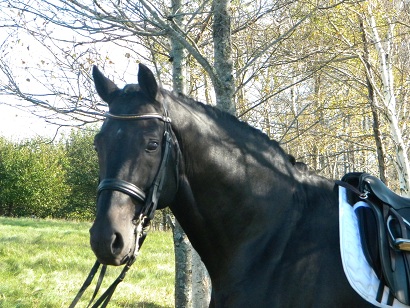 Family Tree:
Sire: Sion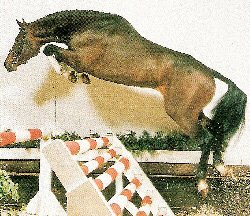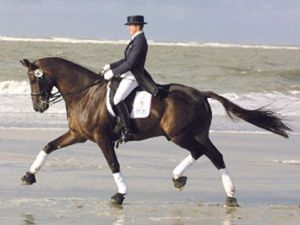 The approved Oldenburg stallion Sion (above) is a highly esteemed and versatile stallion, sire of over 30 state premium mares in Oldenburg, including the winner of the Elite Mare Show 1995. He has 446 competition offspring, with lifetime earnings of 767.339 Euros!
He has sired 12 approved stallions, and successful sport horses including Shine On, Sir Oldenburg, Sir Tender, Sir Primeur, Schwarzenegger. Sion perhaps best known as the sire of international Grand Prix star Sterntaler-Unicef , currently ridden by Matthias Alexander Rath, and has been named to the German dressage team. (photo below).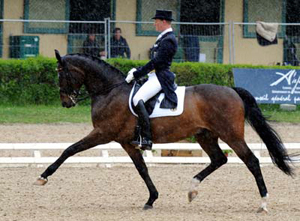 Grandsire: Calypso II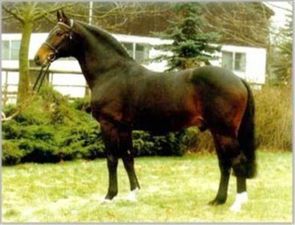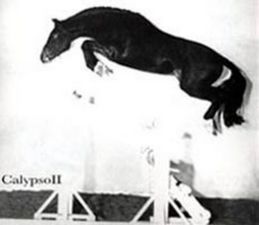 He produced winners of one and a half million deutschmarks, with 557 competitors! On the basis of the Hanoverian mare tests, Calypso II achieved a dressage ranking of 131, and a jumping ranking of 167. His breeding index on the basis of his competition horses is 132 for dressage and 150 for jumping.
Schwarzenegger's dam-line is phenomenal with 11 approved Hanoverian stallions from this line! He is out of the outstanding mare SPS Caprice (below) with generations of State Premium mares tracing back to Hanover`s flagship dynasty of Silbersage. This mare line has won several elite winning family shows in Germany such as the Tarmedt Show and even the Louis Wiegel Show.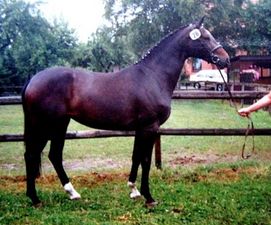 Other Elite Horses out of this damline:
Limitless Girl v. Landadel/Calypso II Spr. Bis Kl S* erf.
El Paso VA v. Escudo I ( Vizechamp Freispr.) 2002, BC Sieger, 2006 Spr. bis Kl. int S***
Sunrise VA v. Singular Joter - ridden by Imke Schellekens-Bartels:
World Equestrian Games Team Silver 2006
2nd World Cup FInal - 2007,
Team Gold - European Championships 2007
Team Silver - 2008 Olympic Games

Licensed Stallions from this Damline:
Starpower (Stakkato/Escudo I/Werther/Graphit)
Royal Classic (Royal Highness/Florestan/Landadel/Calypso II)
Floratio by Florencio x Landadel, stallion market 2010, now at the State Stud Celle 155.000 Euros.
Bonne Chance by Balou du Rouet now at the State Stud Celle.
Florian by Florestan Prämienhengst v. Florestan - Wolkenstein 2008 ( Preisspitze 170,000 Euros)
Five Star byFlorestan - Wolkenstein Licensed Stallion
Schwarzenegger by Sion/Calypso II & competed Inter I
Sir Calypso by Sandro Hit/Calypso II Hessen
Lambourghini Diablo by Landadel/Calypso II Bis Kl S* erf.
Lomitas by Landadel/Calypso II Spr. bis Kl S** erf ( 2 Siege in Aachen) Youngster Cup Gewinner
Westernhagen byWeltmeyer - Landadel. Performance Test Champion
Galileo by Grannus, Frambeau by Werther ( State Stud Celle),
Shadow by Stakkato gek. Hengst,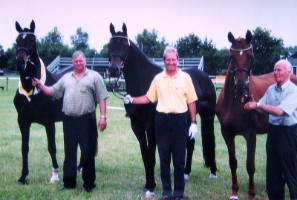 Above: SPS Caprice/SPS Lady Larissa/SPS Wisconsin. Caprice and her two daughters winning the Tarmedt "Elite Winning Family." Caprice is Schwarzenegger's dam and these are two maternal sisters.
Below: SPS Royal Lady/ SPS First Lady/SPS Lady Larissa. Lady Larissa and her daughter and granddaughter winning the Siegerfamilie Louis Wiegel Schau.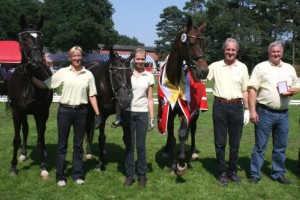 RELATIVES: Here are three of Schwarzenegger's maternal brothers. (All Approved Hanoverian stallions)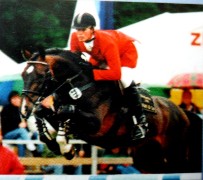 Lamborghini Diablo (Landadel/Calypso II/Graphit)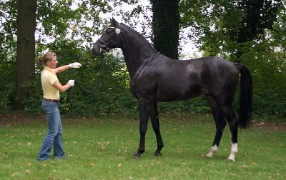 Sir Calypso (Sandro Hit/Calypso II/Graphit)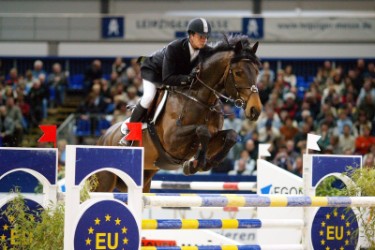 Lomitas (Landadel/Calypso II/Graphit)