Sales can only be held with a deposit and a contract, otherwise all sales are on a first come, first serve basis. Taxes not included. Terms available. Please see Facebook (Ruth Hanselpacker or Aileron Stables) for many other photos and videos.
ATHOS
(Arrian/
Lauries Crusador/Bolero)
DOB April 24th, 2021
2021 HV colt. Leggy bay fellow with a sweet demeanour. Modern with a strong Thoroughbred influence. Is showing a super canter, and flashes of a very very nice trot. He looks to be stamped by Arrian and shows the beautiful top line and neck set Arrian foals all seemed to inherit. Athos would make a lovely amateur friendly dressage prospect. His dam has produced many lovely riding horses for Parkwood Stables in ON after having been imported from Germany as a 2 year old.
Price: 16,000 CDN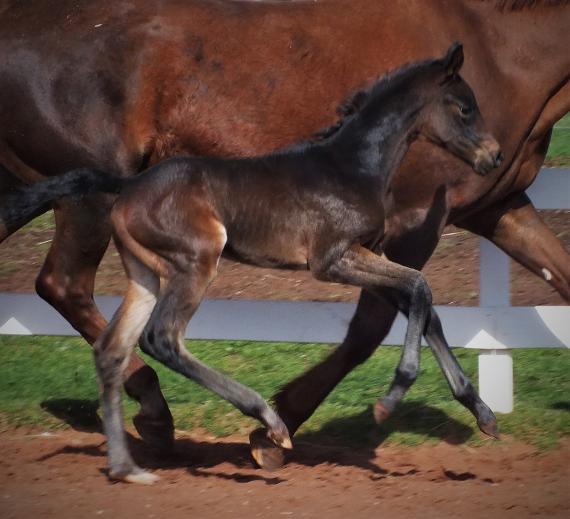 DUET
(Dauphin/
Brentano II/Imperator)
DOB April 21st, 2021
2021 dark bay Hanoverian filly. One white sock on hind left. Very very nice filly for breeding or dressage. Has a huge canter, very nice trot and great walk. Inquisitive personality; bold and outgoing, going to have a top shelf mind.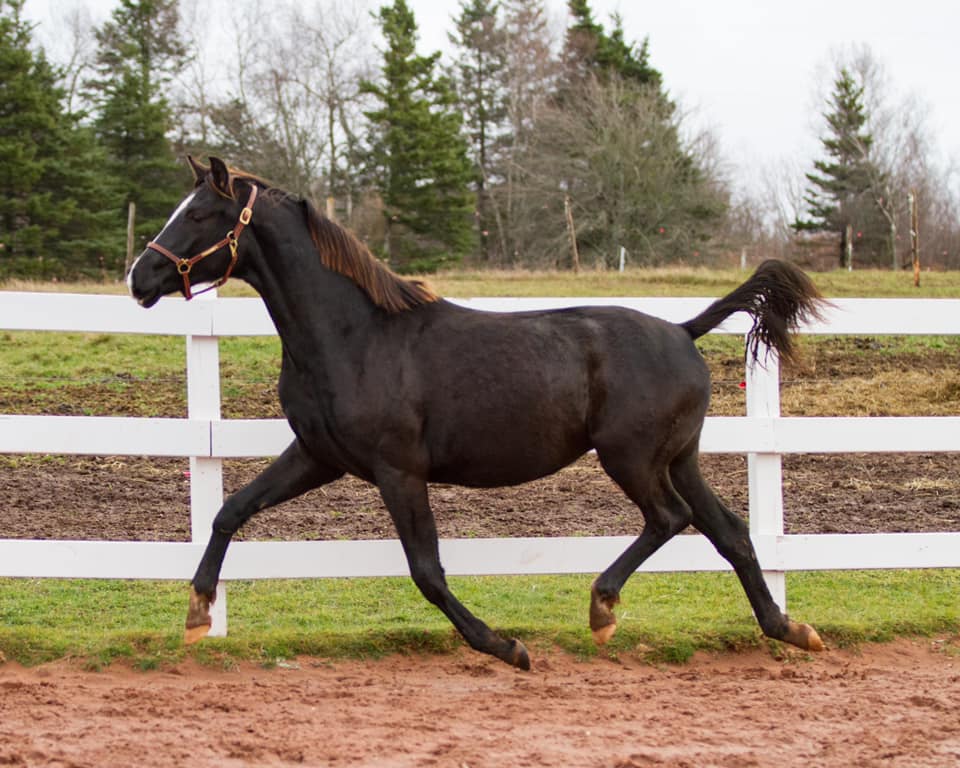 Delcina
(DAUPHIN/
SCHWARZENEGGER/
DONNERHALL)
2019 Grey Hanoverian filly. She is a mover and a shaker and lights up the field with her powerful movement. She has a very quick hindleg, that reaches under well. Loves to show off.
Has a sweet affectionate personality and marches to come visit when she spies people. Expected to finish around 16hh-16.1hh.

Had a wonderful inspection experience September 1st, 2019. Was praised for her suppleness and elastic trot.
Price: 22,000 CDN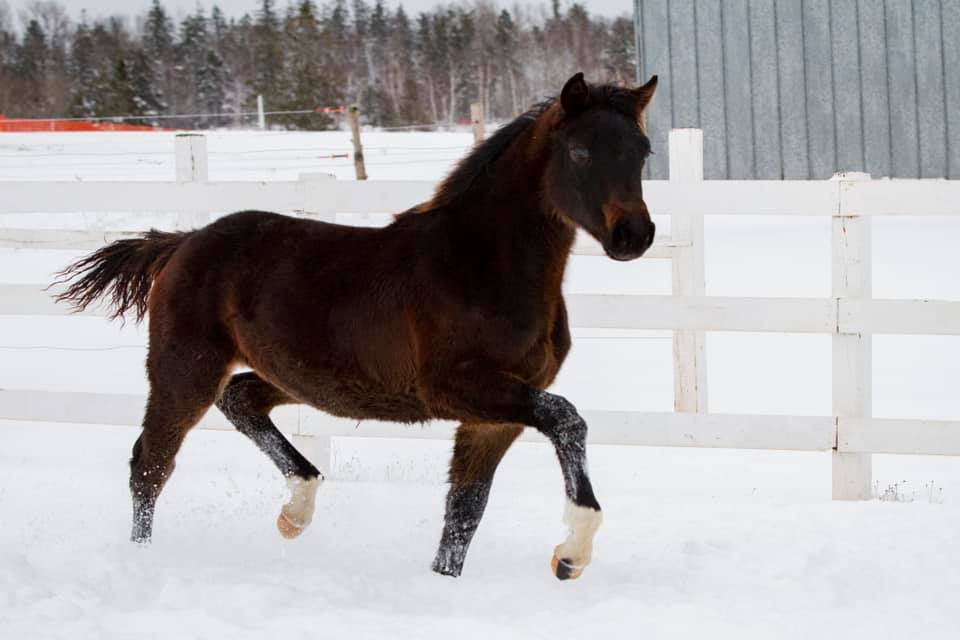 SEQUEL
(Schwarzenegger/
Brentano II/Imperator)
DOB May 10th, 2020
2020 dark bay Hanoverian filly. White on all four. Checks all the boxes. Curious, sweet, big moving.
She has an uphill tendency in her movement. Quite a bit of knee and hock action in the trot. She just floats. Powerful canter, and swinging walk. Would make a very nice dressage horse or broodmare prospect. I expect her to finish 16.2hh-16.3hh.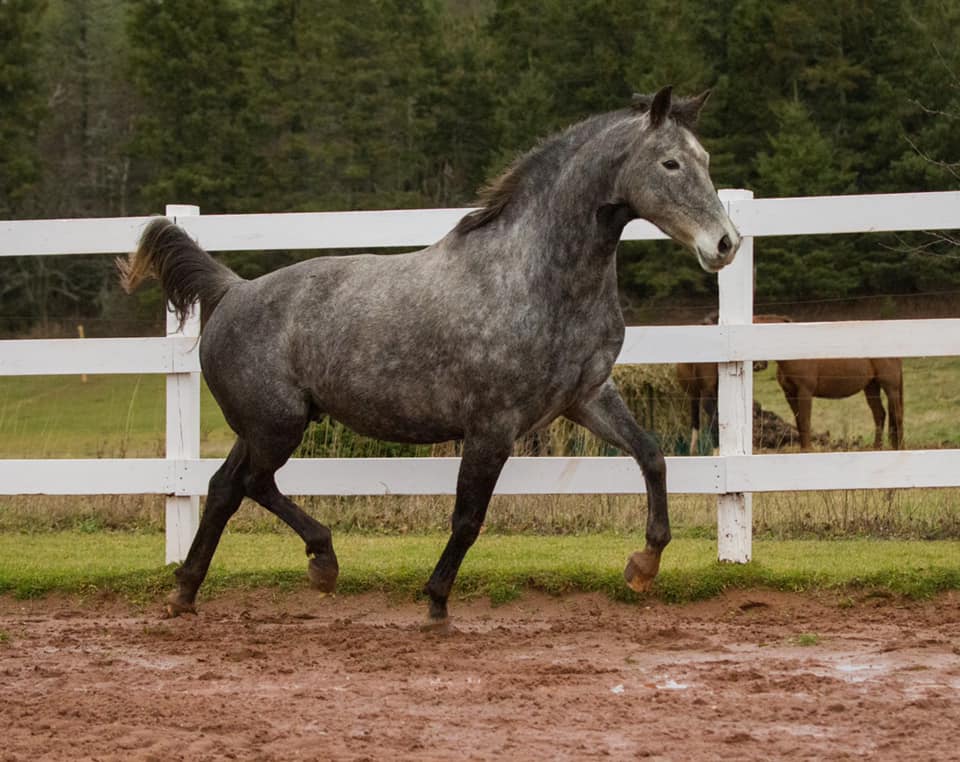 Santerina
(SCHWARZENEGGER/
2015 Grey Hanoverian Mare
Fantastic movement and disposition. This mare is lovely to work with and has such presence. Would be the ideal horse for a petite dressage rider. Very dual-purpose lines, this mare can also jump! Could be directed at most disciplines with her willingness to work and athleticism. Height 15.3hh.
Undersaddle, is walk, trot, canter. Loves to hack out, solo or in company.
Had a gorgeous grey colt June 7th, 2020. Has been bred to Rapture R (Rotspon/Donnerhall/Weltmeyer) for a May 2021 foal.
Inspected into the Main Studbook on September 1st, 2018 with an overall score of 7.0!
Price: Sale pending. Her 2021 foal is available.