Sales can only be held with a deposit and a contract, otherwise all sales are on a first come, first serve basis. Taxes not included. Terms available. Please see Facebook (Ruth Hanselpacker or Aileron Stables) for many other photos and videos.***Please note, prices are in USD.
STANHOPE
Schwarzenegger/Dauphin/Weltmeyer
DOB July 13th, 2020
2020 dark bay Hanoverian filly. Versatile, big, with a friendly outlook. She has a huge shoulder, good bone, and substance. I expect her to finish 16.3hh or so. Can picture this lovely filly in a multitude of disciplines with her dual-purpose breeding and adjustable canter.
Price: 12,500 USD.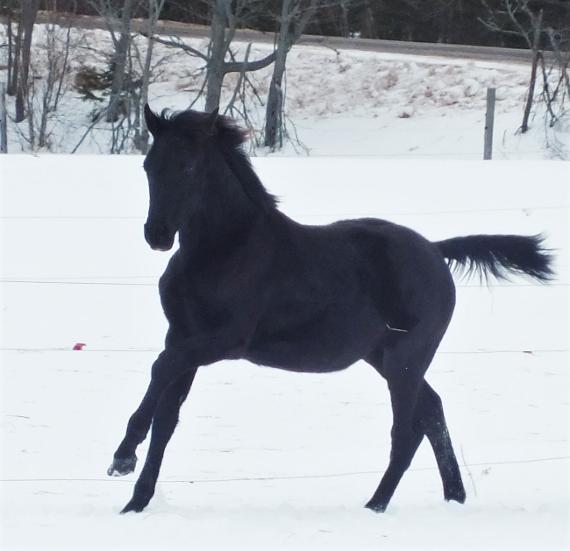 DURANT
Dauphin/Schwarzenegger/
Donnerhall
DOB June 7th, 2020
2020 grey Hanoverian colt. Powerful and affectionate dressage prospect. Really nice mover. Will likely be on the more compact side ~16.1hh.
Price: 12,000 USD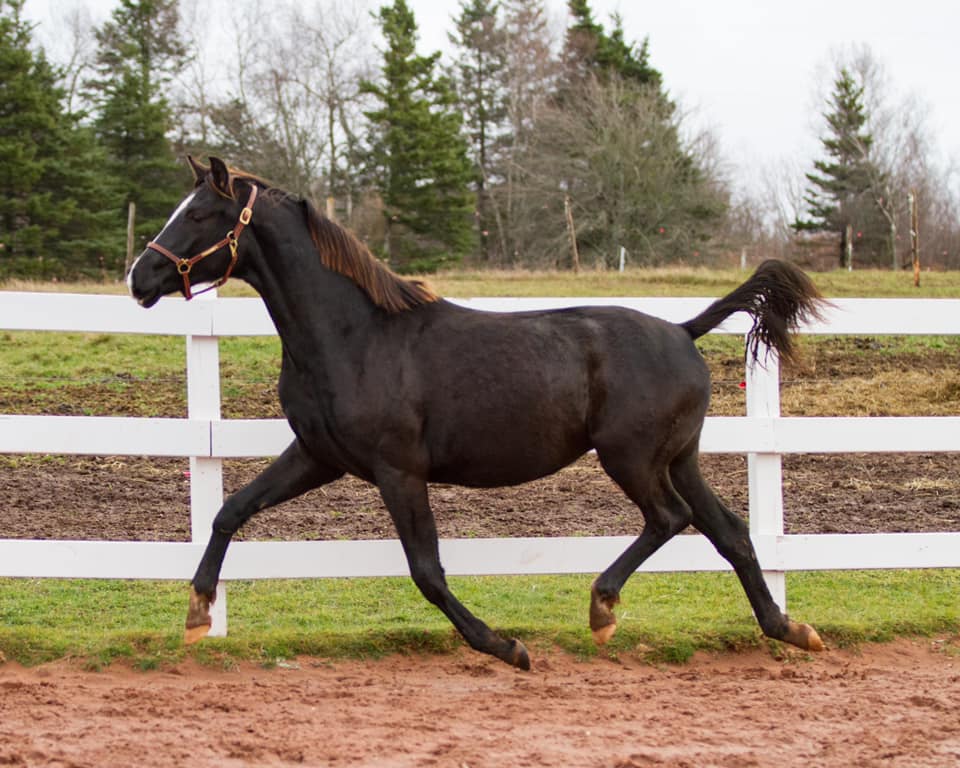 Delcina
(DAUPHIN/SCHWARZENEGGER/DONNERHALL) Embryo transfer filly.
2019 Grey Hanoverian filly. She is a mover and a shaker and lights up the field with her powerful movement. She has a very quick hindleg and the ability to articulate her joints to their full potential to use the carrying power. Loves to show off.
Has a sweet affectionate personality and marches to come visit when she spies people. Expected to finish around 16hh-16.1hh.

Had a wonderful inspection experience September 1st, 2019. Was praised for her suppleness and elastic trot.
Price: 14,000 USD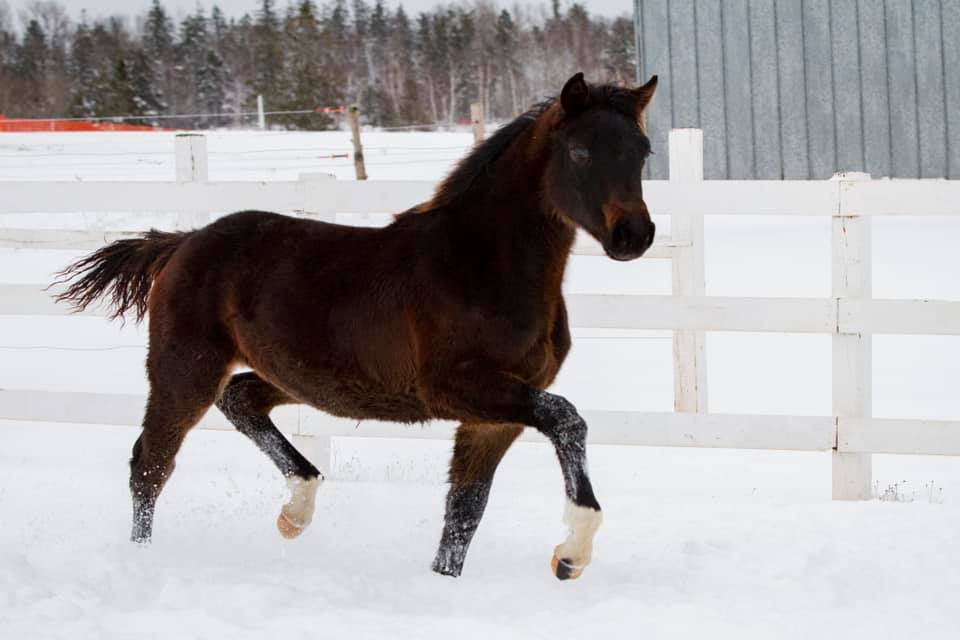 SEQUEL
(Schwarzenegger/Brentano II/Imperator)
DOB May 10th, 2020
2020 dark bay Hanoverian filly. White on all four. Checks all the boxes. Curious, sweet, big moving.
She has an uphill tendency in her movement. Quite a bit of knee and hock action in the trot. She just floats. Powerful canter, and swinging walk. Would make a very nice dressage horse or broodmare prospect. I expect her to finish 16.2hh.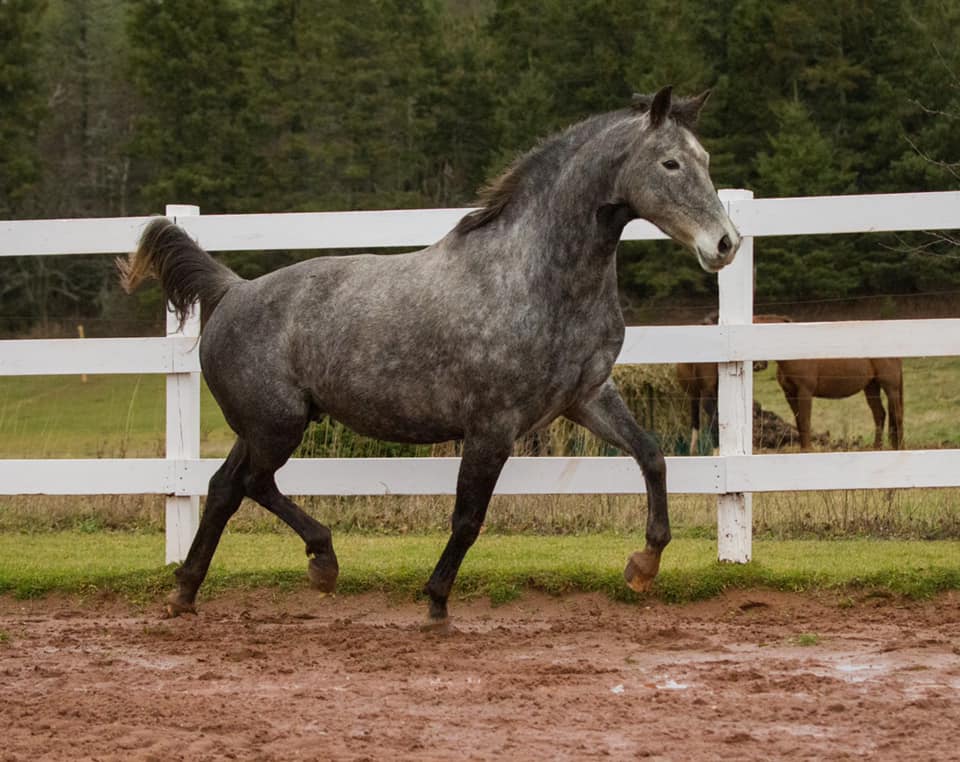 Santerina
(SCHWARZENEGGER/
DONNERHALL/PIK SENIOR)
2015 Grey Hanoverian Mare
Fantastic movement and disposition. This mare is lovely to work with and has such presence. Would be the ideal horse for a petite dressage rider. Very dual-purpose lines, this mare can also jump! Could be directed at most disciplines with her willingness to work and athleticism. Height 15.3hh.
Undersaddle, is walk, trot, canter. Loves to hack out, solo or in company.
Had a gorgeous grey colt June 7th, 2020. Has been bred to Rapture R (Rotspon/Donnerhall/Weltmeyer) for a May 2021 foal.
Inspected into the Main Studbook on September 1st, 2018 with an overall score of 7.0!
Shipping to the US straightforward to arrange.