Sales can only be held with a deposit and a contract, otherwise all sales are on a first come, first serve basis. Taxes not included. Terms available.
Day Dreamer
DAUPHIN/WELTRUHM/DONNERHALL
2018 Hanoverian gelding. Striking black gelding with a fantastic canter and a personality that is spot on.
The fellow has a brave engaging personality. He is often wandering off to explore on his own. He will make a dressage rider very happy with his movement and his mind.
Expected to finish 16.3hh.
Photo Credit: Amanda Stright.
Here is the video from his inspection:
https://youtu.be/vDm9e7BQPgI
https://youtu.be/jt16Nbz5aNc
Priced at 13,500 Cdn plus hst.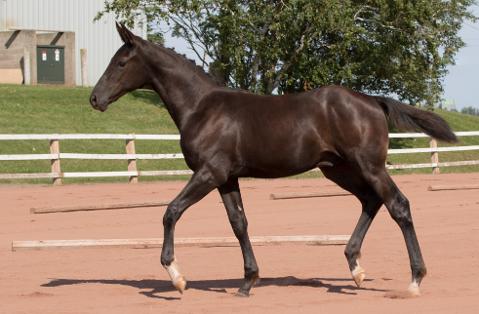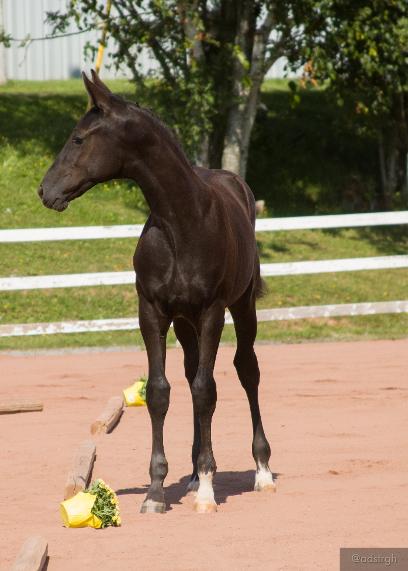 Bellevue
(BONHEUR/WORLD CUP IV/MATCHO AA)
2015 Hanoverian gelding born June 24th. Chestnut with blaze/white chin, and three stockings. This light-footed beauty is a substantial fellow. Expect him to finish around 17hh. Currently stands 16.2 1/4hh. He is going to turn heads with his look at me presence!! He has the quietest canter you could ask for that happens to be incredibly adjustable. Equitation, hunter, or jumper prospect. Very nice form over a fence with even knees and lots of power. Has 30 days undersaddle and is going wtc.
Has just started hacking out.
Photo Credit: Amanda Stright
PRICE: 18,500 plus tax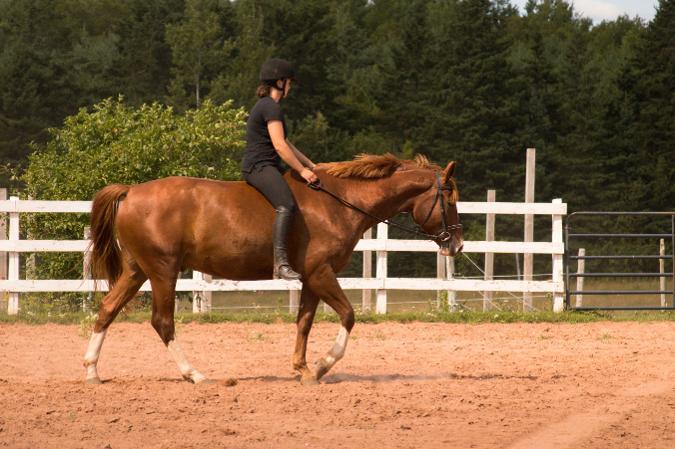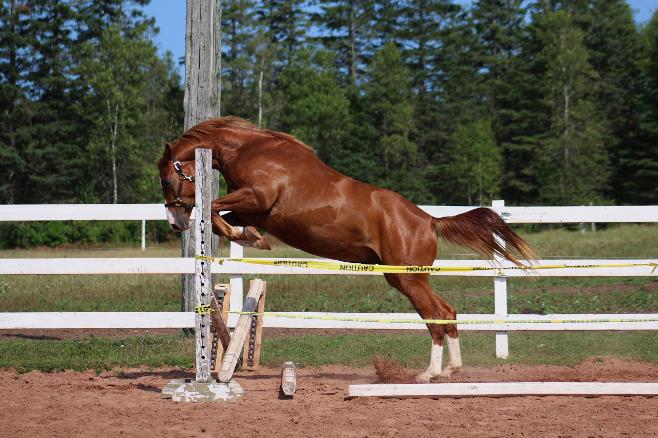 Siskel
(SCHWARZENEGGER/WELTRUHM
/DONNERHALL)
2014 gelding registered with the German Hanoverian Verband.
Stunning black gelding with a fantastic mind, very good movement, and high rideability. Has had a consistent year undersaddle and is now back on PEI.
Stands 16.2hh. Happy go lucky disposition, sweet and affectionate, this fellow is a joy to have around. Interesting candidate for young horse classes.
Dam is the impressive mare SPS Wonderful Dream, an overall 8 mare in her testing and inspection, this mare wowed the inspectors and test rider with her willingness and rideability (9.0).
Sire is Schwarzenegger, a dual-purpose stallion that showed at Inter I in Germany. Produces willing youngsters that have expressive gaits and wonderful minds.
Siskel would be an appealing choice for both an adult amateur or professional alike, with his mind, movement, and rideability.
https://youtu.be/hQmykPDE57Q
https://youtu.be/0B0icTpORvc
Priced at 29,000 CDN (Plus tax if sold in Canada)
Shipping to the US very straightforward to arrange.
Photo Credit: Amanda Coggins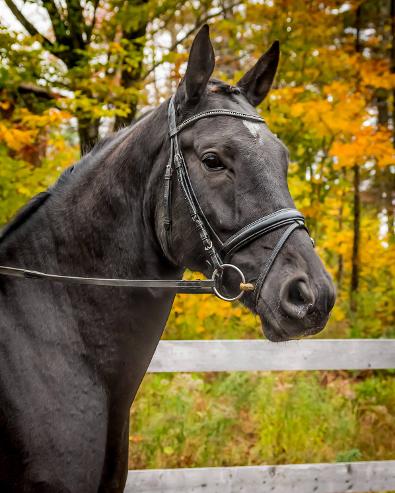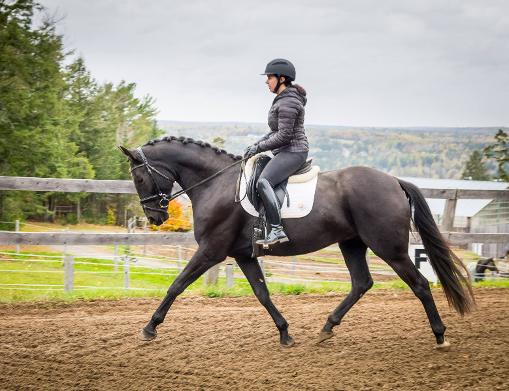 Dark Dreamer
DAUPHIN/WELTRUHM/DONNERHALL
2017 Hanoverian filly. Stunning black filly that would be interesting for dressage and breeding. Nice correct type, good movement with a very active hind leg. Could be the foundation of a breeding program, comes from a line of 3 direct States Premium Mares. Stands ~15.2hh.
Expected to finish ~16.2hh.
Priced: Currently under contract.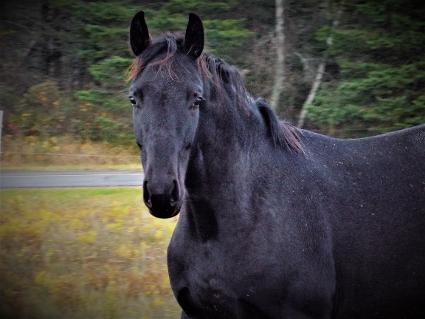 Bellmora
BONHEUR/PATRAS VON RAPPENHOF/RIO GRANDE
2016 Chestnut Hanoverian mare. Dynamic with presence and the movement to be a very interesting dressage or eventing prospect. Confident disposition. Expect her to finish around 16.1hh.
She has a busy active mind, is physically an active dominant type mare. She needs a calm/confident/firm person that can handle her exuberance and playfulness while guiding it in a productive outlet.

Priced: 9,500 plus tax. Price reflects having had a small chip removed from her left hock. Very sound and given an excellent prognosis for sport.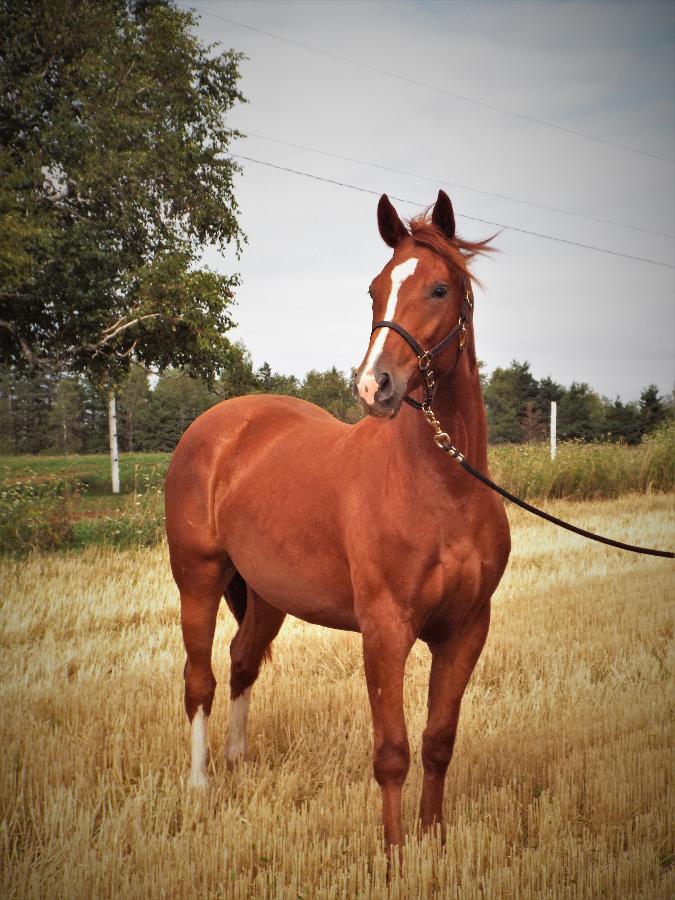 Santerina
SCHWARZENEGGER/DONNERHALL/PIK SENIOR
2015 Hanoverian mare. Grey. Fantastic movement and disposition. This mare is lovely to work with and has such presence. Would be the ideal horse for a petite dressage rider. Very dual-purpose lines, this filly can jump! Could be directed at most disciplines with her willingness to work and athleticism. Can't say enough about the quality of mind this young mare has, she is a special treat.
Currently 15.2hh+, expected to finish 15.3-16hh.
Lightly backed, took it all in stride.
Comes with a breeding to Dauphin for 2019.
Inspected into the Main Studbook on September 1st with an overall score of 7.0!
Photo credit: Jackie Harlow and Amanda Stright
Priced at 19,900 CDN plus tax.