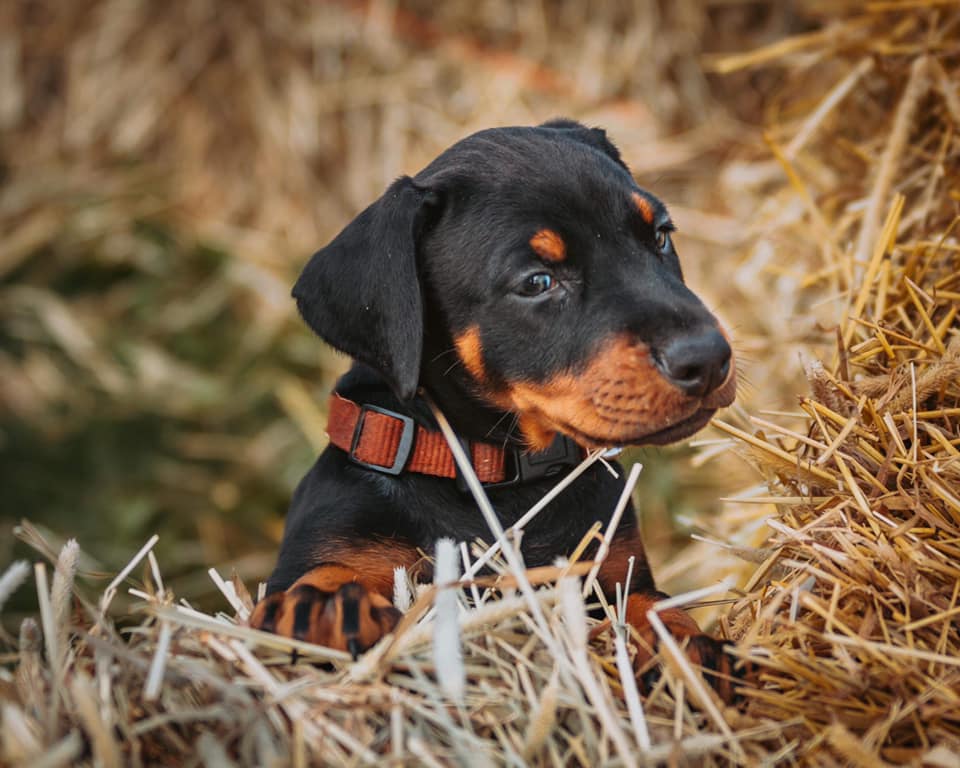 "Brown" aka Zahla. 2020 Litter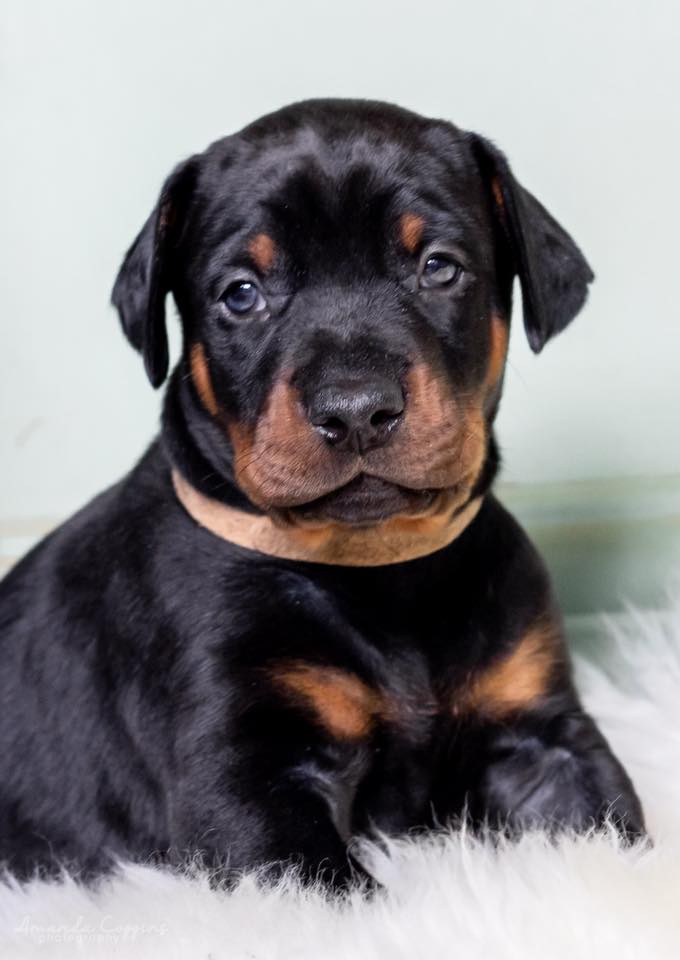 "Tan" aka Ryker 2019 male Ferro x Deci. 2019 Litter.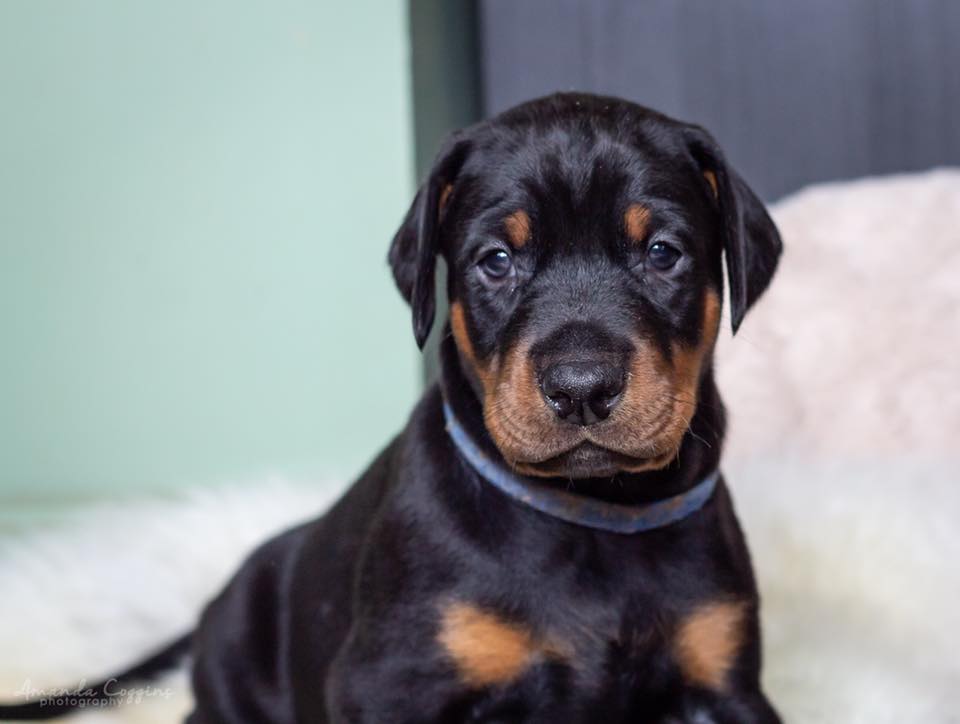 "BLUE" 2019 male Ferro x Deci. 2019 Litter
PC Amanda Coggins
ABOUT:
Having had Dobermans in the household for the last 12 years, I am amazed by their charm and zest for life. Often described as fearless, loyal, watchful; they are a breed that inspires with their power, speed, beauty, and love for their owners.
I purchased Deci from a breeder in Maryland, USA in early 2016 as a breeding prospect. She by a European showline male named Bismarck Von Pressilla and shows the aptitude of a working dog. She has stamina, drive, and intense focus. She has been an asset to the farm. She alerts me to visitors, is aware of the perimeter, hunts vermin, is a great gun dog, a running companion, and is our farm greeter. She is affectionate and clear minded and loves tasks.
She has been the dog of a lifetime for me.
With this in mind, the plan has been to breed her and register the pups with CKC. The aim being to maintain the European focus and drive and breed for working Dobermans. I am working with our 2019 keeper female named Micro in Schutzhund training. Micro is now 16 months old, weighs 70lbs and is a beautiful female with intelligence and high drive.
Member of the Canadian Kennel Club
Member of the Doberman Pinscher Club of Canada
Member of the German Shepherd Schutzhund Club of Canada
Member of the PEI Schutzhund club.
2019
The selected male for th
e cross is the 2018 and 2019 UDC IPO3 US National Champion: Ferro Vom Bergkonig
This will result in puppies with high drive, workability, and athleticism.
Both sides of the pedigree is known for health and longevity.
Puppies will be available to select active homes.
UPDATE: April 3rd, 2019: Deci was bred on March 27th to
Ferro Vom Bergkonig via frozen semen. Expecting pups the end of May.
May 14th, 2019: Deci is now 53 days. She had an xray yesterday that showed 9-11 puppies. Roughly due around May 24th.
May 25th, 2019: Deci had a beautiful litter. There are 5 males and 4 females. 5 Black and 4 Red.
July 16th, 2019: Everybody has fared very well and are maturing beautifully. There is a mix of drives and different dispositions. Several of the puppies are spoken for, but we do have some available to active homes. There are many photos and videos on my Facebook page as well as the Aileron Stables Facebook page. Send me an email if interested in a pup, tell me about yourself so we can help match make :) Hanselpacker@hotmail.com
The pups will be 10 weeks on August 3rd and ready to head to their homes.
December 2019: All the pups found wonderful homes and we are so happy with our keeper pup "Micro" out of the litter. We are planning to breed Deci this coming summer for a repeat to Ferro. Touch base to reserve your Fall puppy.
UPDATE: February 4th, 2020: We are now accepting application for our next litter. We are planning on breeding Deci back to Ferro this coming summer. Will have black/rusts and red/rusts available. Pups will be left natural: ears, tail, and dewclaws are not done. Pups should be ready to head out in the Fall.
Ferro Vom Bergkonig FH1: https://www.vonschwarzdobermans.com/males
Update: June 12th, 2020:
Deci is in heat and we have started blood testing to check progesterone levels. Anticipating breeding next week.
June 19th, 2020: Deci was bred today. Now we wait. We will plan on an ultrasound in a few weeks. Fingers crossed. This would mean pups arriving around August 15th-18th, and then heading to their new homes 8 weeks later in October.
August 3rd, 2020:
We confirmed the pregnancy a couple of weeks ago via ultrasound. It looks like at least 8. Deci is getting very big and has slowed down considerably. Two more weeks to go!
August 11th, 2020:
We had an x-ray done today. Unfortunately, it wasn't very clear, best guess was 8-10 pups. We shall know soon enough.
August 17th, 2020:
Day 61 today, we are in the homestretch. It is puppy week!!
Deci is showing signs of setting up. Slowly but surely.
August 19th, 2020:
Day 63. Puppies arrived. We have 3 RR males, 2 RR females, 2 BR males, and 2 BR females. It looks as though all 9 pups are accounted for at this time.
September 30th:
Pups are 6 weeks old today and growing like weeds.
October 14th- The pups started to head out to their new homes. So glad they all found good homes.
We are expecting Deci to come in heat around February. This would mean pups arrive in April, and they would be ready to head to their new homes in June. If you are interested in one of our pups, please fill out out our puppy placement questionnaire. Thank you.
DECI (DAM)
DOB: November 24th, 2015
Health:
Liver panel: Normal
Kidney panel: Normal

OFA Elbows: Normal
OFA Hips: Fair
OFA Thyroid: Normal
Heart: Normal
Eyes: Normal
VWD: Clear via VetGen January 2019
DCM 1: 0 copies VetGen February 2019
DCM 2:
0 copies VetGen February 2019
Echo: Normal Dec. 18th, 2020
Holter: Normal Dec. 18th-19th/2020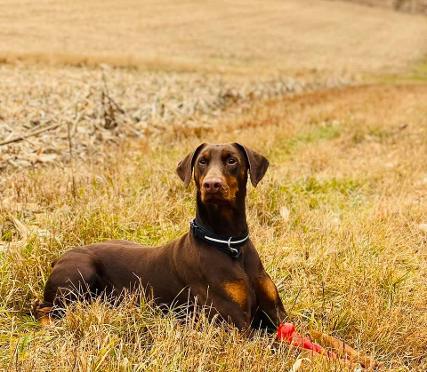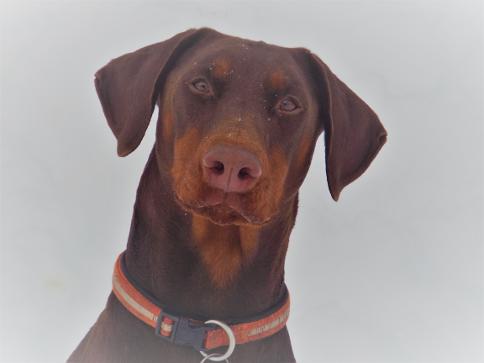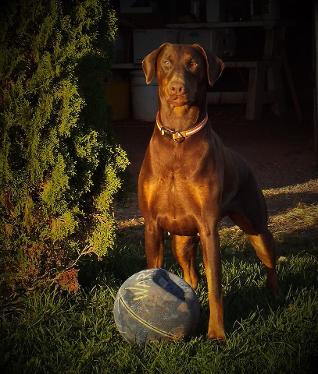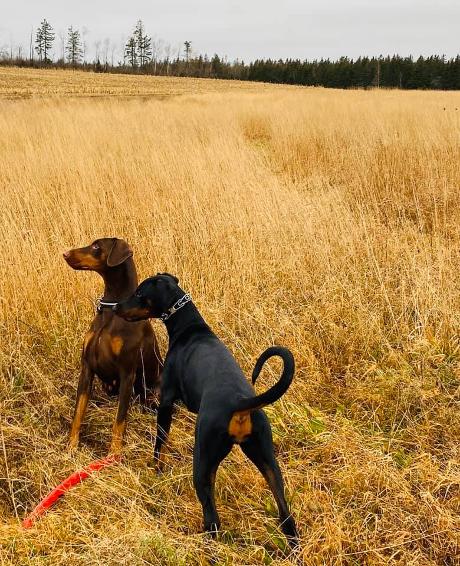 Deci and her 6 month old pup, Micro.
Ferro Vom Bergkonig (SIRE)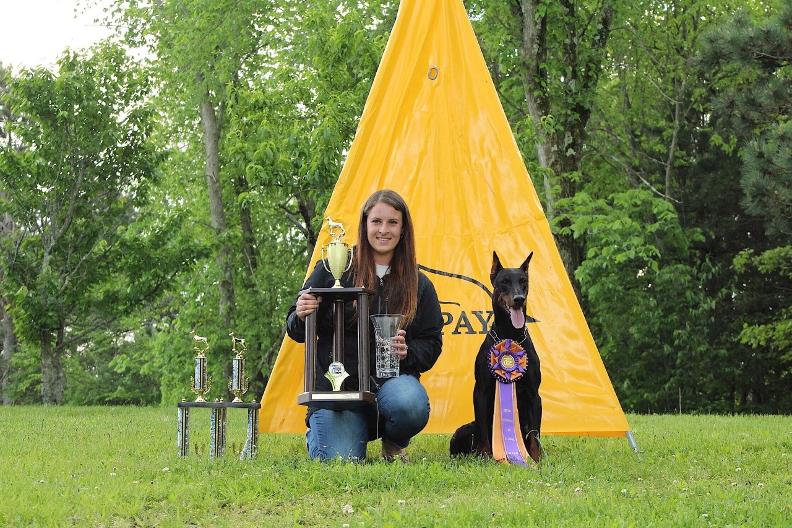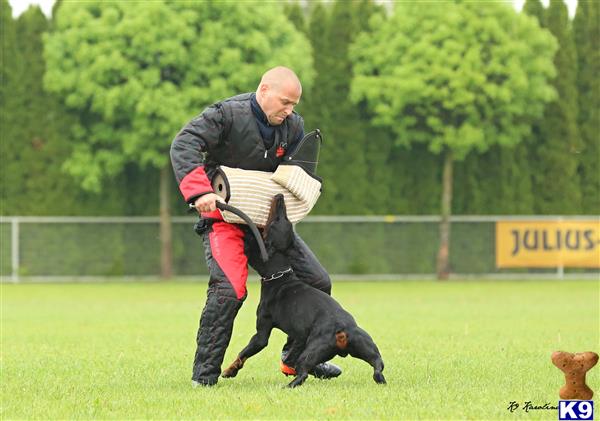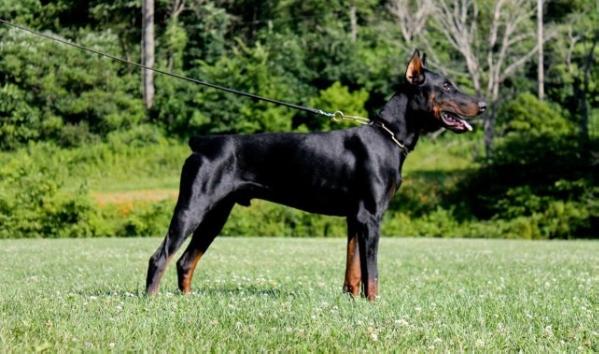 Ferro vom Bergkönig (Mosz Vom Ferrenberg x Enzy Vom Bergkönig) - Import, German Working Lines
​
Titles:
​
2X UDC IPO3 Doberman National Champion 2018 and 2019!!!
​
2019 IPO3 DOBERMAN NATIONAL CHAMPION (97,85,92) (High Tracking, High Protection, High in Trial, High HOT
​
2018 IPO3 DOBERMAN NATIONAL CHAMPION (95, 97, 90) - 282 (High Tracking, High Obedience, High in Trial, High HOT)
​
2017 - 4th Place Mid-Eatern Regional All Breed Working Dog Championship (High Tracking)
​
2018 - Mid-Eastern Regional All Breed Working Dog Championship High Scoring Doberman with a 96 in obedience and 94 in protection
​
2019 IDC WORLD CHAMPIONSHIP in Hungary
​
2019 VNSC Winter Trial (Final IDC Qualifier) under FCI Judge Gerardo Heredia (96 V, 97 V, 97 V) - 290 V total score
​
QUALIFIED FOR IDC World Championship 2020 in Italy!
​
BH
AD
IPO 1-3
FH1
CGC,CGCA,CGCU, Service Dog
​
Health Testing:
vWD Carrier
DNA DCM 1 - 0 copies
Embark Tested
CAER OFA Eyes Normal (2018)
OFA Thyroid normal
OFA Hips- Good
OFA Elbows Normal
Holter Normal (2019)
OFA Echocardiogram (2019)
Kidney/Liver Panels Normal
Full Dentition
DD
Bb
http://www.working-dog.eu/dogs-details/2626407/Ferro-vom-Bergkönig
Pups are registered with CKC and have limited registration. They are on spay/neuter contracts only. Will have had 1 vaccine, dewormed 4x, have a health booklet, and be microchipped. They are to be picked up at 8 weeks of age. US buyers must come get their puppy. Names start with "Aileron's"
Price 3,000$ CDN plus tax for pups in 2021 litter. Deci x Ferro repeat cross. Red/Rust and Black/Rust available Message us to get your name on next spring's litter list.
Please read through the puppy placement questions below and email us at Hanselpacker@hotmail.com
Some of the 2019 litter at 6 months of age. There were a range of drives in the litter, please specify what you are looking for on your application.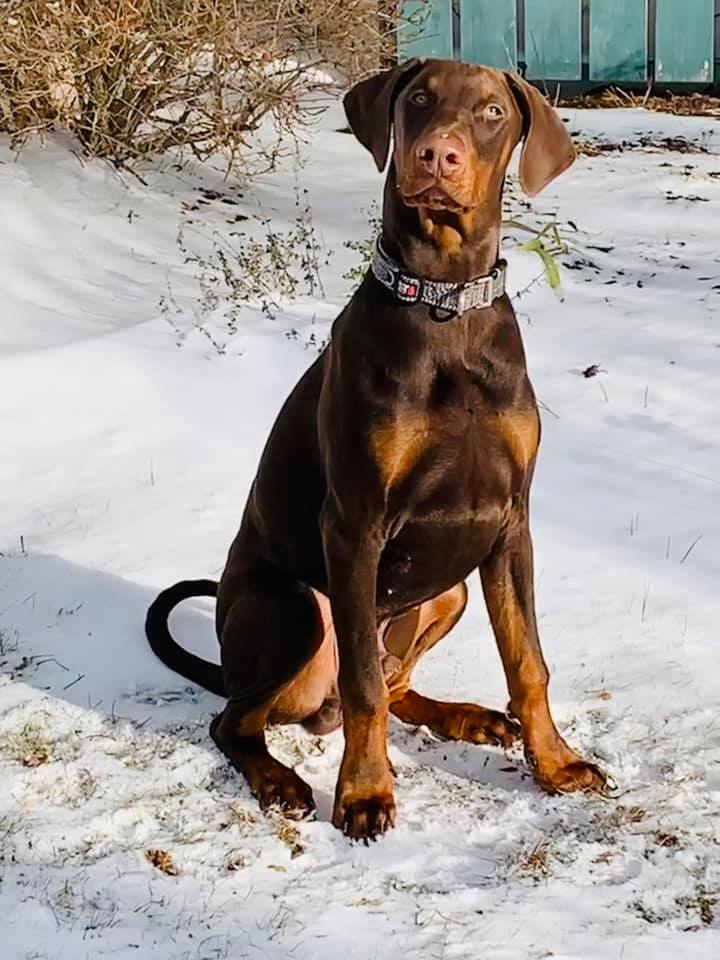 Micro (Yellow) Our keeper pup.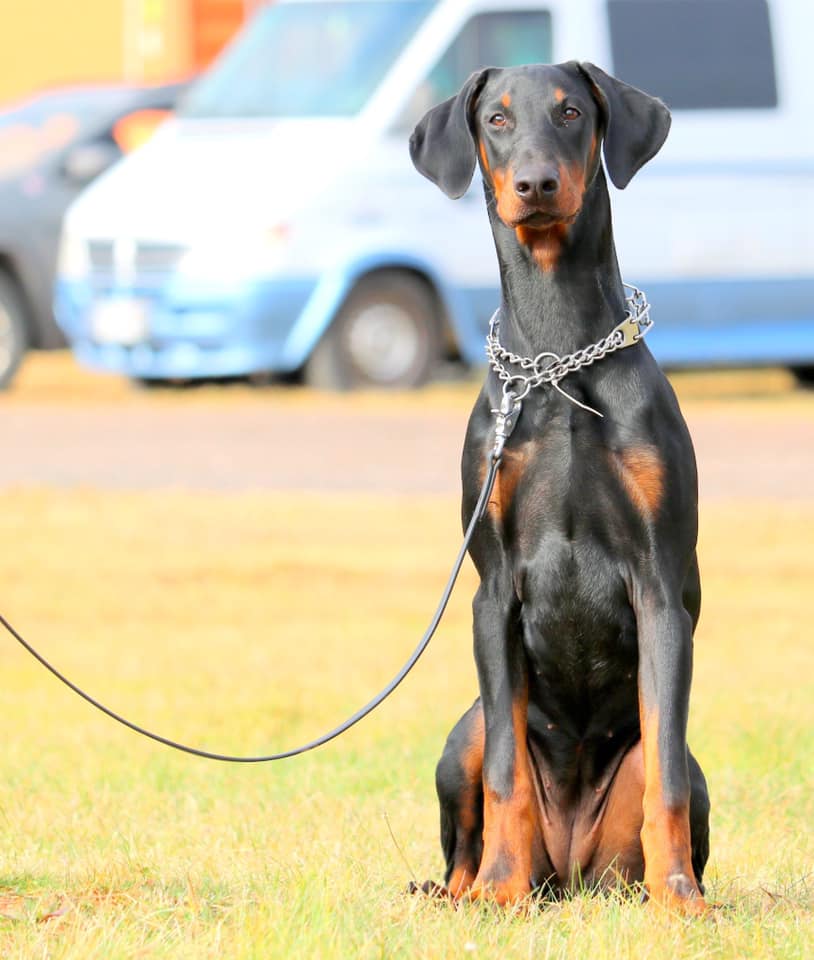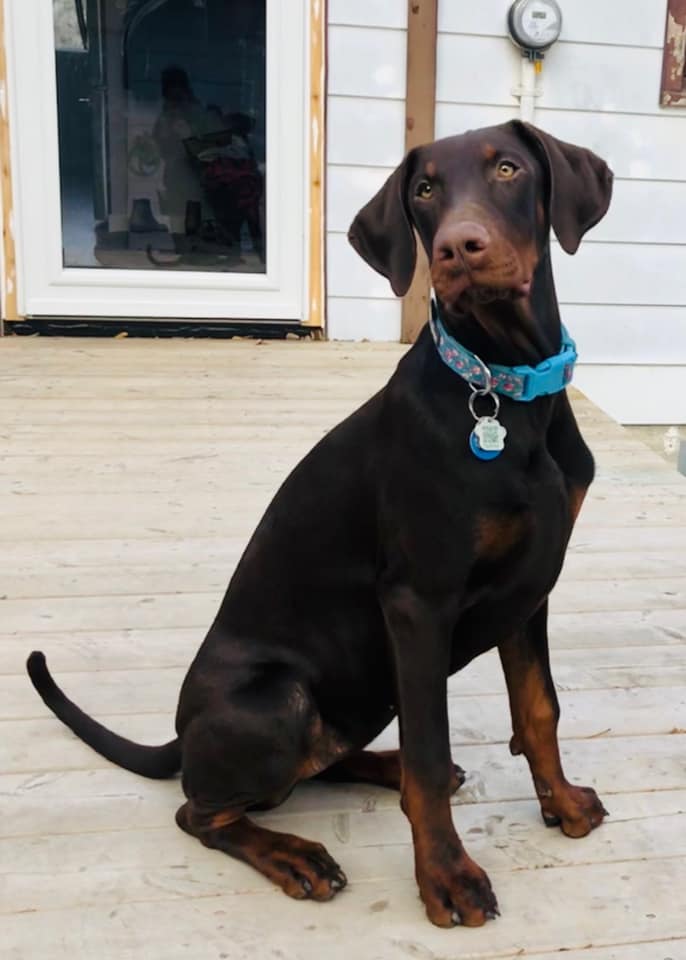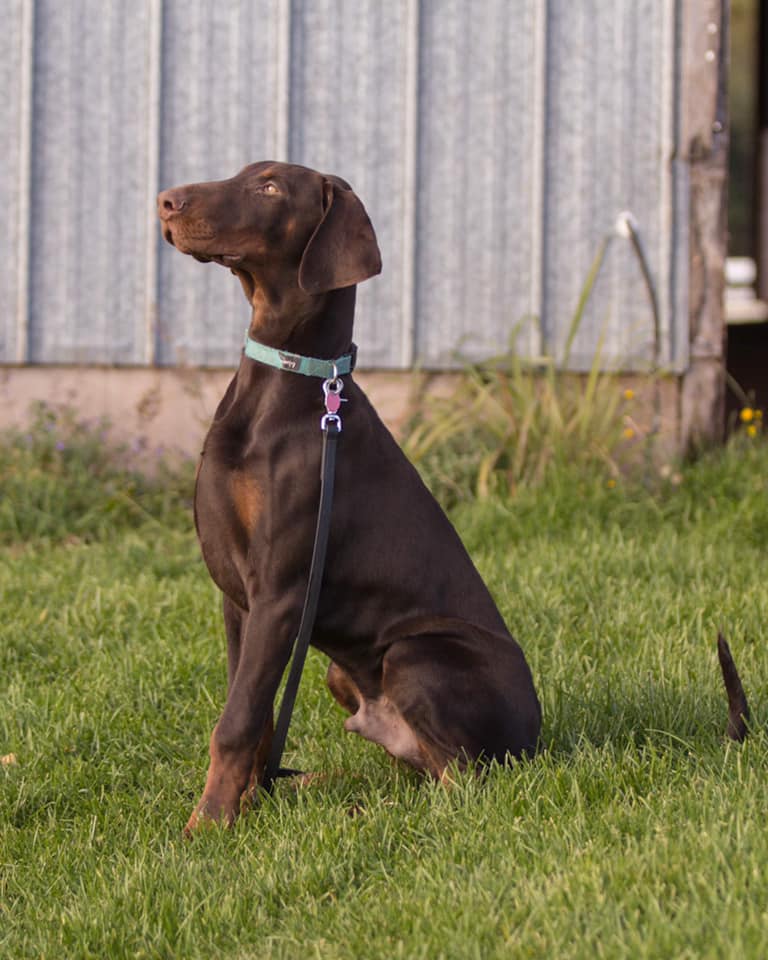 Micro at 14 months. Fierce, fun, affectionate, loyal, persistent, smart, focused, a few adjectives for this lovely female we kept from our last litter. I am working towards a BH with her and hope to complete an IGP1 within a year. Planning to do health testing on her in the summer of 2021 and potentially breed her in 2022 if all goes well.