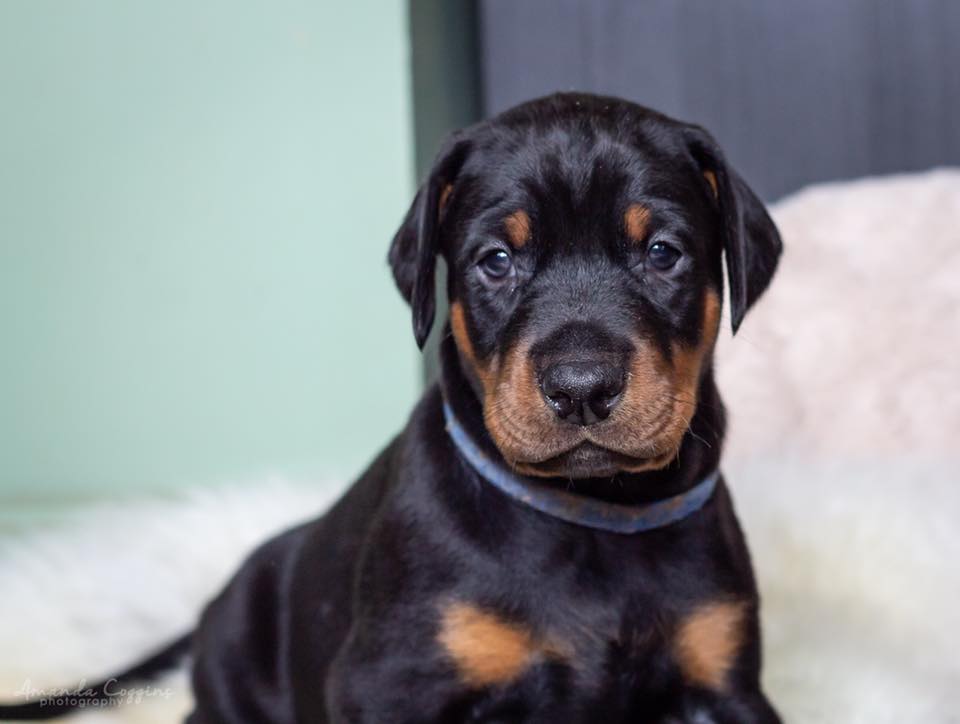 "Blue Collar", black male. ***Sold. Calm confident big male, loves to track, wiggly and happy.
This beautiful fellow is now 13 weeks old and so sweet and quiet. He is low drive and quite content to spend time snuggled with his person.
PC Amanda Coggins.
Having had Dobermans in the household for the last 10 years, I am amazed by their charm and zest for life. Often described as fearless, loyal, watchful; they are a breed that inspires with their power, speed, beauty, and love for their owners.
Deci was purchased from a breeder in Maryland, USA in early 2016 as a breeding prospect. She is from European working and showlines and shows the aptitude of a working dog. She has stamina, drive, and intense focus. She has been an asset to the farm. She alerts me to visitors, is aware of the perimeter, hunts vermin, is a running companion, and warms behind my knees while I sleep. She is affectionate and clear minded and loves tasks.
She has been the dog of a lifetime for me.
With this in mind, the plan is to breed her in Spring 2019. The aim will be to maintain the European focus and drive and breed for working Dobermans.
The selected male for the cross is the 2018 and 2019 UDC IPO3 US National Champion
This will result in puppies with high drive, workability, and athleticism.
Both sides of the pedigree is known for health and longevity.
Puppies will be available to select active homes.
UPDATE: April 3rd, 2019: Deci was bred on March 27th to
Ferro Vom Bergkonig via frozen semen. Expecting pups the end of May.
May 14th, 2019: Deci is now 53 days. She had an xray yesterday that showed 9-11 puppies. Roughly due around May 24th.
May 25th, 2019: Deci had a beautiful litter. There are 5 males and 4 females. 5 Black and 4 Red.
July 16th, 2019: Everybody has fared very well and are maturing beautifully. There is a mix of drives and different dispositions. Several of the puppies are spoken for, but we do have some available to active homes. There are many photos and videos on my Facebook page as well as the Aileron Stables Facebook page. Send me an email if interested in a pup, tell me about yourself so we can help match make :) Hanselpacker@hotmail.com
The pups will be 10 weeks on August 3rd and ready to head to their homes.
DECI (DAM)
DOB: November 24th, 2015
Health:
Liver panel: Normal
Kidney panel: Normal

OFA Elbows: Normal
OFA Hips: Fair
OFA Thyroid: Normal
Heart: Normal
Eyes: Normal
VWD: Clear via VetGen January 2019
DCM 1: 0 copies VetGen February 2019
DCM 2:
0 copies VetGen February 2019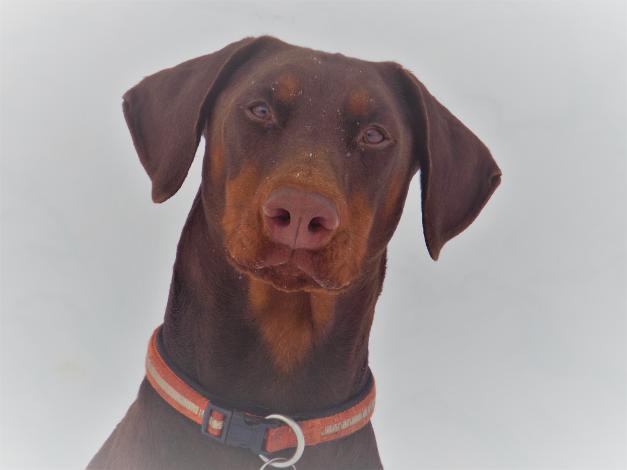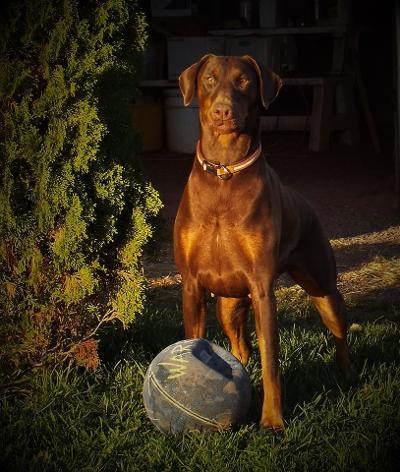 Pups will be registered with CKC and have limited registration. They will be on spay/neuter contracts only. Will have had 2 vaccines, dewormed 4x, have a health booklet, and be microchipped.
Price 2,500$ plus tax
Please read through the puppy placement questions below and inquire if interested in a sales contract to look over.
Sky Collar (red male): Shows working aptitude, great nose, super bite. Big boy that adores people. Currently 6 months old and looking for an active home. This pup is a riot and would suit someone that enjoys a high drive.