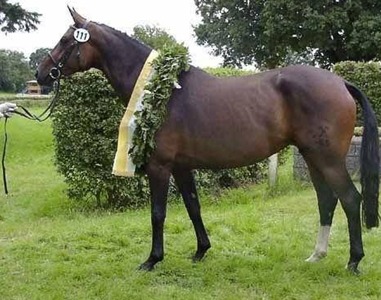 Fenjala is an incredible mare with intelligence, movement, personality and temperament- all of which she passes on to her foals. An absolute dream to ride and handle, Fenjala is a once in a lifetime horse.
Her final MPT score was an 8, with 10s for both her trot and canter and a 9 as overall score at her inspection. 4 time Champion Mare of the Verden Mare Show, Reserve Champion Mare at the Louis Wiegels Show in 1999, second in her class in 2000 and Grand Champion Mare for 4-6 year olds in 2002 at the Ratje-Neibuhr show.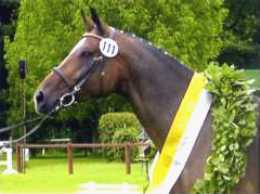 She produced several excellent foals in Germany before being purchased and imported by Cumbria Farm. Her foals in the United States include Furstin Fenjala- a 2009 filly by Furst Nymphenburg, Tzi Tzi- a 2012 filly by embryo transfer by Totilas, and a 2014 colt by Lagoheidor, all bred by Elizabeth Pickvance.
We are excited to have a Schwarzenegger x Fenjala cross coming in 2017 via ET.
We are planning 1-2 flushes for Fenjala for next season with Dauphin.
Update: December 2017: Below is Fenjala's beautiful Schwarzenegger colt carried by the recipient Cassie. Stellarton is one neat fellow. Couldn't ask for a better brain. Conformation is super, and the movement is there to match. We are expecting a full sibling in 2018 through embryo transfer again. Photo credit: Amanda Stright.