ROYAL CLASSIC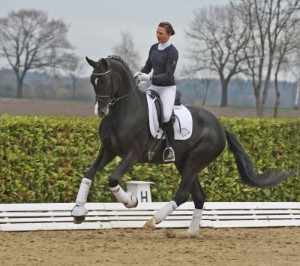 Royal Highness/ Florestan I/Landadel/Calypso II
2006 Hanoverian Stallion. 170cm/16.3hh. Black with star, snip and 4 white socks.
Royal Classic is a beautiful modern stallion with fantastic potential and movement. He has outstanding breeding with 3 complete generations of State Premium mares on both sides of his pedigree & a damline with 5 generations of State Premium mares who trace back to Hanover's flagship dynasty of Silbersage.
Also incorporated in his pedigree are the World Class stallions Rubinstein, Donnerhall, Weltmeyer, Florestan & Landadel, guaranteeing high rideability.
30 Day Test Dressage Champion (Redefin)
Dressage score 8,49 with gait scores of:
Trot 8,25
Canter 8,88
Walk 8,00
June 11, 2011
Royal Classic qualified for the 2011 Federal Championships
for five-year-old dressage horses with the score 8,4 .
Royal Classic was succesful and placed at riding horse ability class with scores till 8,42
Full sister - Royal Lady, Dam - St Pr First Lady & Granddam - St Pr Lady Larissa.
Louis Wiegels Show 2008 Elite Winning family. Tarmstedt 2003, 2004, 2008, 2009,Winning family ,

Sire Royal Highness was Champion of his 30 day test . Champion of whole 4 yr old Hanoverian stallion.
Finalist at the World Championships for Young Horses in Verden in 2004.
There were 6 champion foals by Royal Classic only in this area and a lot of reserve -champion foals by Royal Classic include the big foal show in Verden and the most expensive filly "Remember me" at the elite auction 2010
For photos of offspring please click here http://www.hanoverian-breeding-windeler.de/royal-classic.html