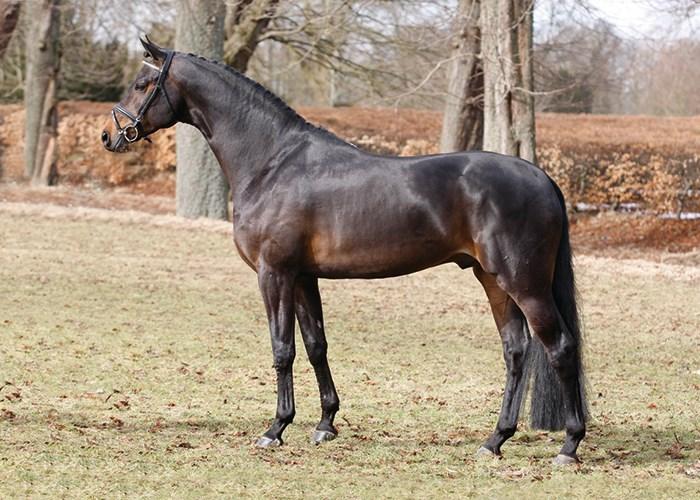 Approved Oldenburg Stallion: will be activated for 2023 with GOV, and CWHBA. Foals from Hanoverian mares can be registered with Rheinland. Foals from KWPN-NA mares will be eligible for registry "A" papers. Also approved for Westphalen, Danish Warmblood, and CSHA.
Breeder: Harli Seifert
Pedigree: Rohdiamant/Grundstein II/Akzent II
Colour: Dark Bay
Available for collection 7 days a week (April 1st-October 15th)
CEM and EVA negative
Negative for WFFS: N/N

Collection fee of 300$/collection
Overnight shipping across Canada and to the US.
Stands 16.3hh
Stud fee: 2,000 cdn (~1,600 USD)
Discounts in effect
*Two or more mares? 300$ off per contract.
*Premium or high performance mare? 400$ off per contract
Rockefeller's sublime type and conformation are supported by an outstanding performance pedigree representing a high degree of breeding certainty and very strong competition skills.
Rockefeller is out of one of Germany's strongest performance dam lines, linking directly back to the international eventing mare Rudilore II (aka Chica). With this mare Harli Seifert has established her successful breeding program, since this dam line has produced international esteemed jumping stallions like Gio Granno, Conterno Grande, Couleur Rubin and Couleur Rouge and dressage stallions like D-Day, Don Chico, Trantris and not to forget Blue Hors Rockefeller's five licensed full brothers Rubin Royal, Blue Hors Romanov, Rumicello, Rubino Vincento and Rubin Action. Blue Hors Rockefeller's sire Rohdiamant now ranks as the 3rd best producer of dressage horses thanks to his numerous offspring in international Grand Prix. Rohdiamant himself was a champion stallion in Oldenburg, Hauptprämie-winner, two times Bundeschampion and winner of international Grand Prix, as are three of Rockefeller's full brothers: Rubin Royal, Rubin Action, and Blue Hors Romanov. Two full sisters have their States Premium titles.
Rockefeller is the sire of Rockson, winner of the Danish Equestrian Federation's championship for 4-year old dressage horses in 2015 and now successful at Inter II, he is also the sire of approved stallion DORTHEASMINDES ROCKEY

Rockefeller unfortunately broke his coffin bone as a 2.5 year old and therefore he has not been able to have a career in sport.
Rockefeller is throwing beautiful elegant offspring who are very good movers, with lovely temperaments. He is a serious consideration for breeders of all disciplines.
2023 Contract: click below.