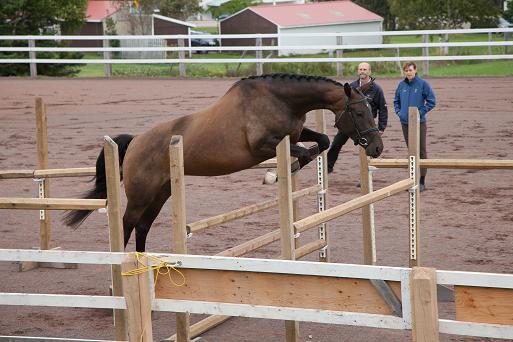 Breeder: Aileron Stables
Photo by Jill Renton
Lantina (Landkonig/Diamont/Irepeat xx)
2008 Hanoverian mare 16.1hh.

Lantina is out of DJannon, a lovely mare that competed at 3rd level dressage and won Horse of the Year in Idaho in Combined Training in 1994. She scored an overall "8" at her Hanoverian mare inspection and produced foals by stallions such as Wolkenstein II, Pointmaker, Pablito, Delaurentis, and then her Landkonig filly; Lantina.
Lantina's sire is Landkonig who is the top jumper producing Hanoverian in the US with a jumper breedvalue of 135, and 140 for ability. His most famous offspring is Lantinus, who sold at action for 215,000 Euros. Lantinus was ranked 1st in the world for jumpers in the summer of 2008.
July, 2012: Lantina had a lovely bay colt. "Spin Doctor" by Schwarzenegger.
August, 2012: Lantina is confirmed in-foal to GP dressage stallion Rubignon (Rubinstein/Donnerhall) for a June 2013 foal.
July 2013: Lantina had a lovely Rubignon colt June 17th, 2013. She has returned to undersaddle work, such a good brain on this mare. We will do some embryo transfers and leave her open to compete in 2014.
September 2013: Lantina participated in the Hanoverian mare performance test and scored a very good 7.08 overall. We are very pleased with how she performed (especially with her foal in his stall calling for her). She is so willing to work.
December 2013: Lantina's Rubignon colt has sold as a stallion prospect to Kentucky, USA.
September 2014: Lantina's embryo transfer, Sambucca by Schwarzenegger, was the champion jumper foal at the Maritime Hanoverian Inspection.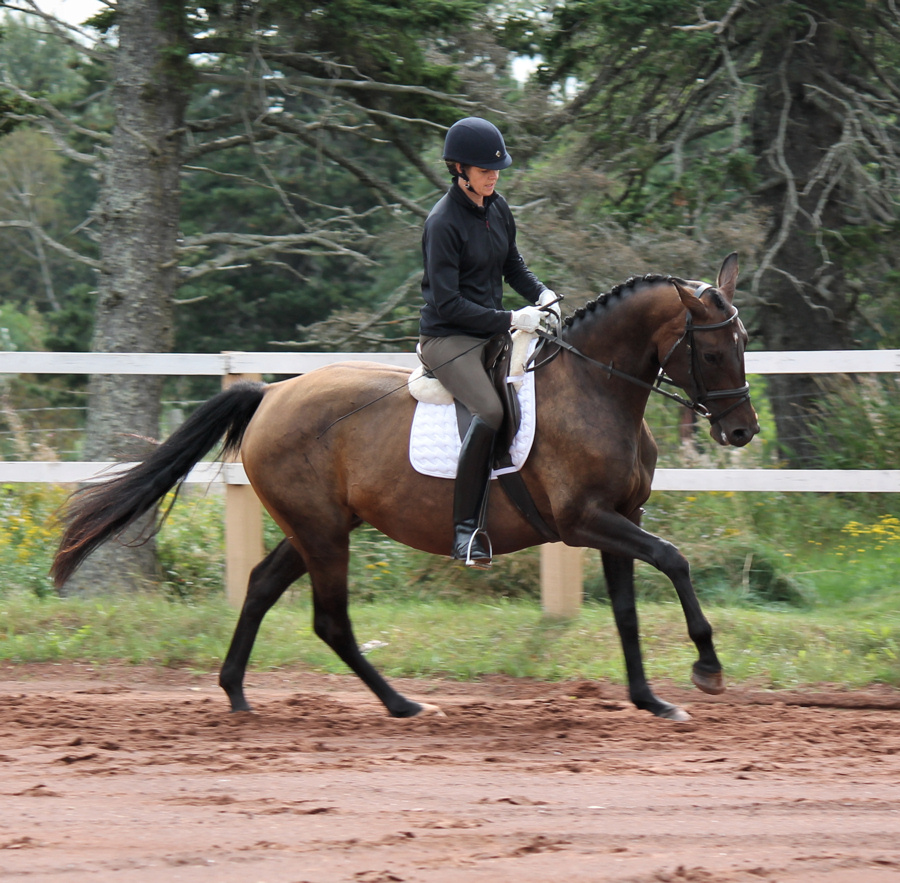 Photo by Kathleen Richardson. MSB Lantina being ridden by Hanoverian Inspector and Judge Inga Hamilton during the mare performance test of 2013 in PEI.
Photo below by Jill Renton. Hanoverian Mare Performance Test of 2013.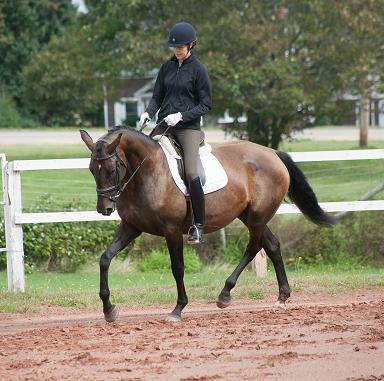 Pedigree:
Landkonig (Hann)


Sire

Landadel (Holst)
Landgraf I (Holst)
Anka (Hann)
Luna (Hann)
Landsknecht (Hann)
MS Galaxy(Hann)
---
DJannon (Hann)


Dam

Diamont (Hann)
Duerkheim (Hann)
SPS Babette(Hann)
Bedtime Melody xx
Irepeat xx
Bedtime Story xx
Pictured Below: Landkoenig, Lantina's Sire.