Approved Hanoverian Stallion: will be activated for 2024 with HV, and GOV. Foals from KWPN-NA mares will be eligible for registry "A" papers. No foreign sire fees for AHS mares.
Breeder/Owner: Marefield Meadows
Pedigree: Donnerhall/Feiner Stern/Pik Ramiro
Colour: Black, can produce chestnut
CEM and EVA negative
Negative for WFFS: N/N

Available with frozen: 800$ per dose. 8 straws per dose. No LFG.
Overnight shipping across Canada and to the US.
Stands 16.0 1/2hhs
On the top list for the Hanoverian Verband for producing breed typeyness and correct foundation in 2023!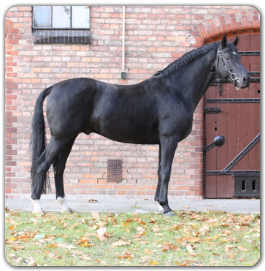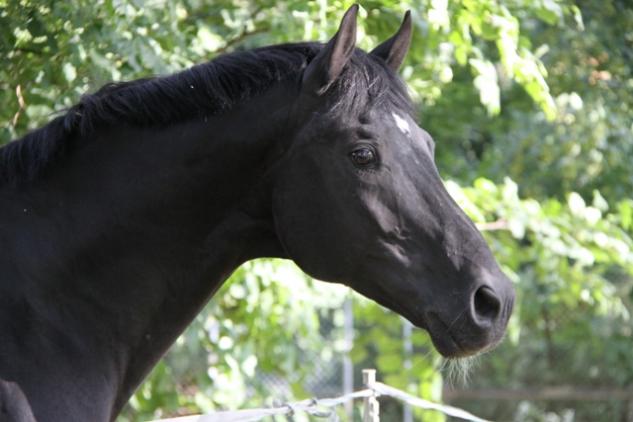 Dauphin has been an outstanding producer of character, rideability, willingness, correctness and movement. He passes his exemplary conformation, type, and wonderful disposition onto his offspring. He tends to be a refiner and produces rideable dressage horses in the 16-16.2hh range.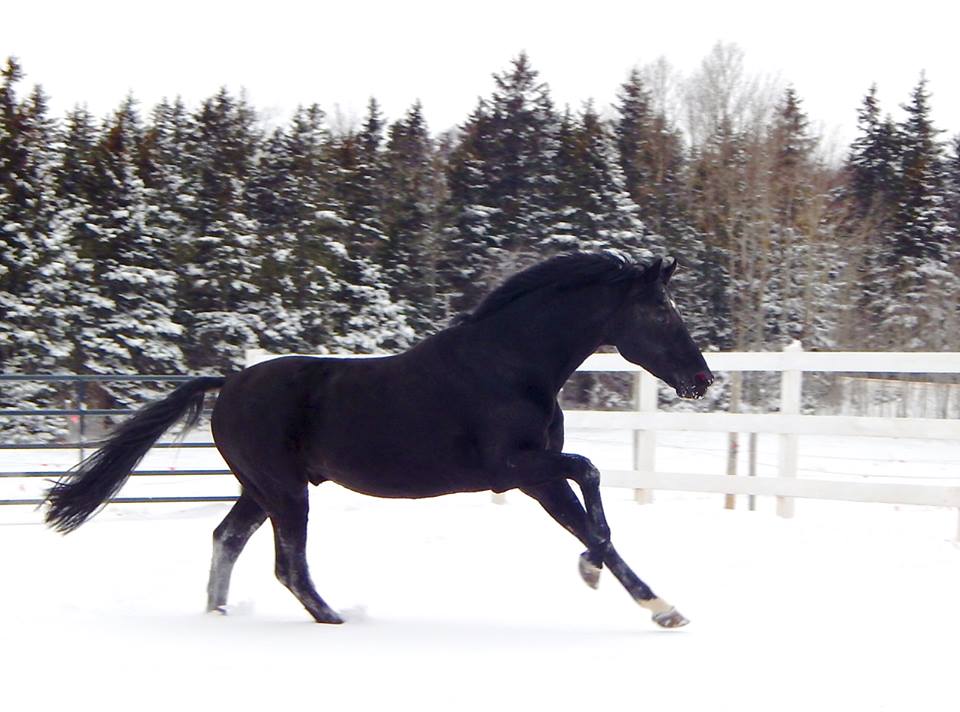 Photo by Jackie Harlow
Dauphin competed at M level before an injury to his pelvis sidelined his undersaddle work, he continued to be presented in-hand during the stallion parades.
About his dam:
Dauphin's mother, St. Pr. St. Fabia was a product of the Schulte-Frohlinde family's very successful breeding programme at Grönwohldhof Stud, Schleswig-Holstein. At three years old Fabia was Champion of the Lower Saxony mare show at Hoya, her inspection scores including four 8's, two 9's and a 10. She passed her performance test the following year with good scores for ridability and all paces. As well as Dauphin, Fabia also produced the licensed son First Duke (v. First Dance) and San Antonio (v. Soliman de Hus) who was a qualifier for the Federal Championships of three year old stallions in Warendorf. Fabia is by Feiner Stern, a horse with an impressive progeny record including Grand Prix horses Olympic Falcao OLD (Victoria Max-Theurer), Famous Boy 2 (Borja Carrascosa) and Obelisk (Roland Metzler) as well as 18 licensed sons including Feinbrand (sire to GP horses Fandango and Feinest Moment). The grandmother, St. Pr. St. Papermoon (Pik Ramiro x Akzent II) started her career by becoming National Mare Champion in Germany as a four year old. She then proved herself an extraordinary broodmare, producing two licensed stallions Don Campione and Domani Vengo , and two Grand Prix competitors, Dolendo (Carl Hester) and Donnabella (Gilles Ngovan). Other offspring include M level sport horses Digny Doo and Peppergirl (v. D'Dur). Papermoon's half-sister Dorina (v. Donnerhall) was mother to two approved sons, Pik Donnerhall (v. Pik Bube I) and Fazzoletto (v.Fidertanz). Another half-sister, Dozentin (v. Don Primero) is mother to Grand Prix horse Charleston (v. Charon). The damline 2189103 Piccola, Schorder, Echem (Luneburg) also produced GP horses Ganeff v. Gardeoffizier (Holger Schmezer DE); Daylight G v. Don Gregory (Rudolf Widmann DE), and Flaneur v. Frühling.
Dauphin has produced 526 German Hanoverian offspring as of the 2019 publishing of the Hanoveranner Hengst Book. Of the 117 mares that are in breeding, 28 of them were awarded the coveted States Premium Title. He has 6 licensed and recognized sons carrying on the line!

Dauphin has six offspring competing at S class in dressage and one in S class jumping. He has 259 offspring now competing in sport, with recorded earnings of 90.297 Euros.
Please click on link below for some of Dauphin's offspring.
Dauphin has been known as a Celle favorite for a long time, he has a sweet disposition and has always been a gentleman to work with. He was the go to stallion to open the door and let visitors in.
Dauphin is on the Top list of the Hanoverian breed for type with an outstanding score of 132, and a 143 for limbs!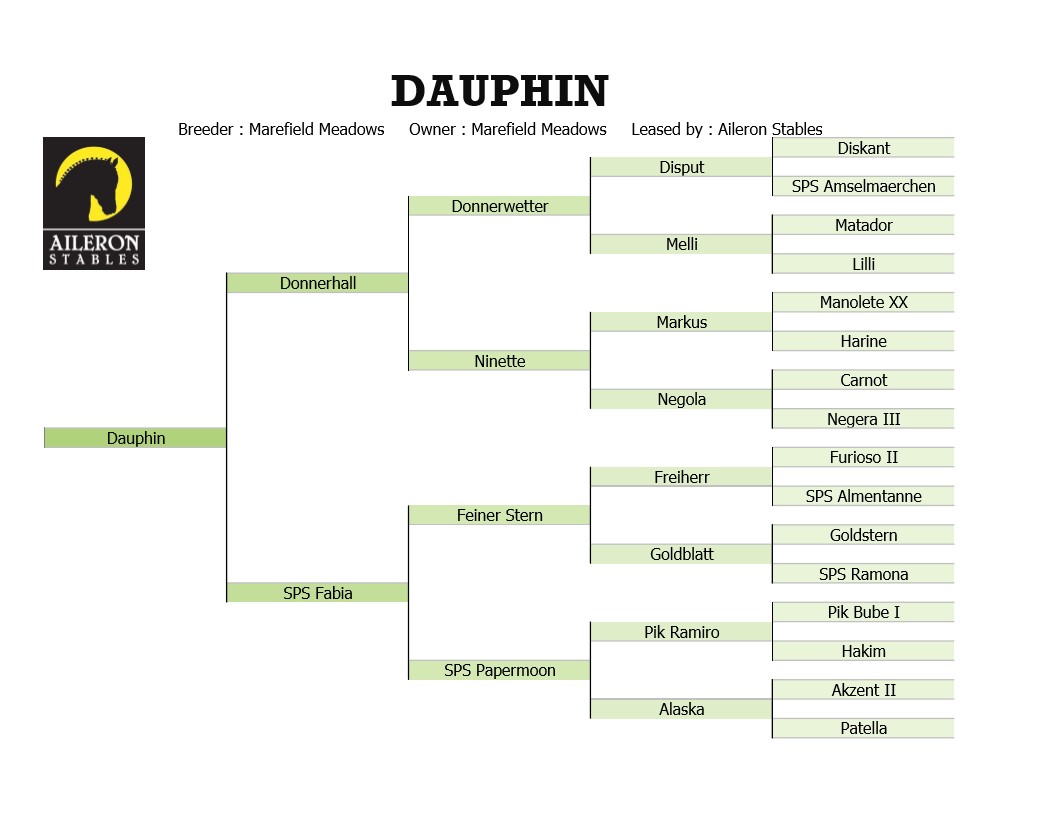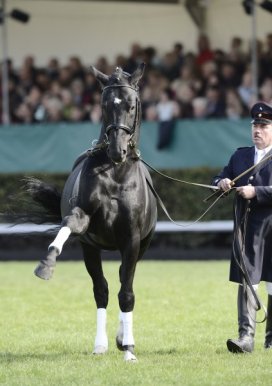 Family Tree:
Dauphin's legendary sire: Donnerhall. A bloodline that is known for strength of character and dressage ability.
Feiner Stern: Dauphin's dam sire.