December 30th, 2013
We are happy to announce we will be adding more stallions to the frozen semen roster from Gestut W.M. including the recent licensing champion Finest (Furstenball/Wie Weltmeyer/Prince Thatch xx). More information to come in the next week but looking at a February order deadline for a March shipment.
http://www.gestuet-wm.eu/hengste-2014.html
December 24th, 2013
Happy to announce the in-utero filly contract from the Esprentina NPF x Wolkentanz II cross has been sold to a local dressage rider. Look forward to seeing this foal in 2014. Congratulations on your purchase!
December 15th, 2013
Here is a copy of Schwarzenegger's test results from his 70 day test in Redefin, Germany. It is in German, please don't hesitate to ask for a translation, hanselpacker@hotmail.com
December 13th, 2013
I love to watch the progress of relatives of our horses. The most recent examples are:
EMC Bella Luna (Belissimo M/Weltruhm/Donnerhall) a 2010 Hanoverian mare bred by Christine Stec, and now owned by Parkwood Hanoverians. This super three year old won her MPT and shows much promise for the future http://youtu.be/qG6yptgC_Fs
"Lula" is out of SPS Wonderful Dream who is in-foal to Schwarzenegger as well as a full sibling via embryo transfer.
Vin Diesel (Valentino/Dauphin/Wonderland) bred by Rick and Marjorie Haus and owned by Parkwood Hanoverians. He is a handsome 2013 Hanoverian colt that was awarded champion dressage foal at the Parkwood Hanoverian Inspection. http://youtu.be/o_YhJdi1fI8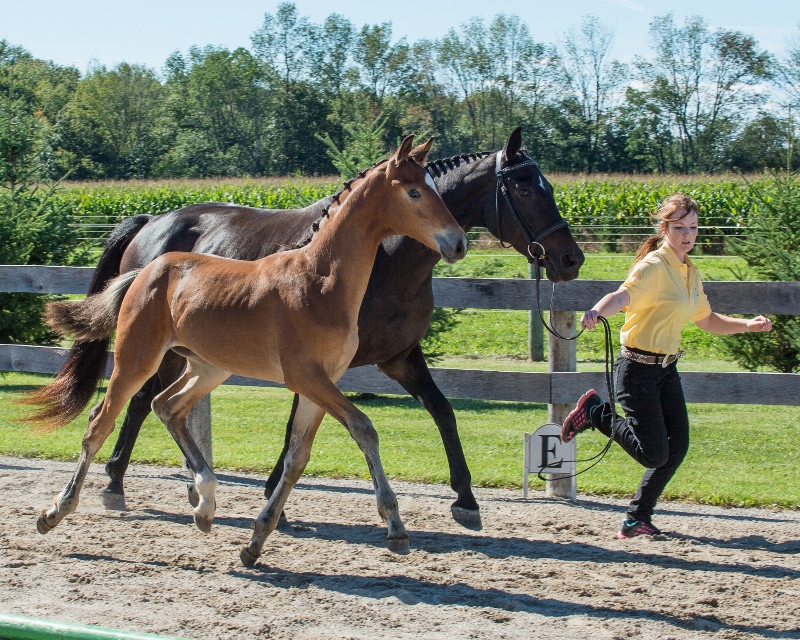 Vin Diesel is a half-sibling to our mare Highland Lily (Hampton/Dauphin/Wonderland) who will be bred to Schwarzenegger in 2014. Here is a video of Highland Lily's dam Dauhlia. http://youtu.be/UHw64RlKOb4
December 6th, 2013
Congratulations to Ela Ladwig of Maple Swamp Farm in Kentucky on her purchase of Reconnaissance (Rubignon/Landkonig/Diamont). This lovely black colt will be retained as a future dressage partner and breeding stallion for Ela. Best of luck and we look forward to watching your progress!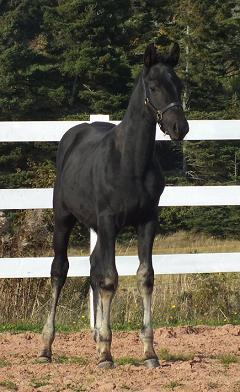 November 9th, 2013
Since it is getting close to Christmas, here are the breeding specials for the upcoming season! Great gift for the mare owner in your life ;) Breeding must be paid in-full and is for the 2014 season and onwards.
SCHWARZENEGGER and BONHEUR respectively.
Nov. 10th-Nov. 30th: 1,100$ , 900$
Dec. 1st-Dec 31st: 1,200$ , 1,000$
Jan. 1st-Jan 31st: 1,300$ , 1,100$
Feb. 1st-Feb. 28th: 1,400$ , 1,150$
For those interested in frozen semen, we have many stallions in-stock and will be putting together an order for Spring 2014 from Germany. Please take a look at our full list of available stallions via our frozen semen price list.
November 8th, 2013
All the mares are home from being out to pasture. Big thank you to Anita Rooney for letting us take them to her super farm.
The broodmares are certainly looking the part, fuzzy coats and big baby bellies, not hard to love them.
The two 2014 colts, Reco and Servos, have adapted well to weaned life and are ready to head onto their next home. Don't miss out on the opportunity to own one of these stunning colts. The sky is the limit with their wonderful personalities, and dynamic movement.
October 30th, 2013
Newest addition to the farm is a New Holland TT60A. So much fun!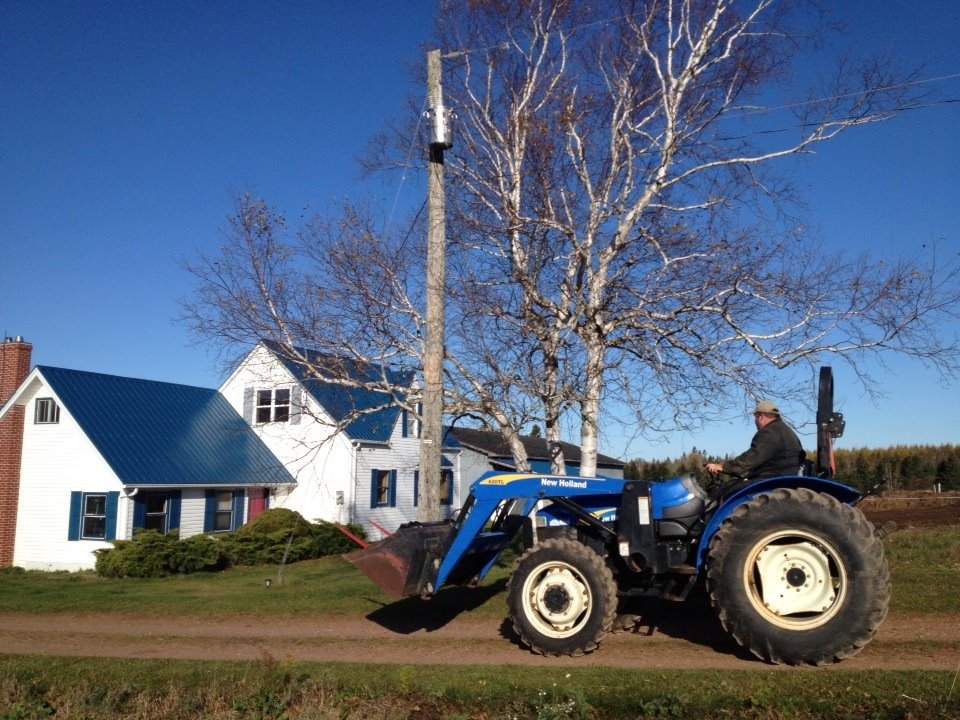 October 24th, 2013
Yay for Bonheur! He is the damsire of this beautiful colt that was just licensed at the 2013 Hanoverian Licensing in Germany.
Sir Donnerhall/Bonheur/Weltmeyer 2011 colt.
October 19th, 2013
Exciting to see Bonheur as a Dam Sire of two young mares in the upcoming elite Hanoverian auction in Verden, Germany. One 4 year filly is out of MSB Baroness and the other is out of SPS Ballerina, these two Bonheur mares are full sisters. Check out their two daughters, #43 and #75 http://212.114.39.29/app/_view/index2.htm?country=uk&auktion=592&tab=HANNOVERANER_november_09112013
Bonheur will be standing through live cover to a select number of mares for 2014. Our first foal of the season is a Bonheur out of MSB Atlanta due early March. Please contact us early to reserve your spot.
October 18th, 2013
We love to hear updates on the horses we have sold. A couple of weeks ago I had a chance to visit two youngsters I had raised; Round Robin (Rotspon/Don Gregory/Brentano II) and Wargana (Warkanson/Lucid/Wendekreis).
Here is a video of Robin with his owner Marlene Synder (light coloured shirt) https://www.youtube.com/watch?v=fsfaa4sODBI&feature=youtu.be I loved seeing how happy he was in both his work and and in his lifestyle. I miss this big fellow, truly a very special colt.
In stopping to see Wargana in Moncton, NB, it wasn't hard to find her stall lol. She as well looked fantastic and the Taylors have done a wonderful job with her. We have Wargana's only daughter here on the farm, Atlanta (Autocrat/Warkanson/Lucid) and see a stamped similarity. New video of Atlanta has been added to her page.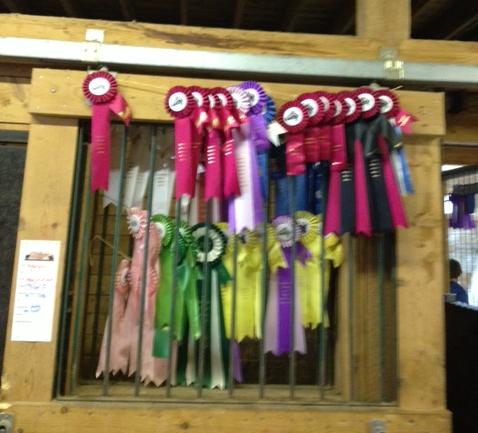 October 16th, 2013
I accompanied Leslie Melvin to the CWHBA inspection in Port Williams, NS over the weekend of Oct 4-6th. She presented Marina (My Imperial Slew xx/Lucid) and Sangria by Schwarzenegger for inspection. They did fantastic! Marina had an overall score of 8.0, which gave her Premium status. Sangria strutted her stuff and scored an impressive 8.2 and received the $500 futurity cheque. Pictured: On left Leslie Melvin with Marina and on right Sangria and I. Photo by Shannon Steele.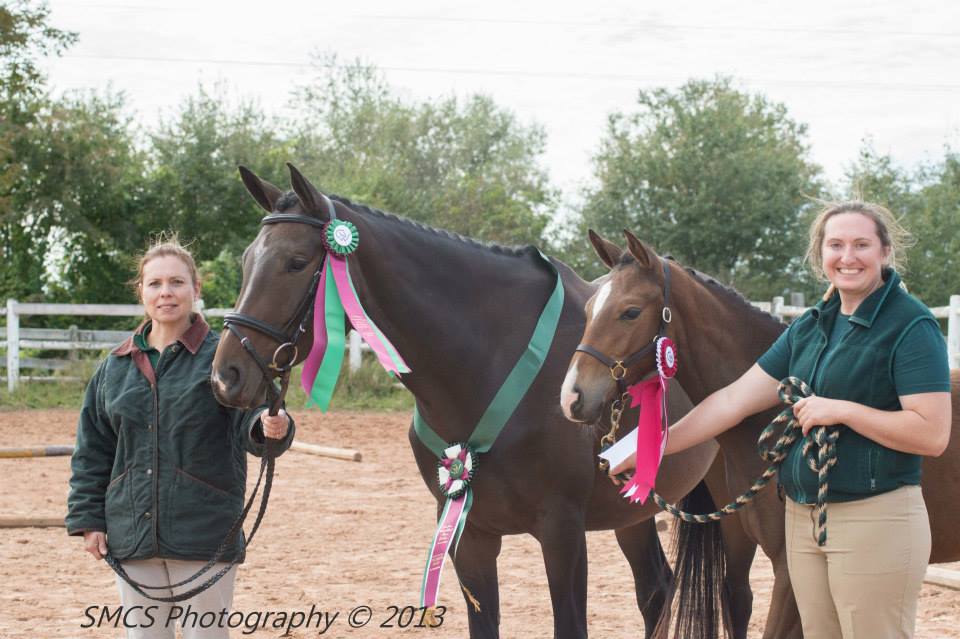 Nick and I hauled Bonestina (Bonheur/Sir Oldenburg) over to Leslie's place in NB over the Thanksgiving weekend. She settled in quickly and is now turned out with former pasture mate Sangria. The weanling colts are quite missing her bouncy presence but she is in the best of hands.
New video of the two colts has been posted on the for sale page.
October 2nd, 2013
I think this will go down as the busiest year for us so far. We had a super inspection followed by a great turnout to Open Farm Day. We have been playing catch up here at the farm with projects that need to be done before Winter arrives. One of the biggest is planning 4 new foaling stalls for next season. We have eight mares confirmed in-foal for 2014. YAY!
We will be looking for a keen working student or two for next season from roughly April 25th-August 25th. More to come...
Name the foal contest winners: Siskel (Katherine Abrey) and Safira (Ledgerwood Family). Thank you for the super names and look forward to introducing you to the 2014 foal crop :)
We have new video of Spin Doctor, Atlanta, Lantina, and Schwarzenegger to go up soon. Here is Schwarzenegger at liberty this week. http://youtu.be/hxVVa2YT5Z0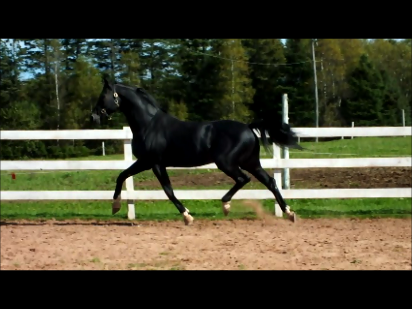 September 12th, 2013
Had a super Hanoverian inspection on the 10th at the Crapaud Agriplex. Was a great day! More to come soon...
Happy to announce the sale of Bonestina (Bonheur/Sir Oldenburg/Florestan) to Leslie Melvin of Hartland, NB. This is just the best home, and Bonnie will be joining pasture mates Marina and Sangria. Bonnie will stay until shortly after weaning in October after which we will be making the trip over with her.
We are participating in Open Farm Day again this year. It is on Sunday, September 15th from 10am-4pm. All visitors welcome, we look forward to seeing you here.
September 3rd, 2013
Super happy to announce that SPS Wonderful Dream is confirmed in-foal to Schwarzenegger! That makes 2 full siblings coming for 2014 with the embryo transfer :) One is pre-sold and other may be for me.
We also had a successfull recovery of a Bonheur embryo out of Lantina. This embryo was frozen and it will be transfered into a recipient in 2014 for a 2015 foaling. Fingers crossed it works out. Big thanks to Dr. Chris Versteeg that did all of our embryo flushing (Recovered 3 embryos from 4 flushes: 2 were transfered (and have confirmed heartbeats) and the last was frozen.) For mare owners interested in trying some embryo work with your mares, feel free to touch base and I will happily put you in touch with Dr. Versteeg.
Big thanks also to Dr. Mike Slana who does all our regular ultrasounds, he has helped us manage both our mares and client mares in for breeding. He does a great job and offers haul in service for managing your mare.
Getting ready for the Hanoverian inspection on the 10th of September at Crapaud Agriplex. All are welcome to come watch. The show will start at 8:30am and likely end around 4pm. Hope to see you there!
August 27th, 2013
New video of the colts. Big thanks to Amanda Stright for videoing for us.
Reco: http://youtu.be/TgQjctCTBXQ
Servos: http://youtu.be/AlfMW5CvbbQ
Had a super outing with two of the young mares at the DPEI Discovery show last weekend. Was a little crazy busy with Nick being away, but was glad to be able to make it there. I took the 5 year old Lantina (Landkonig/Diamont) leaving her foal at home (she is the best mare), and the 4 year old Atlanta (Autocrat/Warkanson). I rode the mares as non-competes for their first show and was pleased how things went. Glad we took the time to teach the mares to load by themselves lol.
August 21st, 2013
Neat colt by Christ out of a Schwarzenegger daughter in Germany http://www.youtube.com/watch?v=DiVgdqp8fHs
Super happy to see both embryos have held on, our Schwarzenegger x SPS Wonderful Dream and the Versteeg's Schwarzenegger x MSB Lantina. Considering trying to freeze an embryo as well...a Bonheur x Lantina cross. Always something fun here at the farm :) So far 6 confirmed in-foal and 2 left to preg check.
Mares are coming along well undersaddle to prepare for the mare performance test in September. Tried Lantina over fences, my goodness she can jump lol. Will take me a bit to get back into it, but was all good fun.
August 10th, 2013
YAY! A Schwarzie embryo was recovered from Lantina and is now in a recipient. These embryo transfers were good fun and a big thanks to Dr. Chris Versteeg. After quite a bit of debate, I have decided I am going to keep my first homebred, Lantina, she is just a fabulous mare to have around and undersaddle, not to mention being my buddy.
Having the best summer, lots of breedings for the stallions, super foals, four young mares undersaddle, and now getting ready for the Hanoverian Inspection (Sept 10th) and Open Farm Day (Sept 15th).
Name the foal contest winners: Kaitlyn and Emma Legerwood with Marina and Sangria. We enjoyed a fun BBQ on the farm in July, thanks so much for the super name! Marina and Sangria have arrived safely in Hartland, NB with their new owner Leslie Melvin :)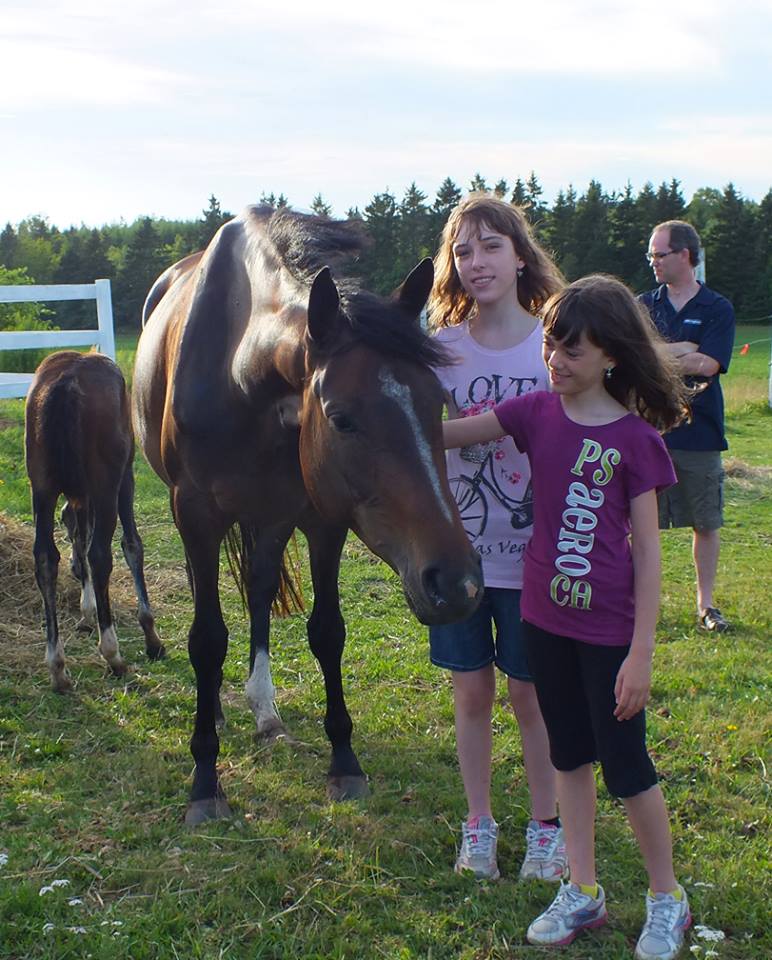 August 5th, 2013
Hopefully two more pregnancies for Schwarzie and then our mares are done for the season. SPS Wonderful Dream (Weltruhm/Donnerhall) to be bred this week and a preg check on MSB Czaftig (Contucci/World Cup IV/Matcho AA) next Sunday.
So nice to have my main girl back undersaddle, MSB Lantina (Landkonig/Diamont), this mare has a heart of gold and is as willing as they come. After having given us two super sweet colts, I am going to keep her open (not bred) for riding.
Planning to make it out to a DPEI discovery show with MSB Atlanta (Autocrat/Warkanson) on August 24th. This smart cookie is one athletic little ride, so much fun.

Lucky to have wonderful horsey friends that help me around the farm, and with the young horses. Thanks all!
August 2nd, 2013
Excited to say we had our first successful embryo transfer done on the farm today by Dr. Chris Versteeg. Was so neat! Was a Schwarzenegger x SPS Wonderful Dream embryo and it was transfered into a recipient. Fingers crossed everything goes well. We are set for a transfer on MSB Lantina next week. This is so much fun :)
July 28th, 2013
Things have been very busy on the farm. Nick and I are enjoying a quiet Sunday afternoon :)
Two more pregnancies confirmed for 2014, Esprentina NPF to Wolkentanz II and EM Werra to Schwarzenegger.
SPS Wonderful Dream and MSB Czaftig have both been bred to Schwarzenegger this week, so fingers crossed for more black dots. So far we have 6 confirmed in-foal, though Marina will be heading out soon, so 5. Hoping for 7-8 foals for next year, will be a busy year.
Our new pasture is planted and growing, so hopefully it will be ready for spring 2014.
We are getting ready for the Hanoverian inspection September 10th at Crapaud Agriplex. We will be taking quite a few horses, spectators welcome. Anyone interested in taking a mare for inspection feel free to touch base, at hanselpacker@hotmail.com the entry deadline is August 19th.
Our foals are growing well and look super, very happy with them. MSB Lantina has returned to undersaddle work, so nice to have her back. I am going to leave her open with the plan to ride and enjoy her :) That is all the news for now.
July 15th, 2013
New videos of the 2013 foals! These 3 are all for sale, please check the sales page for more information.

July 9th, 2013
Congratulations to Leslie Melvin of Hartland, NB on her purchase of Marina (My Imperial Slew xx/Lucid/Wendekreis). Leslie will be taking Marina and Sangria home in a couple of weeks and I can't wait to see the Bonheur foal coming for 2014. I am very happy with these matches.
July 3rd, 2013
So nice to have internet back at the house, I have been living off of my phone for the last 2 weeks.
So the two colts; Reco and Servos, are growing like bad weeds. It is really nice to have two fillies and two colts where they tend to play so differently. Reco has the most unique coat, it looks like he will be a true midnight black with some striping. Servos is a big boy, at only 2 weeks old he has caught Bonestina (6 weeks old) in size.
Sangria is shedding out a beautiful dark bay colour and her chrome is really standing out. Bonnie has been nicknamed "Bonnie the Brave" from a friend of ours after seeing how adventurous she is. Great fun watching the foals grow and play.
We have four pregnancies confirmed for 2014 so far:
MSB Atlanta to Bonheur due March, 2014; Marina to Bonheur due May, 2014 ;MSB Cindy to Schwarzenegger due May, 2014 ; Diamond Days to Schwarzenegger due May, 2014.
EM Werra was bred back to Schwarzenegger last week on her foal heat, so fingers crossed. Upcoming is Esprentina NPF to Wolkentanz II (hopefully this week), SPS Wonderful Dream to Schwarzenegger, and lastly the Contucci mare to ???
June 20th, 2013
Busy busy!!
Two new arrivals.
Lantina (Landkonig/Diamont) had a gorgeous black colt on June 17th at 4:48am. He is named Reconnaissance, "Reco" for short. By the GP dressage stallion Rubignon (Rubinstein I/Donnerhall).
Werra (World Cup IV/Matcho AA) had a stunning picture perfect black beauty of a colt on June 18th at 5:08am. His name is Son of a Schwarzenegger and "Servos" for around the barn. He is by Schwarzenegger.
These two colts will be registered Hanoverian and will be for sale.
We had a new mare join the broodmare band. MSB Czaftig (Contucci/World Cup IV/Matcho AA), I plan to breed her to Schwarzenegger in the next two weeks.
June 6th, 2013
Very sad to announce the loss of a beautiful Schwarzenegger colt out of SPS Wonderful Dream (Weltruhm/Donnerhall). Thankfully she is ok. Breeding is a tough business that is for sure. Big thanks go out to great friends and a super vet for all the help.
June 2nd, 2013
Another confirmed Bonheur foal for 2014. Marina (My Imperial Slew xx/Lucid/Wendekreis) is due for May 3rd, 2014. This should be another wow dressage foal, and will be available for sale.
Esprentina NPF was bred to Bonheur last week and Cindy and Diamond Days are being bred to Schwarzie this week, so fingers crossed for some black dots in a couple of weeks.
We are waiting for SPS Wonderful Dream aka Martina to deliver her Schwarzenegger foal. This foal has been sold in-utero and will head to a home in Truro, NS. EM Werra is slowly making progress with her Schwarzenegger foal. Lantina is enjoying being out to pasture, but is due to foal this month as well.
Heard great news from a couple of breeders, two new Schwarzenegger foals have hit the ground, a lovely dark bay filly with 3 socks and a star out of a SPS Prince Thatch mare in Virginia, and a sweet dark bay colt with two socks and a star and snip out of a super JBP Accord II/Grannus mare (competed in the Bundeschampionat in jumpers in Germany, and showed at Spruce Meadows), this colt was born in Alberta. So excited to see all these lovely youngsters, and Schwarzie is well on his way for next year with a super pregnancy rate.
Sangria and Bonestina are starting to play together, so funny, I could spend the majority of my day foal watching.
May 27th, 2013
As we enjoy several Schwarzenegger foals who are athletic, personable, and have super basic gaits, we stopped to think-wouldn't it be nice to see more of these foals across the country? Well we would like to make that happen. So...
The Goal: We would like to see a Schwarzenegger foal in every province and state in the next three years.
How: The first mare booked out of each province/state will receive a $400 dollar discount off of a regular contract! So instead of 1,500$ it will be 1,100!! As usual, no collection fees and we are able to ship overnight to most locations.
Check the page called "The Goal" for more information and to see if your area is available.
May 20th, 2013
Big day! Sangria (Schwarzenegger/My Imperial Slew xx/Lucid) has sold to a lovely dressage rider from NB named Leslie Melvin. Congratulations! This is a super super filly! I look forward to Sangria growing up with Leslie, it will be a great match.
Esprentina NPF had a beautiful chestnut filly by Bonheur at 12:30 am. She looks like she will be an amazing dressage prospect.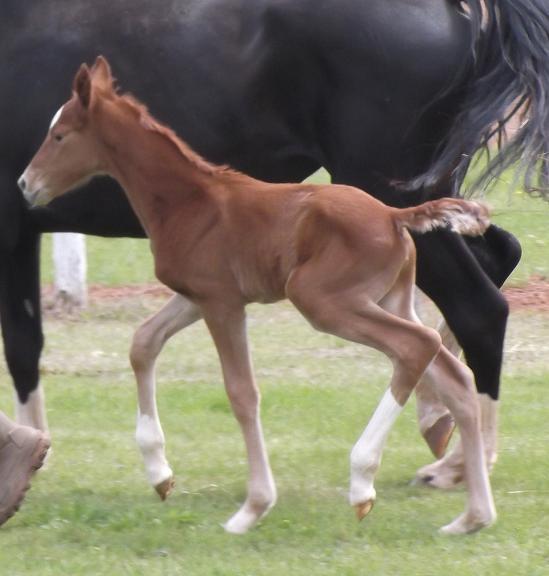 May 13th, 2013
Who wants to see a lovely dressage pair?

Take a look at Benefactor RRS (Bonheur/Rubinstein I) owned and bred by Melinda Walton and T. Larry Smith of Rose Ridge Sporthorses. Ridden by Silva Martin of Cochranville, Pa. Silva and "Benny" won the Markel 5-Year-Old Test at White Fences in Wellington, Florida with a score of 82.8%!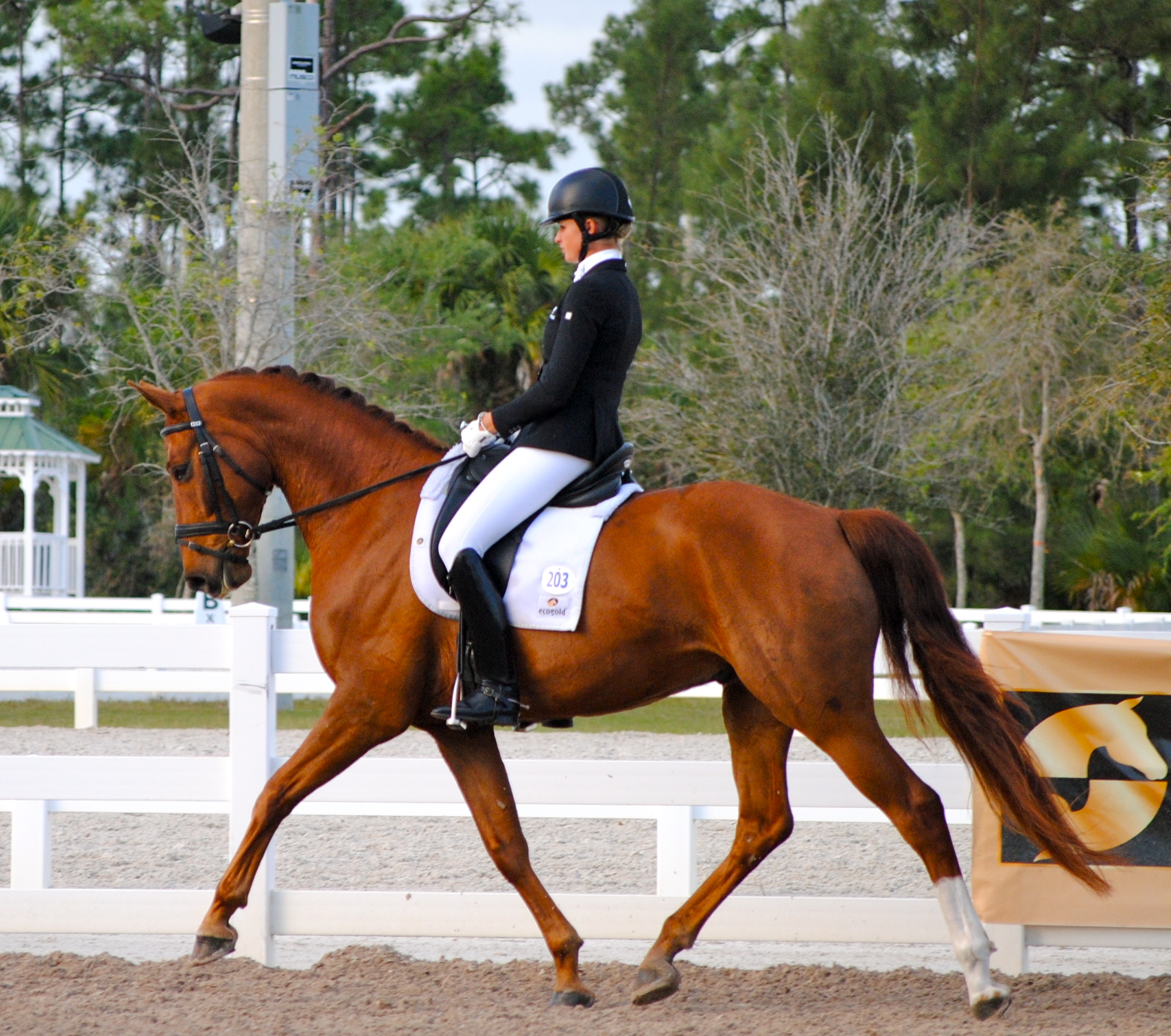 May 4th, 2013
Esprentina NPF is slowly getting closer to foaling time, she makes a bit more udder every day. She is now 344 days bred to Bonheur. This should be a WOW dressage foal.
Solara arrived in Thunderbay safely, so glad to hear good things from her new owner Bonnie.
Congratulations to Erin MacQuarrie on her second Schwarzenegger colt this spring. Meet "Iron Maiden" aka Eddie, he will be registered KWPN. Pictured here at a week old.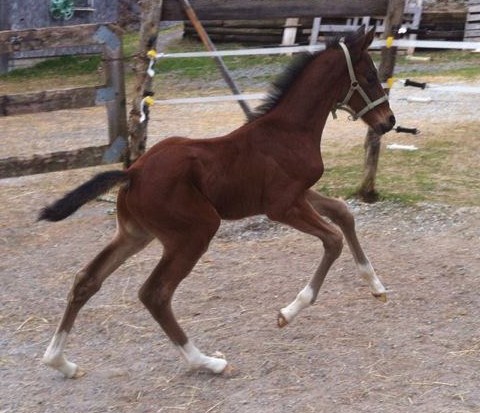 April 28th, 2013
Photo of Sangria, she is so friendly, going to make a lovely partner
.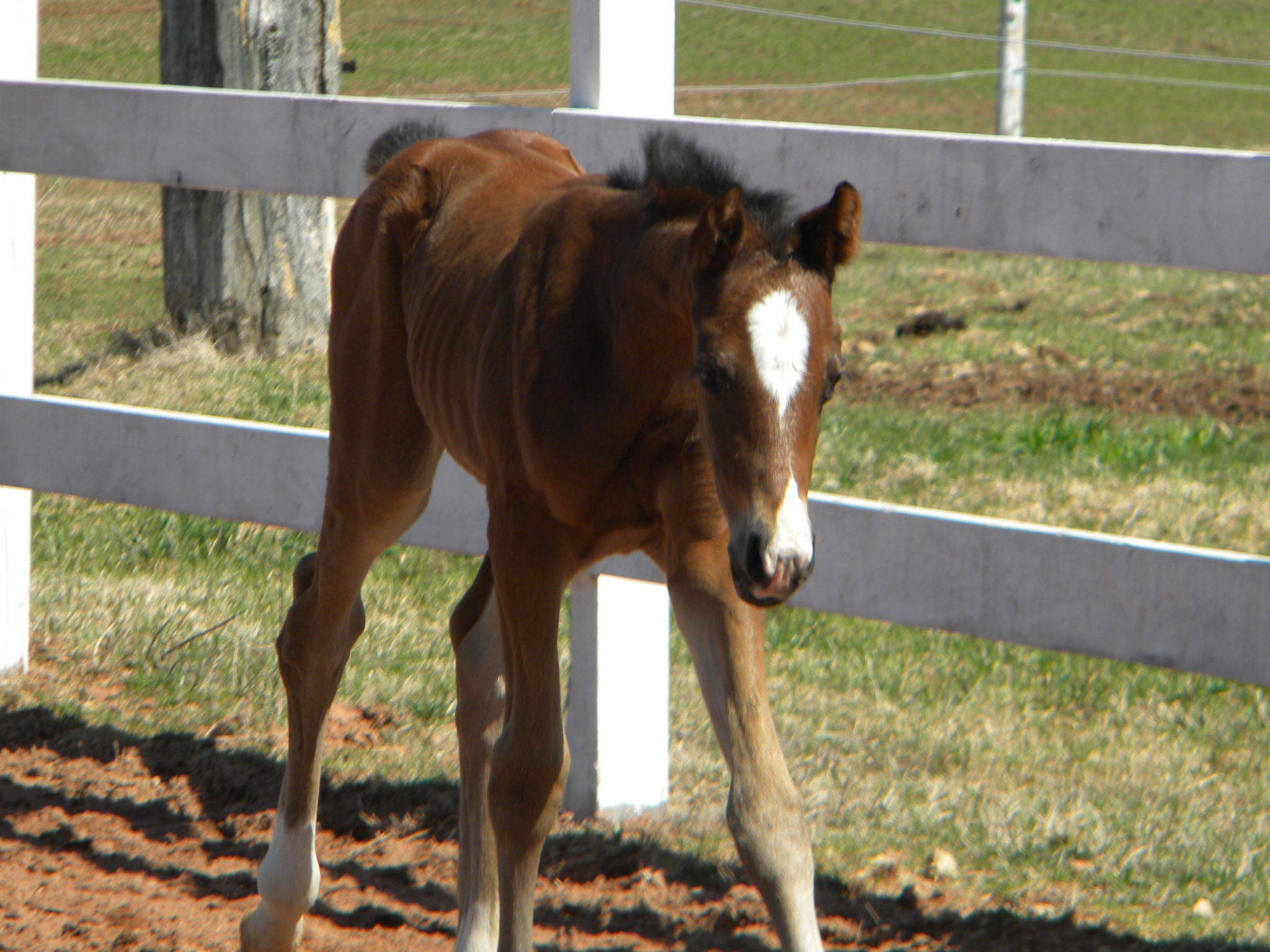 April 26th, 2013
Solara started her journey to Thunderbay this morning. Will miss her but very content knowing she is going to a great home.
Diamond Days (Daisy) was inseminated with Benetton Dream this morning, fingers crossed.
Sangria is growing like a weed and is super balanced with a lovely uphill canter. Her trot shows quite a bit of knee and hock action, she will be one expressive mover. Not seeing much of the walk at this point, she has such a joie de vivre her feet are not on the ground for long.
Esprentina NPF is now at day 336 with her pregnancy to Bonheur, she has some udder development but is still quite firm around the tailhead, so I am getting a bit of sleep.
We must put out a big THANK YOU to all of our friends that have helped along the way; whether through advice, photos, a referral, or foal watch, your help is greatly appreciated. It takes so many spokes to make a farm turn, from a good vet to a great haylage supplier, to nice neighbors etc..Thank you to everybody :)
April 22nd, 2013
Our first foal of the season has arrived! A stunning filly by Schwarzenegger out of Marina (My Imperial Slew xx/Lucid/Wendekreis). She is bay with a star, connecting stripe, and a big snip. She also has three unique socks. With our name the foal contest, this filly's name was picked in advance and is Sangria.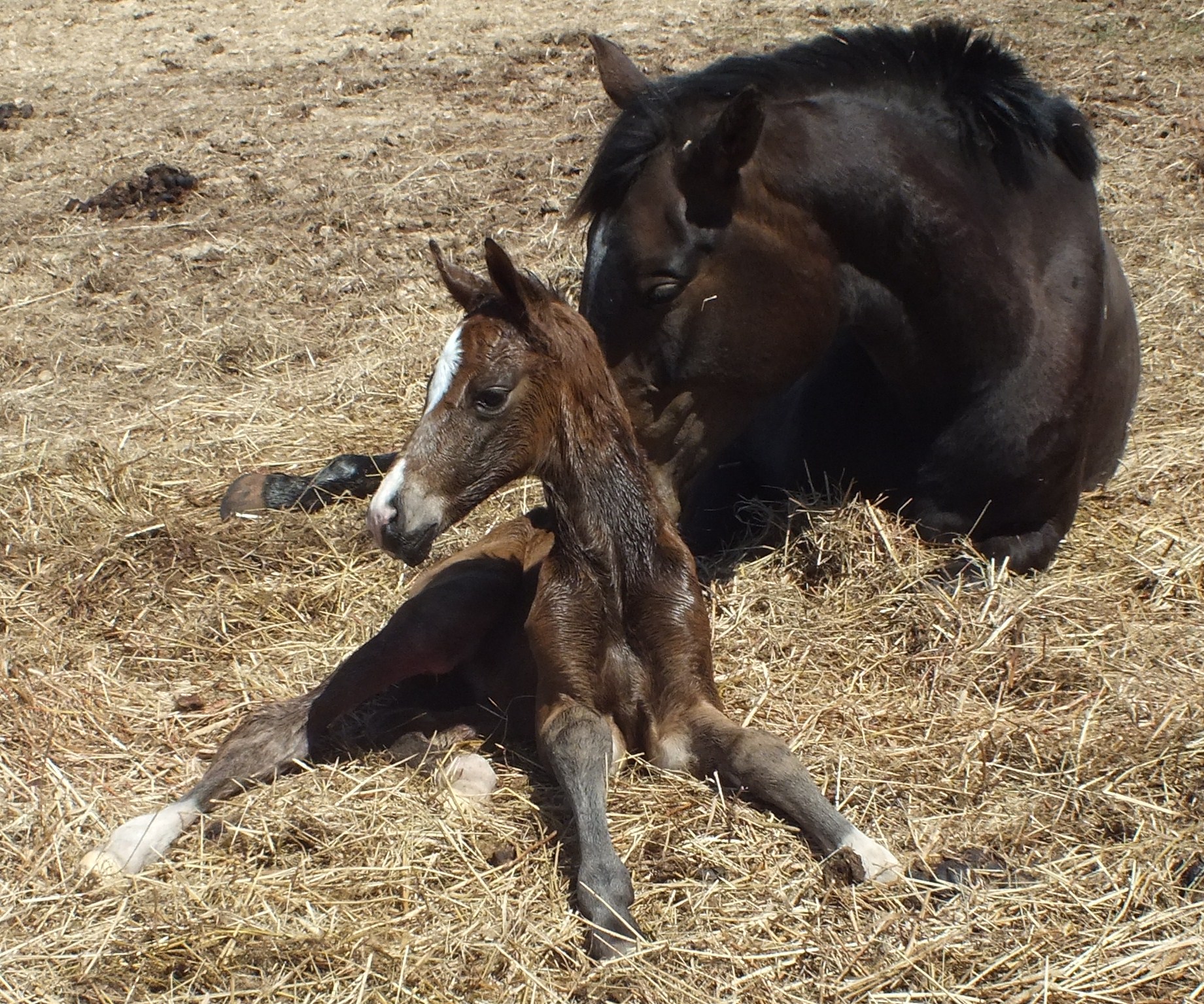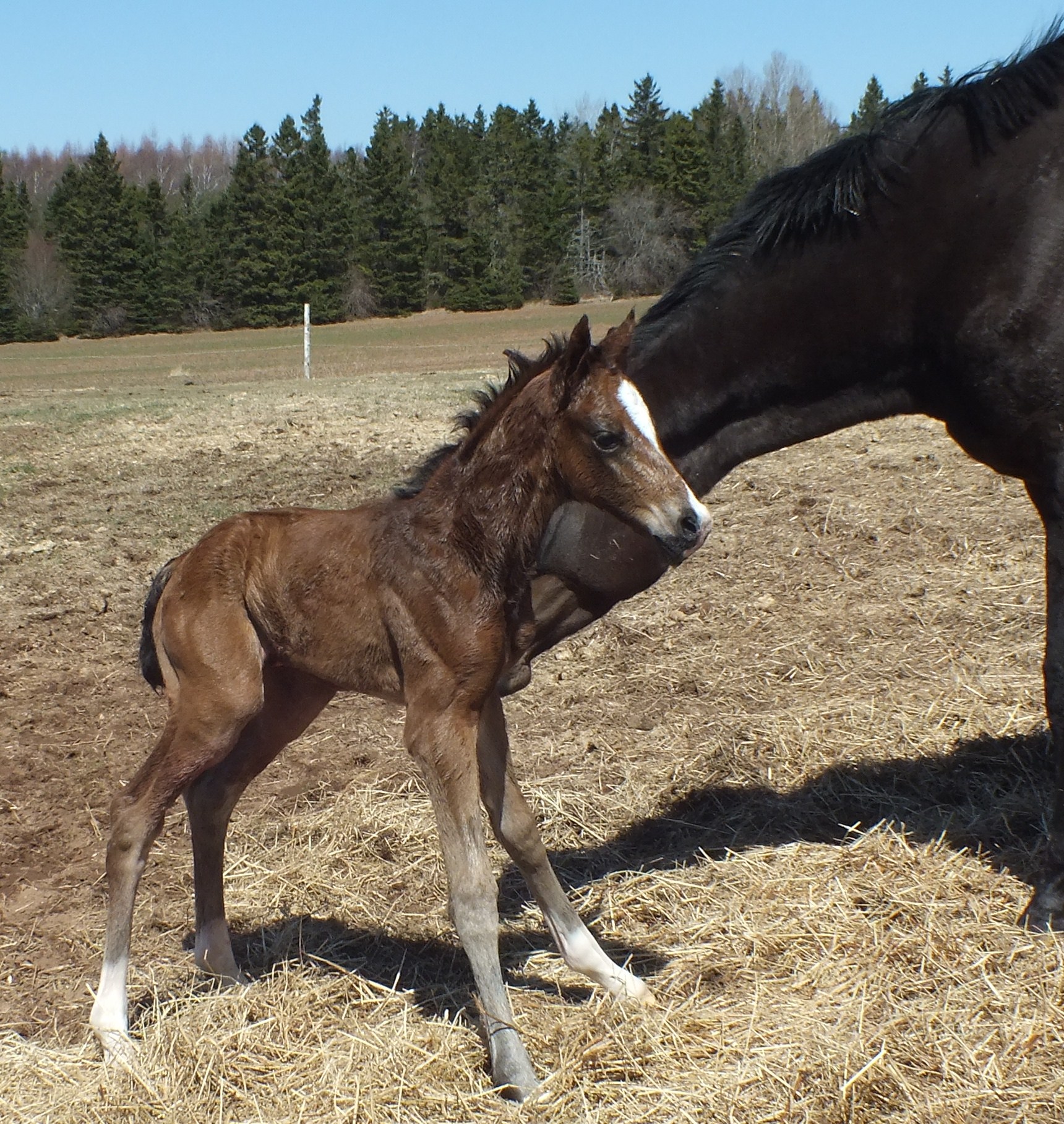 April 21st, 2013
First Schwarzenegger foal to arrive for 2013!! Stompin (Schwarzenegger x Honey) A lovely bay colt with a star, a snip, and two socks. Bred and owned by Erin MacQuarrie's of NB. Congratulations!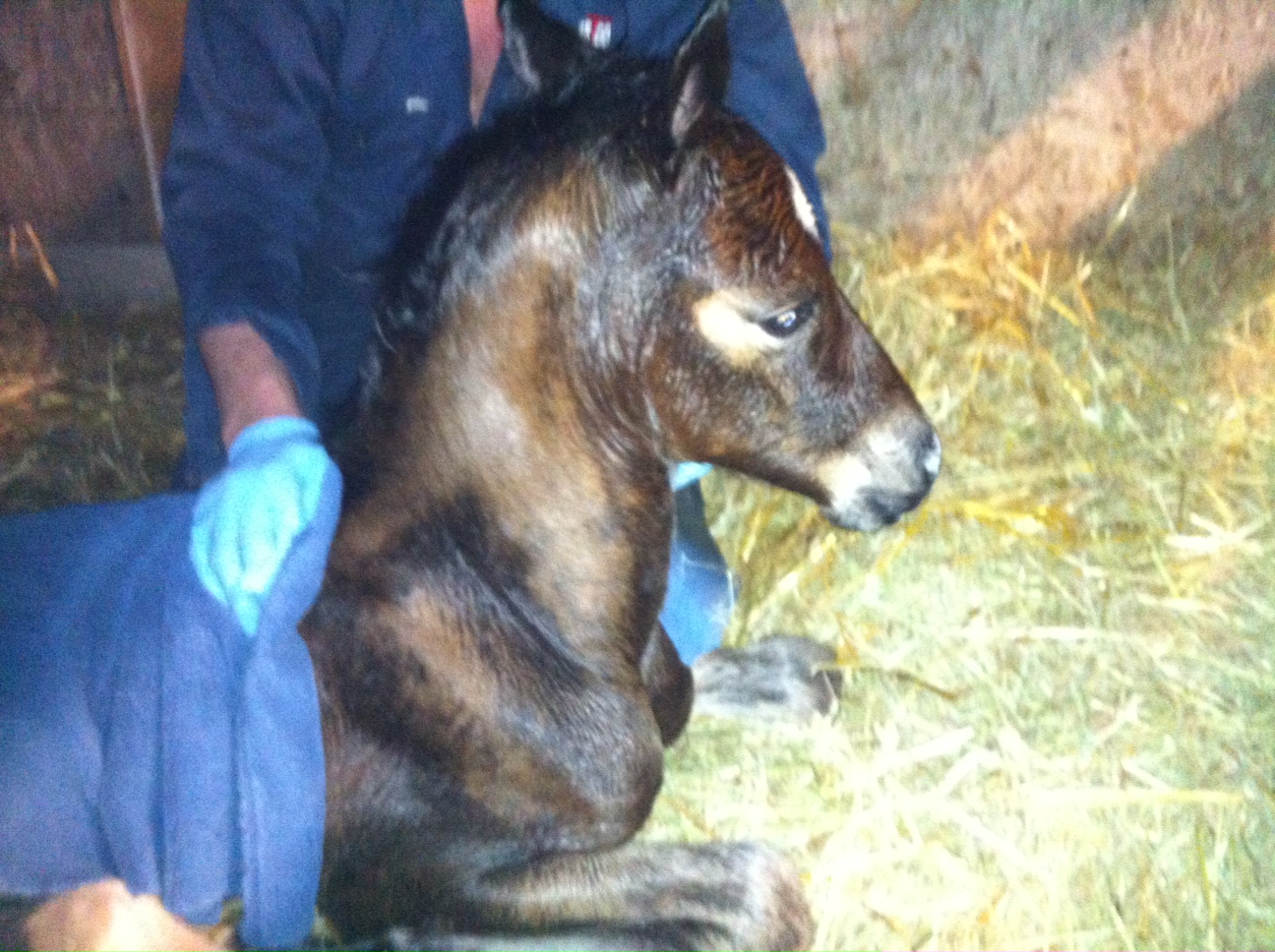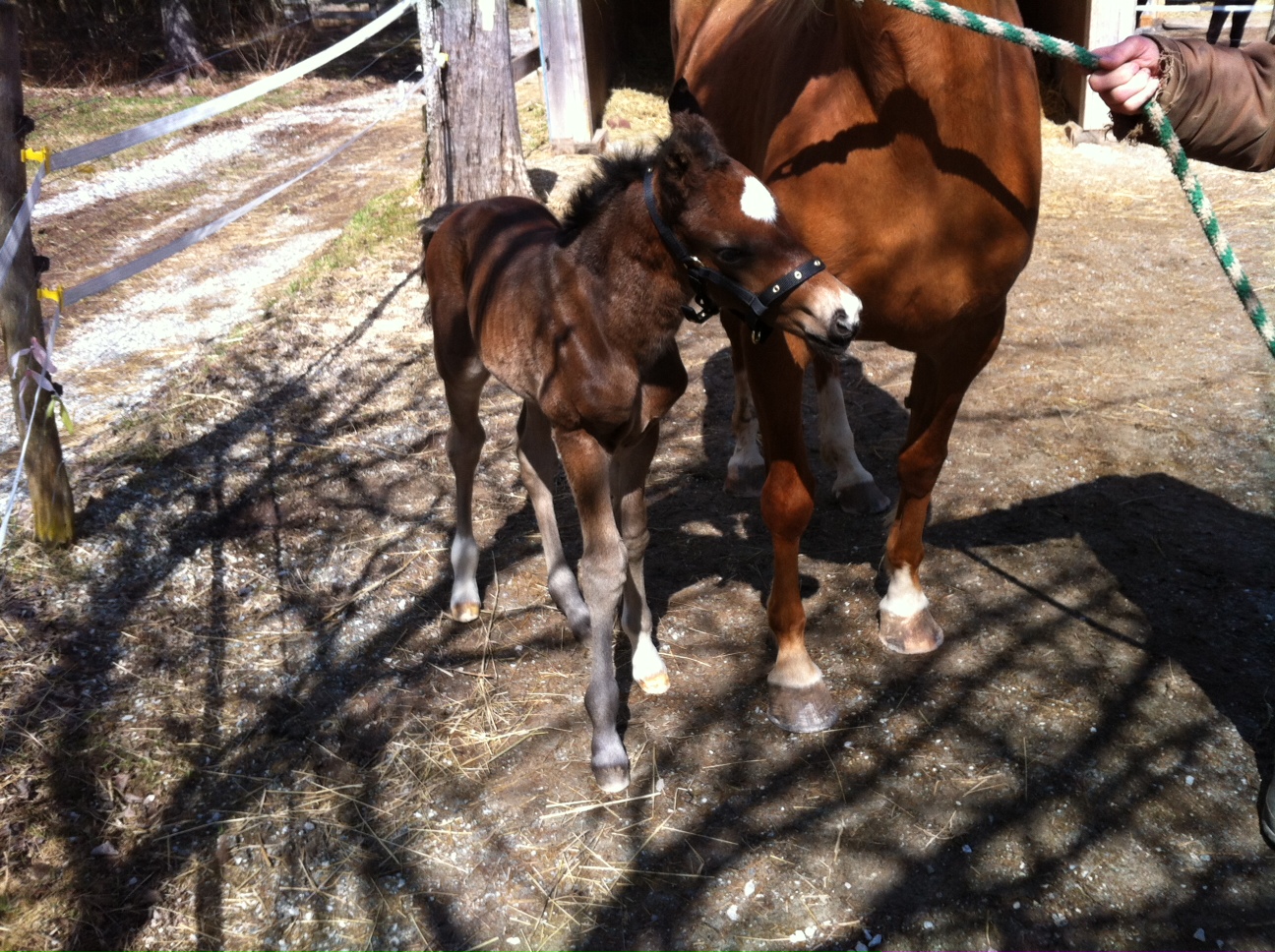 April 20th, 2013
New video of Spin Doctor (Schwarzenegger/Landkonig/Diamont) http://youtu.be/axwSsGFRvtg
This is such an awesome prospect!
April 12th, 2013
Happy to report Schwarzie has his first confirmed pregnancy of the season to a lovely mare in Florida.
Our new camera system just arrived, please work, please work. Looks a bit confusing but I will reread the instructions and get started.
Solara (Schwarzenegger/Autocrat/Warkanson) will be leaving April 26th to start her trip up to Thunderbay, ON. For those looking for a lovely, friendly dual-purpose prospect, take a look at Spin Doctor (Schwarzenegger/Landkonig/Diamont), no doubt he will be missing his sister.
Marina (My Imperial Slew xx/Lucid) is so close to foaling, but no foal yet, she is now at 337 days with a Schwarznegger foal.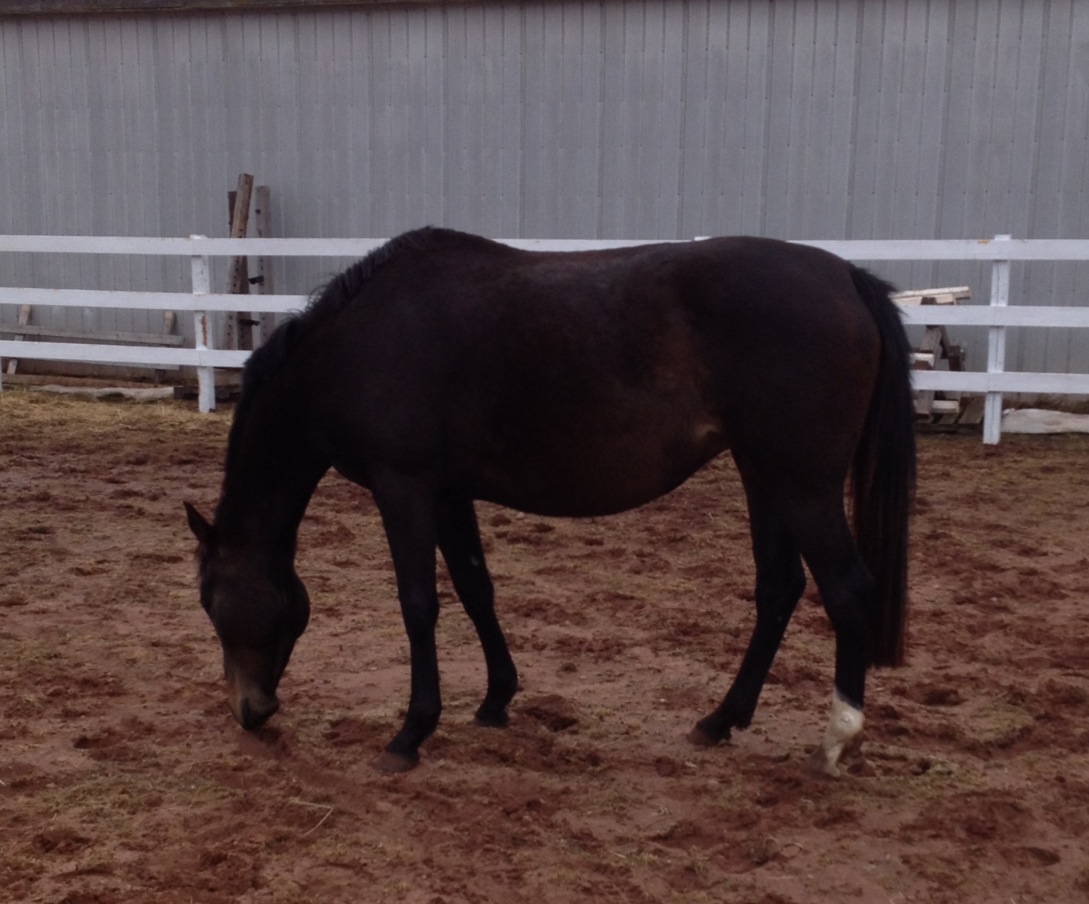 April 8th, 2013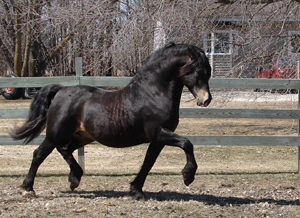 Gallod Bang On Time
Lovely Section D Welsh Stallion standing at stud at Aileron Stables.
We are very happy to be able to offer this stallion to the public. He has a phenomenal mind that he is known to pass on. Please see our stallion page for more information.
April 6th, 2013
First confirmed pregnancy at the farm! Atlanta (Autocrat/Warkanson/Lucid) is confirmed in-foal to Bonheur (Brentano II/Roncalli xx). Atlanta is the dam of the lovely Schwarzenegger filly Solara. This should be another beauty and it will be early, ~March 1st, 2014.
Things have been busy busy with breeding having started with a bang, not that the boys are complaining :)
Congratulations to Sandra of Manitoba on winning the CWHBA stallion service auction to Schwarzenegger, we look forward to working with you.
Working around the farm with the youngsters, Spin Doctor and Solara had a lesson in trailering. They were both superstars.
No luck with the first camera system we tried out, our place is not wireless friendly lol. Waiting for the next system to come in, this one is through Ebay, with 4 cameras and can be hardwired and is compatible with our iphones. So fingers crossed.
Marina (My Imperial Slew xx/Lucid) was acting strange yesterday so we are keeping an eye on her as she is due to foal. Wandering off to the far corner of her field to lay down by herself. Will keep you all posted.
There is a new addition to the client stallion lineup. More information to come, this is one really neat fellow.
March 27th, 2013
Two of Cindy's lovely daughters bred by Ernst Ihrig. 2007 HV registered mare named Voila (Viva Voltaire/Certus/Welfenschatz)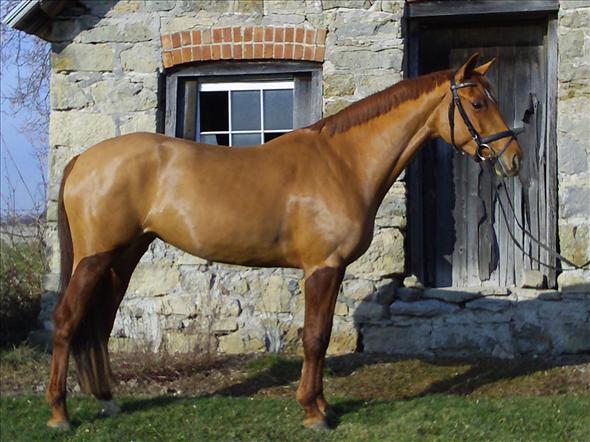 2011 HV registered filly. Diva (Don Frederico/Certus/Welfenschatz) Photo: Kathleen Richardson.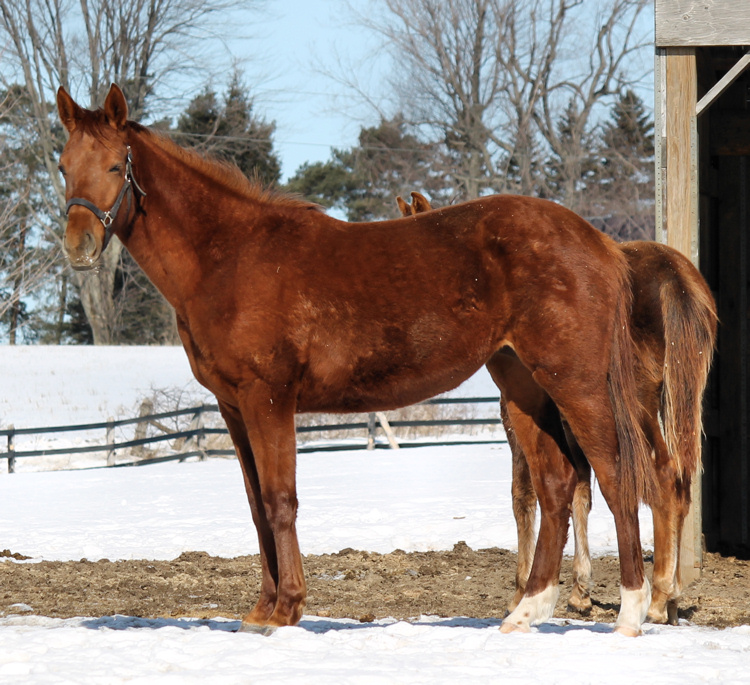 March 25th, 2013
Schwarzenegger and Bonheur are happy to see the breeding season arrive over the last couple of weeks. Here is to super foals for 2014! Still seven days left to take advantage of our sale.
Our broodmares are making lots of great changes in the right direction, the most being Marina (My Imperial Slew xx/Lucid). She is now at 316 days in-foal to Schwarzenegger and has only a few more weeks to go.
The next in line is Esprentina NPF (Sir Oldenburg/Florestan), she is at 303 days in-foal to Bonheur. She barely looks like she is in-foal but she is a big maiden mare and is carrying high.
The last three we are expecting are 1) SPS Wonderful Dream (Weltruhm/Donnerhall) at 262 days in-foal to Schwarzenegger. (This foal has been sold in-utero) 2) EM Werra (World Cup IV/Matcho AA) at 259 days in-foal to Schwarzenegger and lastly 3) MSB Lantina (Landkonig/Diamont) at 246 days in-foal to Rubignon.

Plans for the Hanoverian Inspection on PEI in September are moving along. I can't wait!
March 17th, 2013
We are happy to announce that Bonheur is available for live cover to a small book of mares this season. Where he is now twenty we would really like to see him used more. So with this is mind his stud fee has been reduced from 1,500$ to 1,000$. We look forward to hearing from you, hanselpacker@hotmail.com
March 13th, 2013
SALE! SALE! SALE! SALE! SALE!
10% Off of any of the following purchases made before March 31st, 2013.
Horses, In-utero foals, Breeding contracts, or frozen semen from either Schwarzenegger or Bonheur.
***Take note, taxes on PEI are due to change on April 1st, 2013. They will jump from 5% to 14% on all of our sales and services to Canadian buyers.
So take advantage of this sale to save 19% on your purchase!!!
March 11th, 2013
Spin Doctor (Schwarzenegger/Landkonig/Diamont) is now a gelding. Everything went well and was very efficient. This will make pasture planning a little easier this spring as I plan to put him out with a 2 year old filly and an older mare.
Atlanta (Autocrat/Warkanson/Lucid) has been put back under saddle and has not forgotten a thing since having had a year off to have a foal. What a good mind. I hope to take her to a couple of shows this year to give her some experience before participating in the mare performance test in September.
I am enjoying working with Diamond Days (Diamond Hit/Romancero H/Wenzel) owned by Shannon Brooks. Daisy has a great mind and is progressing well. She is now lunging undersaddle and doing super with leaning on either side.
March 6th, 2013
Congratulations to Sonja of Ontario on winning the CHS stallion service auction to Schwarzenegger. Sonja has a Schwarzenegger foal coming for 2013 out of her lovely mare.
Lots of scheming going on at the farm, we have been researching new foaling cameras that we can hardwire to the house. Looks like we may have found what we were looking for through Radio Shack, I will post back here to let you all know how it has worked out.
As promised, we had an announcement of a new addition. Meet Cindy (Certus/Welfenschatz/Gigant/Senator) this is a lovely 15 year old MSB Hanoverian mare bred by Ernst Ihrig of Ontario. Cindy has had 6 foals; 3 by Viva Voltaire, 2 by Wolkenglanz and 1 by Don Frederico. She is known for producing her super good nature and talented dressage offspring. We are planning to breed Cindy to Bonheur or Schwarzenegger for a 2014 foal.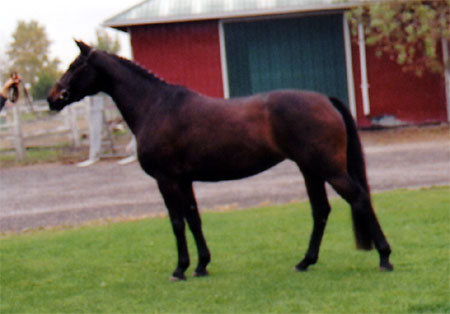 February 28th, 2013
Congratulations to Andréanne of Quebec on winning the AHS stallion service auction to Schwarzenegger. We look forward to working with you!
Counting down the days...the mares are getting bigger and bigger. They occasionally give me something to worry about but overall are having uneventful pregnancies.
February 11th, 2013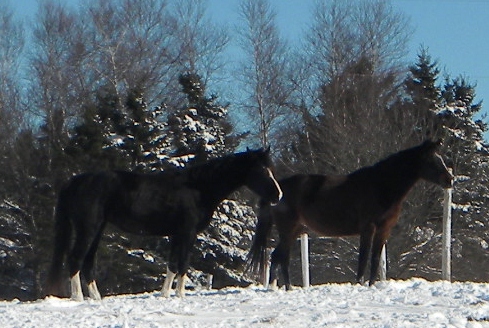 Esprentina NPF (Sir Oldenburg/Florestan/Phonix) in-foal to Bonheur (Brentano II/Roncalli xx) due April 25th and Marina (My Imperial Slew xx/Lucid/Wendekreis) in-foal to Schwarzenegger (Sion/Calypso II) due April 11th. These are the first two due to foal and we are so excited to meet their little ones! My guess is Marina has a dk bay colt with lots of white and that Tina has a chestnut colt with 4 stockings and a blaze. We shall see soon enough.
All the horses were enjoying the fresh snow jumping around and rolling after our big storm. Only damage we had was the wind snapped one of the hangers on a door to the stallion barn, leaving it hanging and swinging in the wind. Luckily the other hanger held through the rest of the storm and we got it fixed while it was still vertical. The door is 12 x 8 feet and weighs around 300lbs, not the one you want to put back up.
Nick and I went out for a hack today with Ruby and Lantina, was a blast! Strange feeling dragging your toes through the drifts. The mares loved it. The neat feeling like you are bobbing in deep water at the trot, both Nick and I were riding bareback with our snowsuits, was good fun.
I kicked myself for having a couple of paddocks away from the barn with the deep snow today. Didn't take long to solve though, tied the lead line into a set of reins, hopped on a haylage bale and rode out of the barn on Bonheur, winter blanket and all :)
February 2nd, 2013
Congratulations to Tracy from BC on having the winning bid for a breeding to Schwarzenegger through the Leg Up Association Auction. We look forward to working with you!
Not too late for savings, there are coupons for discounted breedings to Schwarzenegger that will be available at the Charlottetown Greenhawk on February 20th.
The weanlings are growing up fast, both Solara and Spin Doctor are turning into little adults. They are up to date on vaccines, dewormings, trimming, and are very keen for adventure. With little walks around the farm and lots of one on one time they are confident and independent. So much fun, hard to imagine the next crop of foals start arriving in ~9 weeks.
For those that would like to come visit to see the horses, please feel free to stop in. We love having horse visitors that enjoy them as much as we do.
January 21st, 2013
Breeding season is definitely right around the corner. We are excited to hear from so many nice mare owners.
I love that the days are getting longer, yes, it might be -20 windchills for the rest of the week, BUT once we hit December 21st the days start to stretch out and spring is on its way with the big baby bumps, yeah!
New addition coming to Aileron Stables...we will post more once she arrives. This will be a very unique pedigree that I am looking foward to adding to the herd.
January 10th, 2013
Out and about for our first sleigh with Ruby http://youtu.be/oKJITNv31is Was soooo much fun. She is a super keener.
January 7th, 2013
2013 WOW! Time is flying. Hope everybody had a wonderful holiday season. Ours was merry and bright and included lots of time spent outside in the snow :)
We were very excited and pleased to see Schwarzenegger on the top list of jumper producers for the Hanoverians. This is the second year in a row, what is also exciting is he is 1 of only 2 stallions in North America on the list and also has the third highest dressage value of the jumper list. Yeah Schwarzie, talk about dual purpose!
Looking to save some money on breeding? We can offer 3 different ways to save breeding to Schwarzenegger.
1) Get your contract in and paid for by February 1st and save $100.
2) Breeding multiple mares or interested in buying 2 contracts? Save $200 per contract.
3) Have a premium or performance mare you are interested in breeding? Save $300 off of your contract.